Sneak peek: The search is on for sweet corn
Stumbling upon a sign for "Fresh Sweet Corn" can feel like finding treasure.
When it comes to finding sweet corn stands — the ones that offer piles of freshly-picked corn for $4 or $5 per dozen on the side of the road — there's no map. 
"There used to be a lot more like this," said Carrie Han, who sells sweet corn, melons, cantaloupe and peppers out of a small stand, located in the parking lot of the Dollar Tree on Locust Street, Davenport, across the street from the Mississippi Valley Fairgrounds. "Not anymore." 
To find them, she said, you "just have to drive around or ask around."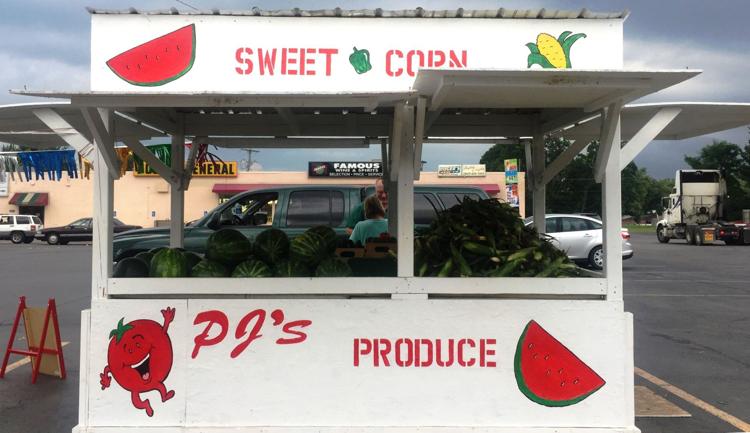 On my sweet corn scavenger hunt, I found long-time farm stands and newcomers such as the one Han works at. She commutes each day, from Muscatine to Davenport, for her "summer gig," where she welcomes plenty of customers who make spontaneous stops there. 
"They're pretty tickled it's here and so fresh," Han said. "It's just one of those things you want in the summer." 
But, for those craving sweet corn, time is running out. 
Saturday will likely be the final day of roadside sales for 23-year-old farmer Travis Smeltzly, who, with the help of his younger cousins, has operated two sweet corn stands in LeClaire and Port Byron since July 14. 
"It looks like it's time to wrap it up," said Smeltzly, 23, who started helping with the family business when he was 10. 
The end of the season is a relief for the Smeltzly crew, who have picked 350-400 dozens of sweet corn each morning for the last month, which gets "pretty tiring," he said. 
Fortunately for him and unfortunately for us, the season for sweet corn is short, usually wrapping up in August or early September. 
As for the stand on Locust Street and others around the Quad-City area, sweet corn will still be stacked for a few more weeks. 
You just have to know where to look. 
Read more about these sweet corn stands — and where to find them — in Wednesday's edition of the Quad-City Times and online at qctimes.com.