What's ahead for Bettendorf's Central Avenue?
With the departure of 7-Eleven on Bettendorf's Central Avenue, residents have been left wondering what's next for their beloved hilltop neighborhood.
"We can only hope for something great," said longtime Alderwoman Debe LaMar, whose 3rd Ward encompasses the property at 2620 Central Ave. "I'm protective of that area."
LaMar grew up in a home, where her father still lives, across the alley from the now-shuttered convenience store. She remembers when a Royal Blue Market occupied the space.
"It was the hub of the neighborhood," she said, noting rental properties and starter homes make up most of the area. "That store is really going to be missed."
Moving forward, LaMar squashed her constituents' concerns that a liquor store could replace the 7-Eleven and adjoining laundromat, citing an ordinance she and her fellow council members approved two years ago.
It prohibits carry-out liquor stores from opening up shop within a quarter-mile of each other between 6th and 26th streets in the downtown area.
Although it's not considered part of downtown, those in search of an adult beverage in the neighborhood visit Central Avenue Tap, 2604 Central Ave.
The quaint two-block stretch of Central Avenue, between 26 and 28th streets, has seen a recent flurry of positive changes.
In October 2015, Bustout Live Escape Room Games moved into the same 62-year-old building as 7-Eleven, which the Dallas-based company still owns.
Scott Carpenter, the owner of the business, said his contract runs through September, and that he has no interest in moving.
"I like this neighborhood," he said. "It would be so much easier to stay where I am. A lot went into preparing this location for the escape rooms."
Directly to the east, a resident of the neighborhood is renovating the old Hilltop Barber Shop at 2708 Central Ave.
Horacio Marquez, who lives a block away from the site, plans to open Headlinez Elite Haircuts next week.
"I've got regulars who walk by every day checking on the progress because they used to get their haircut here when they were little," Marquez said. "They're just looking forward to seeing what it's going to look like."
The young entrepreneur received funds from the city's façade program to spruce up his storefront.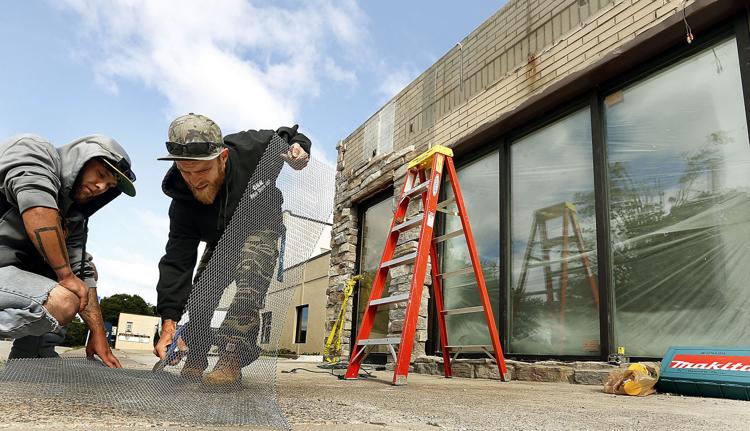 Across the street, the city has plans to place a new splash pad at Lincoln Park, an idea LaMar suggested years ago, said Steve Grimes, director of the Bettendorf Parks and Recreation Department.
Plans call for the splash pad to be built just north of the asphalt area in the middle of the park.
LaMar also was partly responsible for the park's creation.
Before voters first elected her in 1997, she led a group of Central Avenue residents to City Hall, where they voiced their opposition to commercial development plans for the property and pushed for a park. 
Lincoln School, a circa-1917 schoolhouse that closed in 1980, anchored the plot back then. 
But council members agreed with LaMar's vision and voted for the demolition of the building, which lastly served as the city's cultural arts center and Children's Museum. 
"It's pretty funny how things go through transition," LaMar said, looking back on the last 20 years. 
As for the vacant 7-Eleven, LaMar envisions an open work space for artists there. 
"I think there are a lot of possibilities," she said. "We're keeping our eyes and ears to the ground, hoping to find something of good quality to go down there."