Here's a special weather statement from the National Weather Service.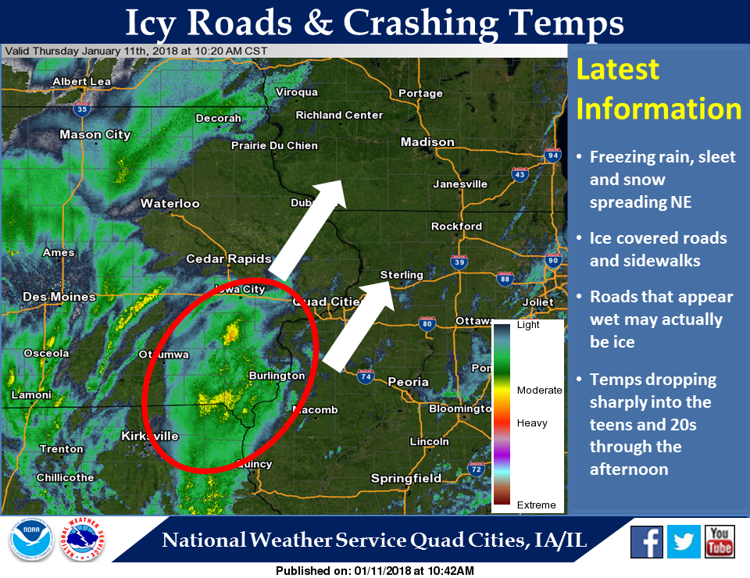 At 1031 a.m., an area of mixed precipitation was located along a line extending from Vinton to Muscatine to near Keokuk. Movement was northeast at 30 mph.
In addition to the wintry mix, a rapid drop in temperatures will lead to the rapid formation of black ice on area roadways. Black ice is nearly impossible to see and roadways may appear wet. Use extreme caution, especially on bridges, overpasses and around curves. Allow plenty of stopping distance and avoid braking suddenly.
Winds in excess of 40 mph are possible with this wintry mix.
Locations impacted include Cedar Rapids, Davenport, Iowa City, Dubuque, Moline, Rock Island, Bettendorf, Clinton, Burlington, Muscatine, East Moline, Macomb, Fort Madison, Keokuk, Monmouth, Mount Pleasant, Maquoketa, Anamosa, Manchester and Aledo.
This includes the following highways...
Interstate 74 in Iowa and Illinois.
Interstate 80 in Iowa from Williamsburg to the Quad Cities.
Interstate 88 in Rock Island County.
Conditions can deteriorate rapidly in winter weather situations. Be prepared for snow or ice covered roads. Slow down and allow extra time when traveling.