The shameful inequity, felt by thousands of Iowa's public school students, will end if the Iowa House follows the Senate's lead. 
Equal footing would take a decade, under the legislation passed unanimously Thursday in the state Senate. The initial bumps of $5 and $10 per-year wouldn't amount to much in districts such as Davenport Community Schools, which now receives more than $170 less per-pupil each year in state aid.  That districts annually misses out on $2.7 million thanks to the state's unjust funding model. 
But SF 455, sponsored by Education Committee Chairwoman Amy Sinclair, R-Allerton, is the best hope for Iowa students who just happen to live in a community granted second-class status four decades ago. It would pump more than $200 million into districts that, for too long, have been treated unfairly. 
Reaching that milestone requires the House, like the Senate, vote for equity in how Iowa funds its schools. 
The number of school districts receiving maximum state aid would more than double, from 162 in 2017 to 333 in 2027, according to analysis by Iowa's Legislative Fiscal Bureau. Tens of thousands of Iowans, in districts such as North Scott and Maquoketa, would enjoy smaller classes and bolstered programming. They'd finally get a fair shot.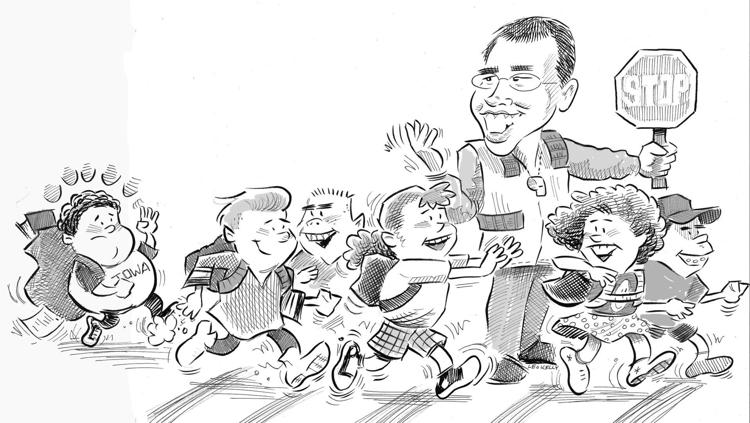 Sen. Roby Smith did yeomen's work in the upper house. His consistent argument against structural inequity has amplified Tate's cause. He's championed the the long-term fix now moving through the Senate.
Yet Smith's short-term bandage, meant to bridge the gap during SF 455's 10-year rollout, stalled in committee. A budget bill -- it would permit districts to spend down an additional 5 percent of rainy day funds -- Smith now intends to reintroduce it in the Ways and Means Committee. We urge Ways and Means Chairman Randy Feenstra, R-Hull, to embrace Smith's bill and shepherd it to the floor.
But it's the House that gets the final say on the equity bill itself. 
SF 455 could face a rougher road in the more conservative House. The bill does, after all, have budgetary implications. And Republican lawmakers are just itching for a tax cut in the near future. It's imperative that Republican Reps. Gary Mohr, Bettendorf, and Ross Paustian, Walcott, forcefully push the overall fix, if and when it moves out of the Senate. They should do the same for Smith's short-term fix, should the senator's end-run on the funnel prove successful. To Paustian's credit, he's at least acknowledged the problem in past years. SF 455 could represent an opportunity to show that his heart is in it. Vocal support from both Paustian and Mohr would provide the legislation a significant boost. Bipartisan, regional support from House Democrats Phyllis Thede, Bettendorf, and Cindy Winckler, Davenport, would be a political boon. 
Davenport Superintendent Art Tate put his career on the line for the cause. He's now under state investigation because, after years of gripes, Tate wouldn't be ignored any longer. He stripped the money out of his surplus so Davenport's students could, for one short year, experience equal treatment. In so doing, he violated state law. 
What's legal and what's moral aren't always one and the same. Iowa Department of Education should immediately drop its investigation of Tate, should the legislation become law. 
SF 455 isn't ideal. It would take a decade for full implementation. It would face numerous new Legislatures, all who could, in a tight year, decide to kill it. It requires stop-gaps that, as of now, are on life support in the Senate.
But the enactment of SF 455 would be an official rejection of structural inequity that treated some students as steerage for far too long.