Editorial board: Deb Anselm, Publisher; Matt Christensen, Executive Editor; Bill Wundram, Associate Editor; Jon Alexander, Editorial Page Editor; John Wetzel, Community member. Quad-City Times editorials reflect the opinion of the editorial board. The board formally meets 9 a.m. Wednesdays. Contact the board or send letters to opinions@qctimes.com, or by calling (563) 383-2320.
Editorial: Grassley might give Mueller a shot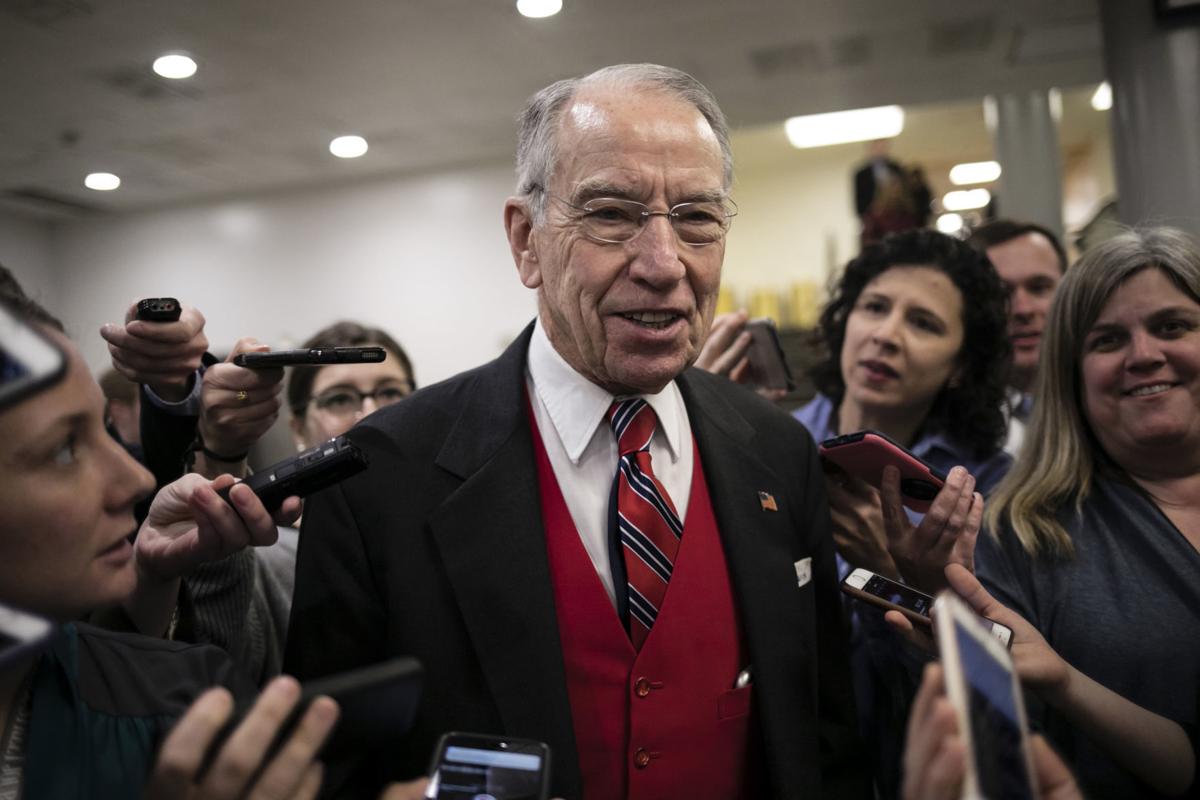 U.S. Sen. Chuck Grassley, R-Iowa, got exactly what he asked for. And Iowa's venerable senator finally had the guts to take steps toward protecting Special Counsel Robert Mueller from the president's wrath.
A bipartisan quartet of senators on Wednesday unveiled legislation that would create a judicial safety valve if President Donald Trump follows his impulses and starts axing Justice Department brass in an attempt to obstruct Mueller's investigation. It was a fusion of two competing bills that Grassley had shelved for almost a year, demanding they be combined into one. Wednesday's compromise bill rolled out as multiple national news outlets reported that White House officials were actively debating sacking Deputy Attorney General Rod Rosenstein, the first step toward crushing Mueller's probe into Russian election interference. 
Grassley rightly responded by adding Wednesday's legislation to the Judiciary Committee's agenda. 
The bill, sponsored by Sens. Tom Tillis and Lindsey Graham, both Republicans, and Democrats Chris Coons and Cory Booker, would impose a 10-day hold on any decree to fire Mueller and permit prosecutors to appeal the president's bloodbath to a panel of judges. The legislation is a fusion of two competing bills that have sat for months untouched in the Senate Judiciary Committee, where Grassley holds the gavel.
But Grassley had consistently wanted it both ways on the matter of very real threats to the special counsel's survival. Amid reports that Trump was seething Tuesday after an FBI raid on his personal attorney's office, Grassley warned any attempt to end Mueller's probe would be "suicide." But that term lacked clear meaning, and therefore, real power. It could mean at the polls. It could mean an anti-Trump revolt in Congress, which seems especially unlikely in this environment. 
For months, Grassley dumped cold water on calls to erect defenses for the special counsel, all while allegedly supporting the hugely important probe that's pivotal in ensuring fair elections in the future. He's questioned the constitutionality of congressional action. 
On Wednesday, though, Grassley proved true to his word and took a small, but important step in defense of the rule of law. The rest of Senate Judiciary should follow suit in today's vote. 
Iowa's junior senator, Joni Ernst, this week said legislation such as what's proposed isn't worth the upper chamber's time. The president is almost sure to veto it, she said. So much for co-equal branches. It's lame excuses such as this that threaten the Tillis-Graham bill in Congress. 
There is no rational argument against the legislation if the defense of Mueller's investigation is the real goal. Vetoes can be overridden. Congress, too, can revive laws that appoint its own special prosecutors. Opposition to Mueller's fact-finding mission — a hugely significant process for the very rule of law — is the only legitimate intellectual justification for hostility toward Wednesday's legislation.
Continued intransigence from lawmakers would stand as nothing short of a testament to where their true allegiances lie.
The significance of Mueller's probe isn't limited to whether Trump or his inner circle knowingly conspired with Russian agents to sow division and confusion prior to the 2016 election. Maybe Trump's insurgent campaign was brimmed with easily duped novices. There can be no doubt that much of Trump's rage is fueled by his own insecurity, as Mueller's investigation could only further suspicions about the legitimacy of Trump's presidency.
But certain democratic norms far outstrip the president's fragile ego. Of those, the rule of law itself and the sanctity of U.S. elections free from foreign influence are paramount.
The choices available to Grassley were black and white. On Wednesday, Grassley made the right one. 
Local editorials represent the opinion of the Quad-City Times editorial board, which consists of Publisher Deb Anselm, Executive Editor Matt Christensen, Editorial Page Editor Jon Alexander, Associate Editor Bill Wundram and community representative John Wetzel.