Editorial board: Deb Anselm, Publisher; Matt Christensen, Executive Editor; Bill Wundram, Associate Editor; Jon Alexander, Editorial Page Editor; John Wetzel, Community member. Quad-City Times editorials reflect the opinion of the editorial board. The board formally meets 9 a.m. Wednesdays. Contact the board or send letters to opinions@qctimes.com, or by calling (563) 383-2320.
Editorial: On taxes, Reynolds can either lead or follow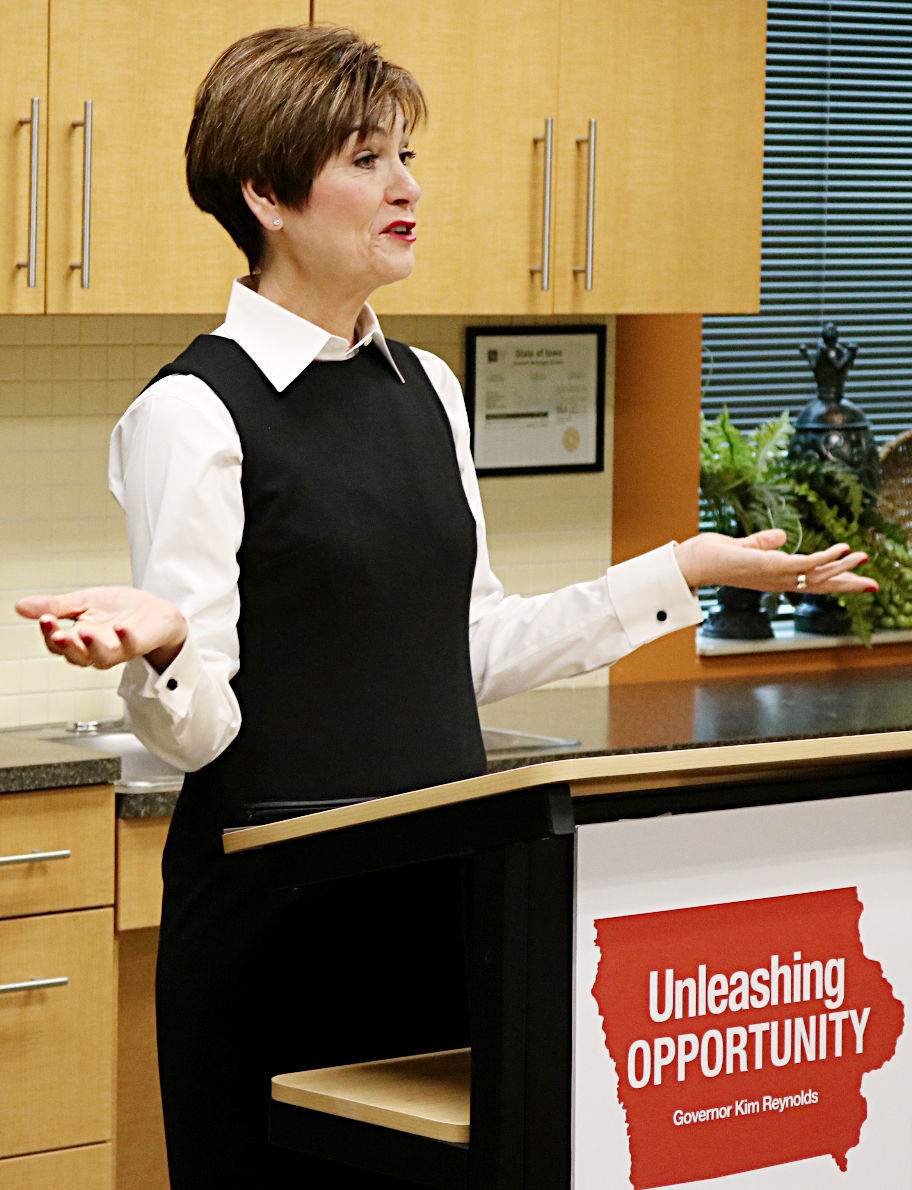 There's no more appropriate word for the tax cuts announced Wednesday by Iowa House Republicans. It's incumbent upon Gov. Kim Reynolds to get out front of this speeding freight train and signal her intent to veto any tax cut that threatens Iowa's financial stability. 
From the moment Reynolds assumed office, tax cuts were priority No. 1. In January, she proposed a sweeping overhaul of the state's tax code in her first Condition of the State address. And her office kicked out a draft plan that included so-called "triggers" — key economic benchmarks — that would have to be met before most tax cuts would kick in.
And then, the Legislature happened.
On the surface, the House version released Wednesday looks almost reasonable when compared to the Senate's utterly insane proposal to immediately ax $1 billion from state revenue. The House plan doesn't stiff the little guy, by punishing all credit unions for the actions of an over-aggressive few, either. 
But the House tax cut plan would cut state revenue by $1.7 billion over five years. It would cost state coffers $139 million in 2019 and $300 million in 2020.
It's the height of fiscal irresponsibility, considering the past two years of mid-year cuts and near flat educational spending. It's utter insanity when the Iowa farmers — representing roughly a third of the state's GDP — could get hammered by a trade war with China. And Republicans have for years blamed the state's financial ills on slumping commodity prices, which could only get much worse. 
At some point, Iowa must fund its most basic services. And it can't do even that already. Any tax cuts would be ill timed and purely political maneuvers. But Republicans own Iowa right now and a failure to pass something resembling tax reform would be deemed an unacceptable failure.
The question isn't whether Iowa cuts taxes. It's all a matter of degree. 
Democrats, who hold almost no power in state government, crusaded against Reynolds' tax cut proposal from the get go. They likened Iowa to Kansas, where years of wholly GOP rule left the state insolvent. Reynolds responded to the criticisms, though. It was those triggers, that could potentially put on hold tax cuts should the economy crumble, were what made Reynolds' proposal different.
And yet, neither legislative chamber got the memo. The House version released this week was allegedly based on Reynolds' proposal. But it excludes the two most significant components. Neither the triggers nor federal deductibility — a legitimate issue following federal tax cuts — were included.
The House bill, like the Senate's, is nothing but a massive tax cut that Iowa simply can't afford.
The House is expected to move at speed to ram through its draft. Then the two chambers must reconcile their vastly different proposals.
It would be easy for Reynolds to stay silent throughout the legislative deal making. It would be politically convenient, especially in an election year, to let the Republican majorities hash it out, send something to her desk and pose for the photo op. But party unity should take a backseat to good governance.
Reynolds admitted that unregulated tax cuts were irrational in the current fiscal state. The threat of a trade war — that could especially bludgeon the soybean industry — only exacerbates that reality now.
Reynolds must get ahead of these negotiations and frame the debate, as strong governors often do. She must make clear that any tax cut package devoid of triggers will meet her veto pen. She should, perhaps on this issue above all else, stake out her position and stand her ground. 
Local editorials represent the opinion of the Quad-City Times editorial board, which consists of Publisher Deb Anselm, Executive Editor Matt Christensen, Editorial Page Editor Jon Alexander, Associate Editor Bill Wundram and community representative John Wetzel.