Located At SteepleGate Inn
100 West 76th Street
Davenport
,
IA
52806
Last Updated: March 7, 2017
The new aspect of Prairie Grille's menu is reflected in its fresh core menu. Putting a new spin on casual American food, especially from the Midwest prairie, Prairie Grille is unearthing the power of the grille!



The Frontier's famous fish fry tradition will continue at the new Prairie Grille every Friday and Saturday night with the same chef and the same recipes. Prairie Grille will also continue to serve the SteepleGate Inn's impressive Sunday brunch.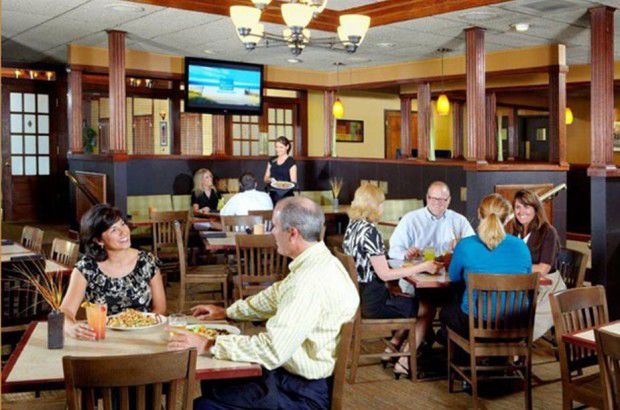 Prairie Grille, located at the SteepleGate Inn, is unearthing the power of the grille!
Our aim is to put our own spin on casual American food, especially food from the Midwest prairie, and grille it to perfection. All of our burgers and steaks, for example, are USDA Black Angus, nothing less will do. Try our mouth watering New Orleans Grouper or our top of the line Black Angus Ribeye. Prairie Grille fans are already raving about the Pollo Tuscana Penne featuring prosciutto ham, Grilled French cut pork chops, Chicken Portabella Tortellini and of course, Prairie Fire BBQ Ribs. Looking for something more casual … give our Prairie Grille Smokehouse Burger or Frontier Smoked Turkey Reuben a try. We also serve up our famous fish fry on Friday and Saturday nights and a Sunday Brunch you have to see to believe. You get the idea. Prairie favorites done right!
---

You'll love the casual ambience at Prairie Grille, featuring our 50 inch plasma TV's and warm décor package. And while our customers are raving about the food they're also commenting on our generous Midwest hospitality. We cannot wait to see you at Prairie Grille. Come find out how we have unearthed the power of the grille!