(Editor's note: Jim Meenan is the new Western Big Six beat writer for the Quad-City Times)
United Township, Moline and Rock Island Alleman will face stiff tests Friday on the opening night of the Illinois high school football season. Each of their foes have strong playoff hopes, too. Rock Island, meanwhile, is not only at home but faces a team coming off a 1-8 season. Here's more on the Week 1 matchups in the Western Big Six:
United Township at LaSalle-Peru
The Panthers are at LaSalle-Peru, a team led by quarterback Kennedy Carey, who passed for 1,644 yards last year and 15 touchdowns in a 3-6 season. His top receiver, Max Uranich, a two-way performer (defensive back) returns after catching 52 passes for 759 yards and 7 TDs last fall.
Both are getting some Division I looks.
Expect the Panthers to try to run on L-P, though, as the Cavaliers' defense gave up an average of 309.7 yards per game a year ago. That total caused a few games that looked like they were on their way to victory to fall apart in the second half last season.
First-year UT coach Joe Morrissey is well aware the Cavs had trouble against the run. And that their QB has talent.
"He's a great quarterback," Morrissey said. "He's a coach's kid and extremely knowledgeable."
Normally, Morrissey said he strives for balance on offense with a run-first philosophy. But it's clear he plans to have a scheme ready to take advantage if the L-P defensive line is porous.
Winning the battle up front likely will be a key. And Morrissey has seen some good signs in practice."Our offensive line has done a great job," he said.He also likes the work of quarterback Jean-Luc Soglohun and junior tailback Cody Freeman.
L-P fans have high hopes for coach Jose Medina's crew. Medina is in his second season, but has been in the program as an assistant for 15 years.
"People are optimistic this will be a playoff team," said LaSalle News Tribune sports editor Kevin Chlum. "This is the team people have been waiting for (as it developed) at the lower levels."
LaSalle-Peru believes it will be better on defense, but that is the talk every year Chlum said. Nine starters return overall, but many of them went both ways, he said, and in a lot of key spots. "There's not a lot of depth," he noted, "but the starters are pretty good."
UT has eight starters back, but not a lot of lettermen, Morrissey said, among its 44 players.
Defensively, his concern is conditioning. "I hope we are conditioned enough to play all four quarters," he said. "We have a lot of players going both ways.  We are trying to keep it simple and give our kids a chance to succeed."
Peoria Notre Dame at Alleman
Rock Island Alleman, coming off a 3-6 2015 season in coach Todd Depoorter's debut season as a head coach, will face what looks to be a daunting task in its opener at Charles D. Lindberg Stadium on Friday.
Peoria Notre Dame was a 6A playoff team a year ago before bowing out in the second round with an 8-3 mark. It also is not lacking depth with about 45 players out for the team, according to the Peoria Journal Star.
What likely worries Depoorter is that two main cogs in a backfield that rushed for more than 3,500 yards a year ago return. The duo is led by senior fullback Alex Shaw, who ran for 952 yards, 10 TDs and junior tailback Fred Dixson, who rushed for 503 yards and 6 TDs from his wing position a year ago. Jack Dawson, a junior, is the expected starter at wing back this year.
They run behind what looks to be a sturdy offensive line led by senior guard Isaiah Ward (6-0, 285), senior tackle John Epley (6-4, 260) and junior guard Jett Schmitt (6-2, 245). All three are returning starters. Then there's senior Max Bousky, who totaled 452 yards and 6 TDs a year ago. He's expected to be all over the field, lining up at tight end, wing back, fullback, wide receiver and will even go under center occasionally.
A key for Alleman, which also starts a first-year varsity starter in Jack Fernandez, could be PND junior quarterback Caleb Haisler, a sophomore starter a year ago. Peoria Notre Dame, like the Pioneers, is no stranger to the state playoffs, but has a longer current streak of four straight seasons. Friday also will mark coach Sean Gillen's debut as the head man, though he was an assistant a year ago. He's on record as saying there really are very few changes in what the Irish do.
Moline at DeKalb
It's not exactly a dream matchup for Moline coach Mike Tracey, now in his second year with the Maroons after a hall of fame career at Alleman, plus a stop at UT that began in 1996 and rendered five playoff appearances in six seasons and no losing records. He closed his career there as the athletic director.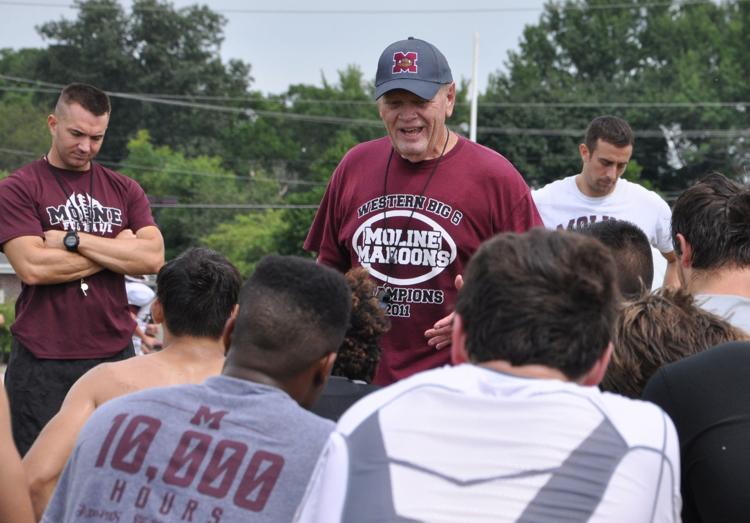 DeKalb was 9-3 a year ago and returns a starting quarterback who can do everything, including throw accurately, Tracey said. He poses a "big challenge" for the Maroon defense, Tracey said, and he leads a diverse offense.
But his own biggest problem may be his squad's inexperience. Not many of the kids played last year, other than mop-up time, Tracey said. "It's the most inexperienced team I've ever coached."
The fact that this year's seniors are more used to his system has not played out yet, either, he said. "We don't practice at the pace I want," Tracey said. "There are certain ways I want to do things. It took us four to five games last year to get that way. I still think we can be there soon; we just aren't there yet."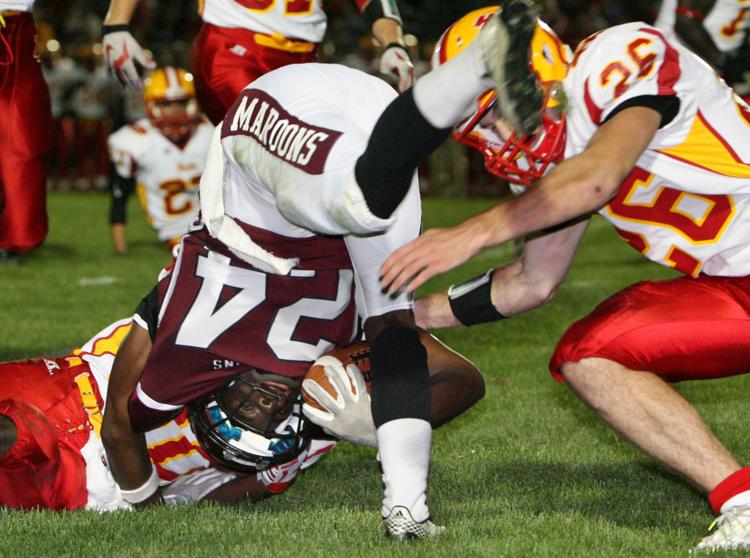 His defense is showing signs of improvement, Tracey said. It has two starters returning in cornerback Marcellous Johnson and linebacker Ladji Diallo. But Tracey is still waiting to see consistency in team play, the same consistency he sees in individual drills.
Alton at Rock Island
The Rocks may be the only Big Six team that has to mainly worry about simply taking care of business Friday night. They bring experience back from a 6-4 playoff team at key positions and face an Alton team that went 1-8 a year ago. And one of those losses was at home to Rock Island, 34-6.
Rock Island coach Bryan Stortz said Tuesday the team was coming off its best practice of the season. That can't be good news for Alton. Nor can the RI team speed. The Rocks clearly have four to six players with the kind of speed that any team would be happy to have one or two players with.
"We have some gifted kids, definitely," said Stortz, whose team won a share of the Big Six last season, and is 25-15 in four seasons. "Just being able to put those kids in the right spot is what we have got to do."
A year ago, the Rocks jumped on the Redbirds right away in what was also the opener for both teams.
"That's something we are trying to focus on right now is get in that mindset that we have to have our foot on that gas pedal from the get-go," Stortz said. 
The Rocks do something interesting at practice — varsity, sophomores and freshmen all practice together on Almquist Field. They've been doing it for two years, even though they have 45 players out for the varsity team. 
"At times, we are kind of all on our own, where we don't have a varsity kid going against a freshman," Stortz said. "Then when we come together and do things that we all should be able to do, we're together.
"I just think it kind of helps with the team chemistry of the overall program."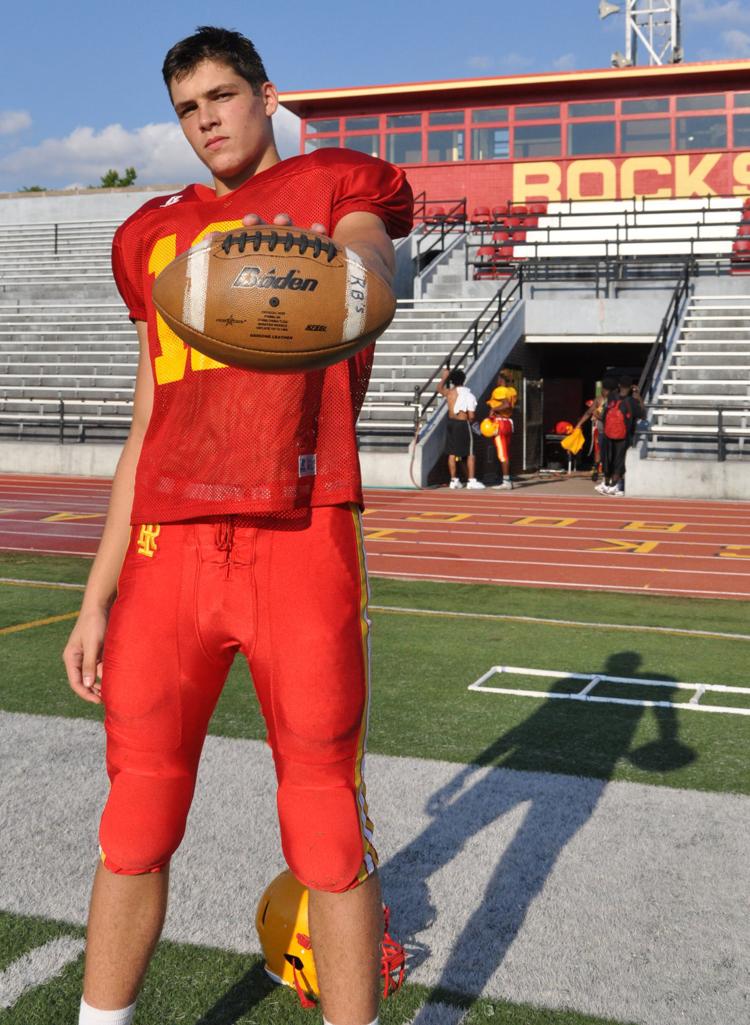 Stortz downplays that it could be a special season at the Rock. Everybody thinks that way at the start of a season, he said. But not everybody has a talented returning starting quarterback (Alek Jacobs), a 6-6 wide receiver coming off a 44-catch season (Jacob Ellis), seven offensive starters returning plus four on defense like the Rocks do.
"We are definitely excited to see what our kids are able to do," Stortz said.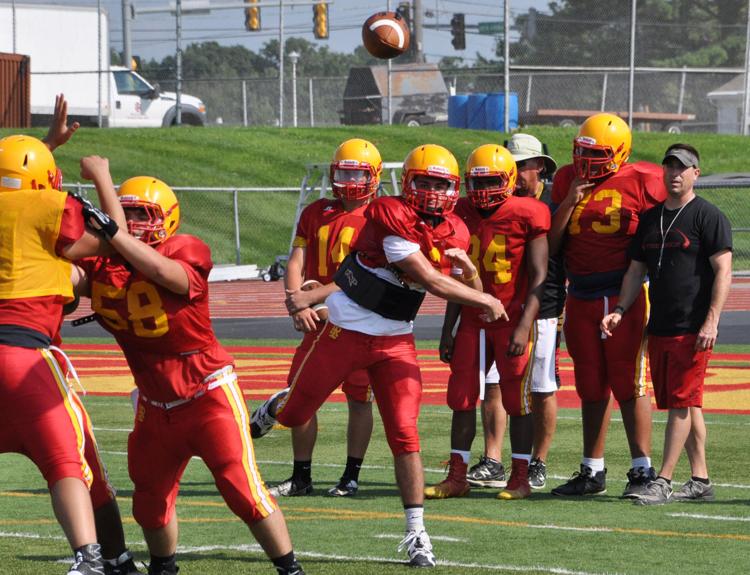 Elsewhere in the Big Six
— Quincy vs. Edwardsville