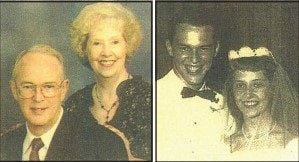 Mr. & Mrs. Robert G. Scott recently celebrated their 60th Wedding Anniversary in San Antonio, Texas where they have resided for almost forty-five years.
Marian Postel of Davenport and Robert Scott of Moline, Illinois were married August 16th, 1959, in Davenport at St. Paul Lutheran Church.
Mr. Scott was a Petroleum Geologist which brought them to New Mexico and Texas.
They have two sons, Cliff (wife Sherry) and Andy (wife Kahley) and five grandchildren.
Be the first to know
Get local news delivered to your inbox!