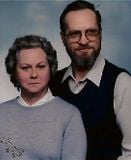 Ray and Billimae (Shirk) Howerton will be celebrating their 50th Anniversary on February 13th, 2020.
The couple was united in marriage on February 13th, 1970.
They have 6 children, 14 grandchildren, and 21 great grandchildren.
The couple's children will be hosting an open house on February 8th. Family and friends are invited to come mark the special occasion with the couple.
Be the first to know
Get local news delivered to your inbox!