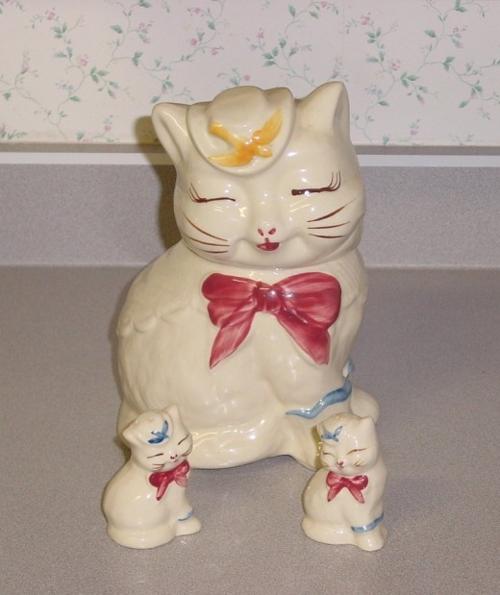 Dear Doug: This cookie jar/salt and pepper set has been in our family for many many years. Can you tell me more about it?
Dear Mom: This set looks vaguely familiar. Could it be the same one that's been in your kitchen as long as I can remember?
You say it's a cookie jar? As a kid, I found it was always empty. In fact, just looking in it was an act of desperation taken only after the normally dependable Tupperware bowl had left me bereft of all hope.
By the way, in the future, you don't need to write me if you have a question concerning your valuables. Just call me sometime. As always, the family discount will be applied to my appraisal fee.
This is a very cute and collectible ceramics set made by the Shawnee Pottery Co. of Zanesville, Ohio. The company was established in 1937, and at that time or shortly after, citizens of the United States began to foster animosity toward the Germans and Japanese as the world grew closer to a global war. The cry to "Buy American!" helped propel the fledgling company into a thriving dinnerware and pottery business.
Furthermore, its reasonably priced products were available throughout the country via major department store chains such as S.S. Kresge, Sears & Roebuck and Woolworth's.
The pattern is called "Puss 'n Boots," and the original patent was issued May 22, 1945, to Rudolph V. Gatz of the aforementioned company. The term of the patent was 14 years, expiring in 1959.
The original patent application drawings show our kitty with a painted shawl and boots, accentuating, if not providing the impetus behind, its "Puss 'n Boots" moniker. That preliminary sketch is more attractive to me, although I don't think it ever made it to production. Your kitty's painted scheme is standard. Rarer versions, which are borderline gaudy, can be found with additional gold and silver paint trim as well as applied floral decals. These variations are worth twice as much money, but, interestingly enough, they usually were added at the factory in order to hide blemishes and defects found during inspection.
You also will notice that the end of your cat's tail is tucked under its body. A slightly different mold produced a version with the tail protruding over its front right paw.
Shawnee Pottery began making the pattern in the mid-'40s, shortly after the patent was given. As one of its best sellers, Puss 'n Boots continued being produced up until the company's doors were closed in 1961.
Today, Shawnee pottery is a favorite among collectors, but its striking cookie jars in particular are held in high esteem. Yours is worth about $200, and the salt-and-pepper pair an additional $25. The set included a matching creamer, which, I assume, my sister Darci broke at some time or another.
Hopefully, my answer will not spur you to hock this wonderful family heirloom. It would be hard for me to replace the many memories of carefully lifting that cat's head to find her insides hollow and disconcerting.
Other prized Shawnee cookie jars include "Winnie Pig," "Muggsy Dog" and "Dutch Jack & Jill." Another dandy is its "Smiley Pig," which is one of the most collectible and sought-after of all cookie jars.