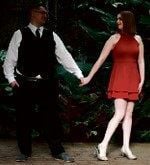 Bill and Jenny Kolwey, Walcott, are pleased toannounce the engagement of their daughter, Cassidy Kolwey, to Aaron Dierickx, son of Jim and Pam Dierickx, Lowden. Cassidy is currently a student at the University of Iowa working on a Medical Laboratory Science degree and Aaron attended Kirkwood College for Marketing. The couple plan to be married in June 2022 in Davenport.
Be the first to know
Get local news delivered to your inbox!