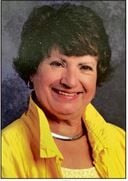 Judy Wade is retiring this June after an outstanding 50 years of teaching at Bettendorf Middle School. She has educated and brightened the lives of over 18,000 children in the Bettendorf community, many who remember her as the person who taught them practical skills for life (and made delicious cookies). Mrs. Wade graduated from Western Illinois University with a BS in Home Economics in 1970. She moved to the Quad Cities that Fall and began her teaching career as the Fabric Design instructor at Bettendorf Middle School. In 1987, Mrs. Wade developed the Practical Living Skills program at BMS. She earned her Master's Degree in Family Science from the University of Iowa in 1991. Mrs. Wade was recognized for her teaching achievements in 1998 as a recipient of the Golden Apple Award. She has also been involved in the Delta Kappa Gamma society of outstanding women educators, Junior Achievement program, Lutheran Social Services, Children's Cancer Connection, and First Presbyterian Church. Mrs. Wade has been a cherished member of the Bettendorf Middle School community. She will be deeply missed at BMS this Fall. A scholarship fund has been set up in Mrs. Wade's honor for graduates of Bettendorf High School. The fund is established with the Quad Cities Community Foundation and managed by the Bettendorf Schools Foundation. Donations can be made at www.qccommunityfoundation.org/donate, "Judith Wade Scholarship." You may also donate by sending a check made out to the Quad Cities Community Foundation with "Judith Wade Scholarship" in the memo, 852 Middle Road, Suite 100, Bettendorf, IA 52722. Cards or special memories can be emailed to judybms20@gmail.com or sent directly to Bettendorf Middle School c/o Judy Wade. In retirement, Mrs. Wade is looking forward to gardening, volunteering and spending more time with her family.
Be the first to know
Get local news delivered to your inbox!