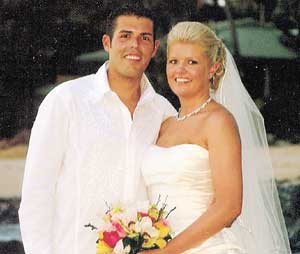 Valerin R. Engler and Ashley I. Morris, both of Las Vegas, Nev., were married September 28, 2007, at Wild Orchid Beach, Maui, Hawaii. Brad Salter officiated the ceremony.
Their parents are Rick and Pennie Engler, Donahue, Iowa, Theresa and James Talmon, Las Vegas, and Victor and Barbara Morris, Las Vegas.
Their grandparents are Norma Engler (and the late Leroy Engler), Eldridge, Iowa, Delmar and Helen Albrecht, Eldridge, and Holly Shouse (and the late Russel Shouse).
The wedding attendants were Mandy Leftkowitz, matron of honor; Jason Smiley; best man; Katie Gimbel, Kasey Higham, Stephanie Gray, Alyssa Lujan, Julie Noel, Amie Reece, bride's attendants; Raul Klein, Jason Goodman, Darin Leftkowitz, Rob Lujan, Benjamin Engler, James Gimbel, Clint Ramos, groom's attendants; Sara Leftkowitz, flower girl; Tony Noel, ring bearer.
The bride graduated from North Scott High School, Eldridge, and the University of Nevada at Las Vegas.
Her husband graduated from the University of Nevada at Las Vegas with a bachelor's degree in finance. He is employed by Wells Fargo Investments, Las Vegas.
The couple took a honeymoon trip to Paris, France.
They reside in Las Vegas.
A wedding reception will be held in their honor on November 10 at Del's Reception Hall, Eldridge, beginning at 7 p.m. All friends and relatives are invited.