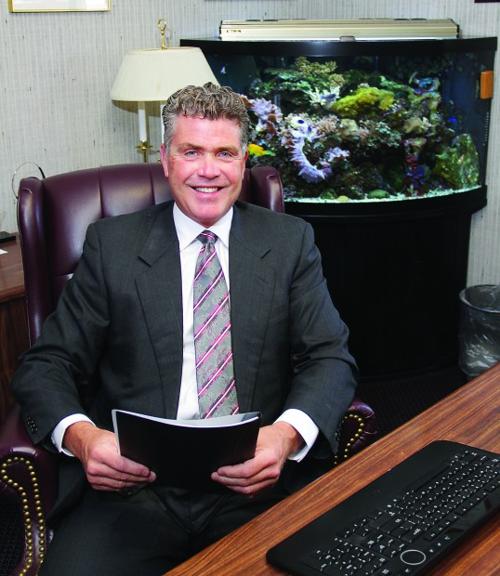 If Rick John should ever say that his business is on the rocks, he would be making a positive statement.
John, the president of The Sedona Group, displays in his Moline office a photo of a picturesque rock formation in Sedona, Ariz. The image is the inspiration for the name and logo of his nationally ranked work force management group now celebrating its 25th anniversary.
Another inspiration is a quotation from French author Antoine de Saint Exupery, It reads "A rock pile ceases to be a rock pile when one contemplates it with a finished cathedral in mind."
For John, the rock pile represents aspects of a business that are not directly related to its core product or service, but are essential for its operation. Staffing such operations— which may include job placement, payroll services and other functions that often are outsourced — is the bread and butter of The Sedona Group.
"We see non-core business as our core business," he said.
With three buildings in Moline's Wildwood Business Park, 38 staffing offices nationwide, more than 200 staff employees working in three divisions and more than 2,000 temporary employees placed with 3,000 clients in any given week, The Sedona Group has done an impressive job of taking care of clients' non-core business needs.
The company has annual sales of $114 million, and its sales over the last 25 years have exceeded $1.5 billion. One of its divisions, Sedona Staffing Services, is ranked in the top 2 percent of the nation's staffing services by Staffing Industry Analysts.
The Sedona Group's success comes at a time when an improving economy is boosting the need for temporary and contract workers, according to the American Staffing Association.
U.S. staffing companies employed an average of 2.8 million temporary and contract workers per day in 2011, up 8 percent from 2010, according to data released in March by the American Staffing Association. In 2011, U.S. staffing firms hired 12.9 million temporary and contract workers over the course of the year.
"As the economy continues to slowly improve, staffing and recruiting companies played an important role in putting America back to work in 2011, helping close to 13 million people find temporary, contract or permanent jobs," said Richard Wahlquist, American Staffing Association president and chief executive officer.
During recent economic downturns, The Sedona Group has been able to grow, thanks to the commitment of its employees and reputation for quality service, John said.
"The last few years have been a challenging time to be in business," he said. "We are fortunate to be partnered with many strong performing companies that have enabled our growth and innovation."
The Sedona Group traces its roots 1986 when Rick John and his brothers, Tim and Larry, launched a small staffing company under the name TemPro Services. The company changed its name to The Sedona Group as it expanded its services.
The Sedona Group has three divisions — Sedona Staffing services, Sedona Technologies and Sedona Medical.
Sedona Staffing helps customers with their employment needs by hiring job candidates directly, on a temporary basis, on a temporary basis with the intent to hire full-time or on a contract basis.
Sedona Technologies offers a broad array of technical services to include business, technology, engineering consulting, project management, software development, website solutions and temporary and contract staffing.
Sedona Medical assists medical practices in hiring staff and managing administrative functions.
The company wins accolades from clients.
"Sedona's services have been ideal. Their long-term contract option relieves me of managing payroll, taxes, insurance, fees and other human resources functions. Sedona manages my staff so I can manage my business and, most importantly, the care of my patients," Dr. Pamela Davis, a Moline orthopedic surgeon, said.
Despite its success, John, a Moline native and a graduate of Augustana College, Rock Island, said he has never had a formal business plan. Instead, he looks for ways to grow. He recently returned from India, where he visited with officials of a company that offers process and engineering services he thinks could have applications in serving his clients.