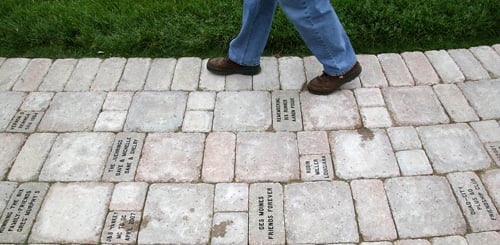 Add Your Brick to the Bix Walkway!
As a tribute to and fund-raiser for all things Bix, you, your family and your business are invited to engrave a message - immortalizing your support, congratulating a friend or family member, or just expressing a sentiment - to be enshrined in brick along the "Bix Brix" footpath, a celebratory walkway to be added to the Bix Garden on the grounds of the Quad-City Times.
Your tribute will be in good company, sharing the spotlight with the bronze statues of legendary jazzman Bix Beiderbecke, beloved Quad-City Times columnist Bill Wundram and celebrated Bix runners Joan Samuelson and Bill Rodgers. The Bix Garden graces the Times' prominent frontage on River Drive, near the finish line for the Bix 7 road race. Motorists, pedestrians and thousands of runners and spectators pass by or visit every year. It has become a popular spot to reminisce about the glory of past races and the music of Bix. A portion of the proceeds from your Bix Brix will be shared with the Bix 7 road race.
There will be a limited number of Bix Brix available.
Questions? Call 563-383-2265.