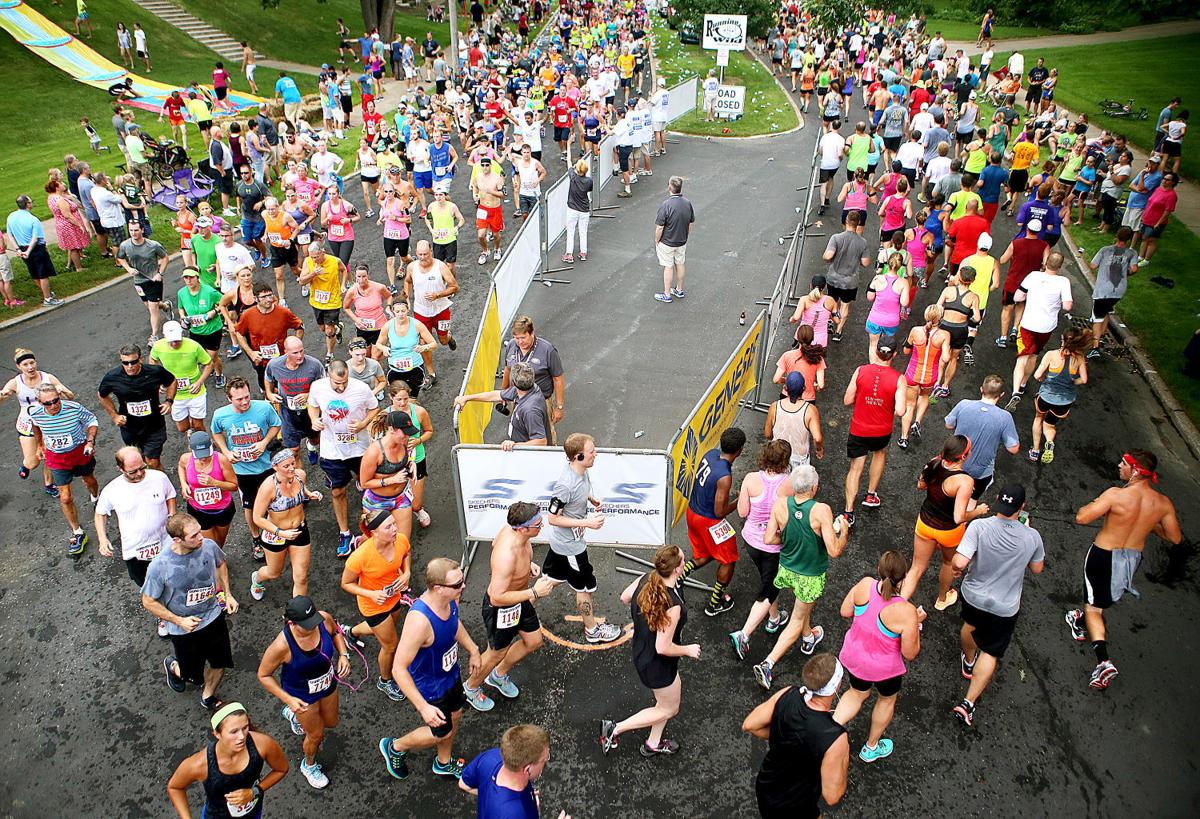 When is the race?
Bix & QuickBix: 8:00 am Saturday, July 29, 2017
Jr Bix: 6:00 pm Friday, July 28, 2017
Contact Information
Bix Hotline: 563-383-2489
Volunteer Hotline: 563-383-5353
How long is the Bix?
Age 8-12: 7/10 Mile
Age 6-7: 1/2 Mile
5 & under: 70 yards
How much does it cost?
Bix & QuickBix: $40 by June 1, $43 by July 1, $48 late entry
Jr Bix: $16 until July 26, $20 late entry
When does registration end?
Mailed applications must be postmarked by July 19.
Online registration ends at noon July 28.
The last chance to register is in person at the River Center packet pick-up sessions on the Thursday and Friday before the race. 
What do I get for registering
The Official 2016 Quad-City Times Bix 7 Dri-FIT Race Shirt
Free Commemorative Poster
Yearly award pin for 2, 5, 10, 15, 20, 25, 30, 35 & 40th time participants
Publication of name and official finish time in the Quad-City Times
Official printable Cerificate of Participation with official finish time and ranking available online
Walmart's Greatest Post Race Party
4 FREE Bix at 6 training runs for registered runners
Official Jr Bix T-Shirt
Jr Bix "Victory" Medal
Name printed in the Quad-City Times
Admission to "Family Block Party." Parents are invited too.
You will pick up your T-shirts at Packet Pickup. Additional shirts purchased in the registration process will be mailed as soon as they are available.
Is there an age restriction to run?
There are no age restrictions on the Bix. Categories are: 15 and under, 16-19, 20-24, 25-29, 30-34, 35-39, 40-44, 45-49, 50-54, 55-59, 60-64, 65-69, 70-74, 75-79, and 80 & over.
What is the race route?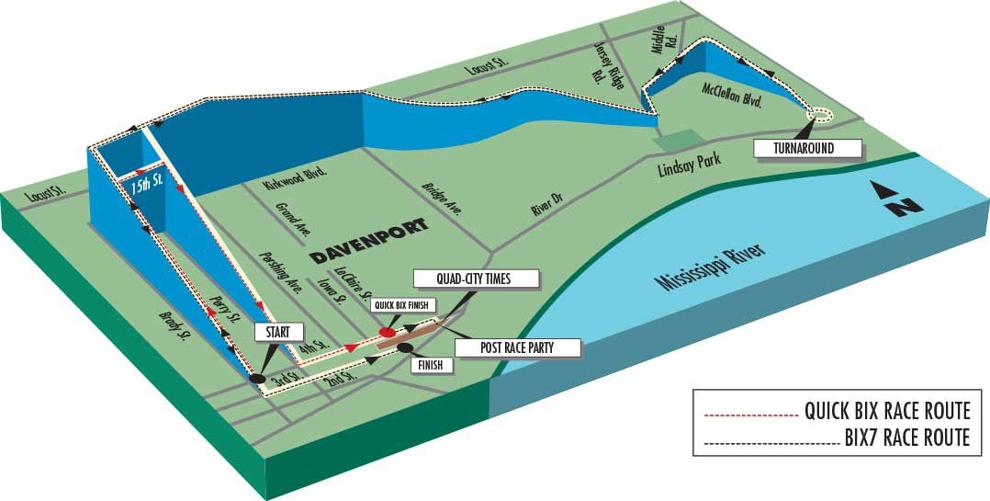 Starts on Brady St, turns right onto Kirkwood Blvd, turns up Jersey Ridge Rd, turns right onto Middle Rd, turns right onto McClellan Blvd, to a turnaround at River Drive. The course follows back the same way, turns left onto 3rd street to the finish line.
QuickBix: Starts on Brady St (with Bix 7 runners), turns right on 15th St, turns right onto Perry St, turns left onto 4th St to the finish line.
There's also a map with elevations available through MapMyRun.com.
How steep is Brady Street Hill?
The hill is about a 7 to 9% grade, or 4 to 5 degrees, for around one third of a mile.
Can I be in the race if I am in a wheelchair?
Yes, wheelchairs are allowed in the race. Other wheeled devices, such as strollers and bicycles, are not.
Can I bring my child with me in the race?
For the safety of the runners, strollers are not allowed. Children strapped to an adult or carried are permitted. As a reminder, the temperature on the day of the race may be very high. Be safe.
Are pets allowed?
As much as we love them, pets are not allowed.
How do I participate in the costume contest?
101.3 Kiss FM will hold the costume contest in the Quad-City Times parking lot after the race.
How is the race timed?
We use a disposable timing chip called a D-tag. These chips are located on the race bib. To use, peel the chip off the race bib and attach to your shoe. These chips do not need to be collected after the race.
I've registered. Now what?
If you ordered an extra T-shirt, it will ship as soon as it is available.
The Running Wild Sports and Fitness Expo is the official race headquarters for the Quad-City Times Bix 7. The expo is located in the RiverCenter South Hall at 136 East Third Street, Davenport.
Packet pick-up, late registration and expo hours are: Thursday, July 27 from 5pm to 9pm and Friday, July 28 from 9am to 9pm. There will be limited packet pick-up the morning of the race from 6:30am to 7:30am. No late registration available on Saturday morning.
If you choose to pick up your packet on race day, T-shirts, posters and pins may not be available.
Plan to be at the race early to park and get in position.
What's the Bix at 6?
The Bix at 6 is a set of 4 training runs available to registered Bix participants. Runs start at 6:00 pm on Thursday, June 22, June 29, July 6 & July 13. The training runs will follow the actual Bix course. You must be registered for the Bix or QuickBix to participate. Runners who register at the Bix at 6 will receive a free Bix at 6 T-shirt.
What's the Brady Street Sprints and how can I enter?
The race is exactly a quarter mile climb, steeply ascending Brady Street hill. Ten races highlight the evening. Two men's and women's open races (29 & under and 39 & under for each), two Masters' races (40 & over, men's and women's), High School relays (boys' & girls'), Bix 7 Sponsors Race (Bix sponsors only) and the Corporate Challenge Race (any Quad City company may recruit the fastest runners they can find). The finals will be televised on KWQC with cash prizes for top finishers. Time trials take place during the first three Bix at 6 training runs - 7 pm at 5th and Brady Street. The top 3 finishers each night will make it into the final round, which will take place at 7 pm on Thursday, July 27.
I'm an elite runner. How do I register?
Participants wishing to enter in the elite category must provide written verification that they have run a 10,000 meter time under 33:00 mins (men) or under 38:00 mins (women) within the last year, such as a copy of printed race results or a finisher certificate. This and an application should be mailed to:
Bix 7- "Seeded" Race Entry
1225 E. River Drive #230
Davenport, IA. 52803
Elite applications that don't include written verification will not be entered in the elite category.
Where do I park?
There are three downtown parking ramps, as well as street side parking and the Modern Woodmen Park parking lot (which requires a bit of a walk). Make sure you're there early enough to get in place before the race starts.
Where can I stay when I'm in town?
The official hotel of the Bix 7 is the Isle Casino Hotel in Bettendorf. Call 1-800-THE-ISLE for more information or to book a room.
How do I return my chip?
You don't need to return your chip! With the D-Tag disposable timing chips, you won't need to stop and remove the chip after the race or pay for a lost chip.
I still have questions. Who do I contact?
Bix, QuickBix & Jr Bix questions: 563-383-2489 or E-mail bix7@bix7.com
Volunteer information: 563-383-5353