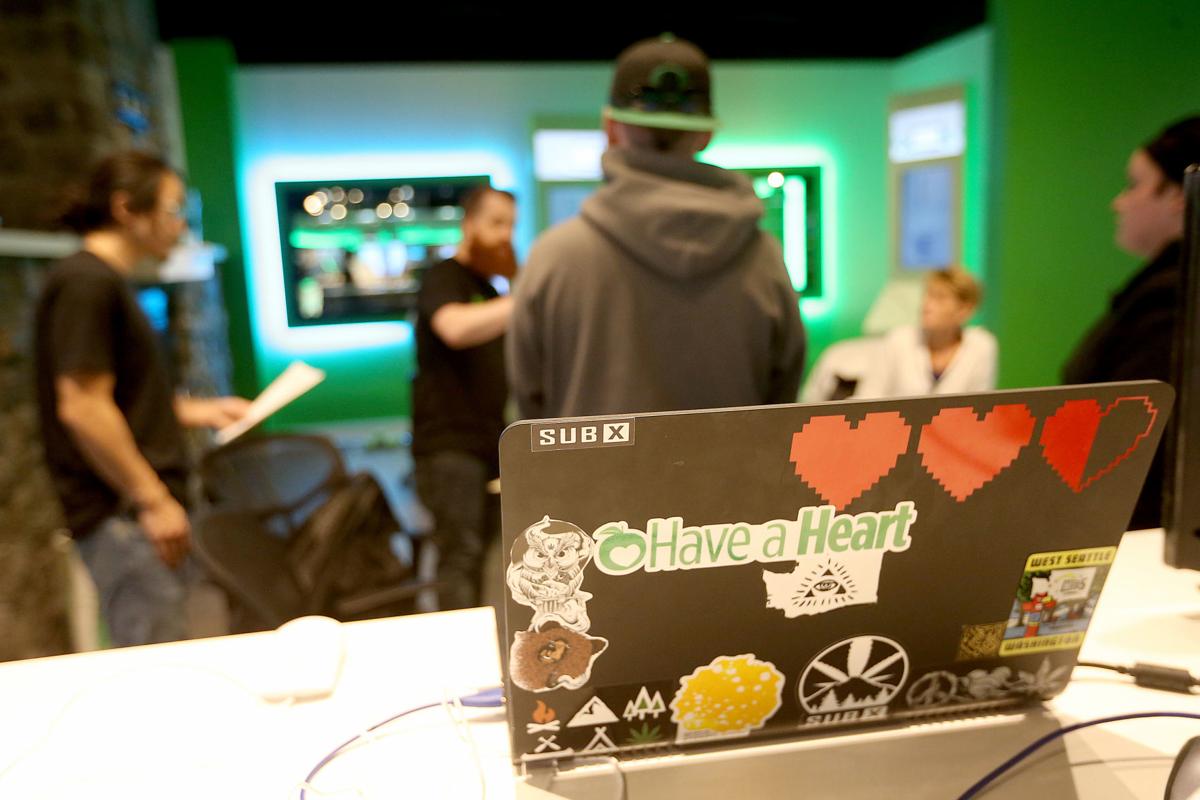 Eighteen pre-applications have been filed in Iowa for the two vacant medical cannabidiol dispensaries.
A request for applications was released in recent weeks after Have a Heart Compassionate Care suddenly closed its dispensaries in Davenport and Council Bluffs March 30. Letters of intent, or pre-applications/intents to apply, were due earlier this week.
The names of all applicants that submit final applications by the June 8 deadline and the location of proposed dispensaries will be released on June 19. It remains to be seen if Davenport or Scott County will get a second shot at a dispensary.
MedPharm Iowa, which operates Iowa's only cultivation center and other dispensaries, filed applications for the two vacancies according to Lucas Nelson, general manager of MedPharm Iowa. Nelson said he was encouraged when he heard 18 pre-applications had been submitted to the state.
"It was certainly a situation that we were worried about the market here and, given the challenges you have with the virus, there may not be much interest from that many people," he said.
It appears Davenport-area patients have been traveling to Waterloo and Council Bluffs patients going to Sioux City in the wake of the Have a Heart closures.
"I certainly don't think we've been able to get every single person from those two shuttered dispensaries so obviously there's some people out there that haven't been able to get their medicine," Nelson said.
The current situation has been amplified for MedPharm after Acreage Holdings, which operates Iowa Relief in Cedar Rapids, announced April 3 that that it would temporarily close its Iowa facility, one of two manufacturing facilities in the Hawkeye State.
That means MedPharm's precautions around COVID-19 are heightened, such as the use of face coverings for workers, the use of gloves, disinfecting surfaces and social distancing.
"If we had to shut our manufacturing facility for some reason that would dry up the entire supply," Nelson said. "This is 100% the difference between a child having seizures every day or not. It's reasons like that that we have to be really careful and mindful of everything our staff is doing to make sure the supply of medicine continues."
With COVID-19's ongoing financial impact, businesses have sought coronavirus-related monetary relief. But legal cannabis businesses have not been able to seek those dollars, such as the Paycheck Protection Program from the Small Business Administration.
That's just another example of the paradox of federal prohibition while more states add medical and/or adult-use sales. Those aid packages for businesses have also shone a light on how tight operating margins have become in many business sectors.
Andrew Livingston, director of economics and research at Vicente Sederberg LLP in Colorado, is co-host of the "Weed Wonks" podcast and a cannabis industry veteran. Like most business sectors, COVID-19 has hit the publicly traded cannabis businesses, such as Acreage Holdings, hard as the stock market has rocketed from highs and lows in recent months.
But some investors who are financially stable could get into the Iowa market now, instead of publicly traded multi-state operators being hit by COVID-19.
"I think a lot of people look at restrictive programs now and they anticipate and they imagine with COVID, states are going to be looking toward cannabis tax revenues as a form of economic recovery," Livingston said.
And to get more cannabis tax revenue there would have to be expansion, either of an existing medical program or adding adult-use sales, as a way to boost tax income for states during a likely economic downturn after the pandemic, Livingston said.
"Cannabis being deemed essential is bringing those businesses out of the spotlight and into the regular conversation we have about the difficulties we have, about the difficulties of being an entrepreneur in America," Livingston said.
Nelson hopes the essential business label across the country for the legal cannabis businesses helps the industry get over the "hump" in some people's minds.
"I do think there's still a good shot that we are able to get something done on this program, get a bill completed for the program as a whole and get new patients into the program. I can only imagine what these delays are doing for someone with" post-traumatic stress disorder who is mostly indoors at this time, Nelson said.
Comparing Iowa to conservative states with more robust medical programs, Livingston said Oklahoma and Missouri generate tens of millions of dollars in tax revenue. He added that Oklahoma has been able to drive dollars from its application period.
"It brings up the larger question of what sort of program do you want to have to serve your community and how much of a factor is necessary tax revenue? Because you're going to see a lot of legislators looking for ways to stimulate the economy after the COVID crisis ends and yet we're still in a recession that we're still trying to emerge from. And cannabis is a new line of tax revenue — medical cannabis and adult-use — that also benefits those consumers who need it," Livingston said.