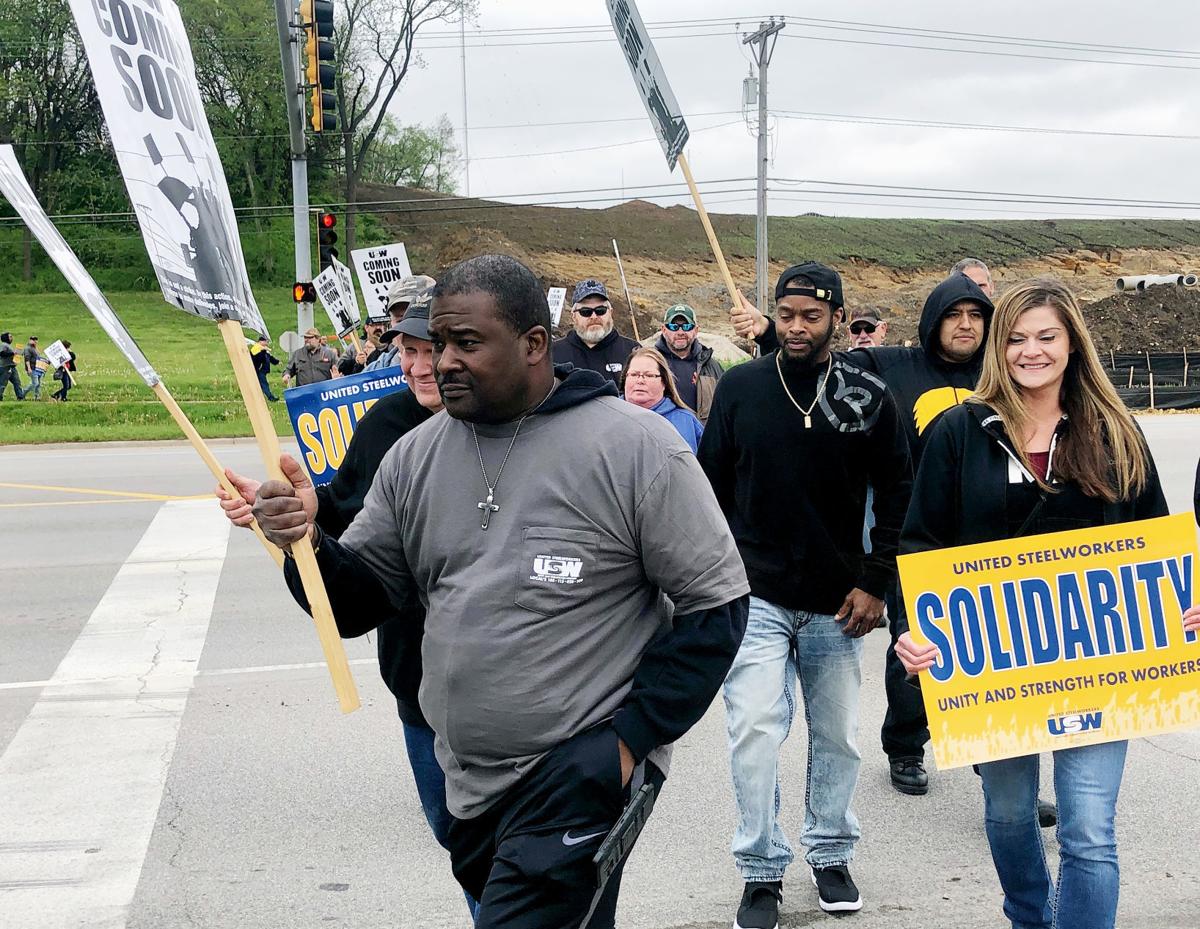 While union contract talks with Arconic are stalled, members of United Steelworkers in Bettendorf on Thursday voted to authorize a strike if deemed necessary.
United Steelworkers Local 105 members participated in a voice vote at the Waterfront Convention Center in Bettendorf. A majority approved a strike against Arconic after negotiations over a new labor contract broke off earlier this month. 
But, that doesn't guarantee the 1,900 workers at the Davenport Works plant in Riverdale will leave their posts to start picketing. 
Roy Hutt, a representative of Local 105, said the union wants to reach an agreement with the aluminum manufacturer without a work stoppage. But, he hopes the strike authorization vote sends a clear message. 
"Nobody is hoping for a strike," Hutt said. "What you want is to show the company that the membership is behind the bargaining committee. And by authorizing a strike, negotiators on the company's side know that what they've offered at this point is not good enough." 
There has not been a strike during union negotiations since 1986. In the event of a work stoppage, Arconic would continue to operate the plant with salaried employees and outside resources. 
"We firmly believe we can reach an agreement that is in the best interest of our employees and look forward to resuming negotiations at the bargaining table soon," said John Riches, a spokesman for Arconic Davenport Works. 
United Steelworkers are negotiating a labor contract for the first time since Alcoa broke itself apart in 2016. Arconic plans to split again next year. 
You have free articles remaining.
The contract affects employees across four locations: Davenport; Lafayette, Ind.; Alcoa, Tenn.; and Massena, New York. Talks began April 29 at the headquarters in Pittsburgh, to replace the previous five-year contract, which expired May 15. That night, both sides agreed to a deadline extension.
Members of the local union in New York authorized a strike vote last Friday. The union in Indiana will hold a vote in early June. 
Brad Greve, president of Local 105, said the biggest issues on the table are maintaining pension benefits and health care coverage, plus obtaining appropriate wages.
"People want these jobs; they're good jobs," Greve said. "If you pay better wages, these people go out and spend money in the community. That's how businesses stay alive." 
Ahead of the upcoming split, Arconic has been cutting costs and buying back millions of dollars in stock. 
In a news release, USW International Vice President Tom Conway, who chairs the negotiations, said Arconic is demanding "major economic and non-economic concessions that the union considers excessive and unnecessary." 
"USW members have dedicated years of hard work and personal sacrifice to keep these facilities operating efficiently and profitably," Conway said. "Corporate executives and shareholders are reaping the benefits while Arconic continues to demand concessions too broad and too deep for our members and their families to absorb."
The company has made several moves to scale back benefits for non-bargained employees and retirees. In the past year, Arconic has announced it would freeze U.S. pension plans, end pre-Medicare health coverage and reduce health care benefits, for example.
Hutt and Greve worry the company is working to scale back or eliminate similar benefits for union employees. 
Arconic, USW negotiations