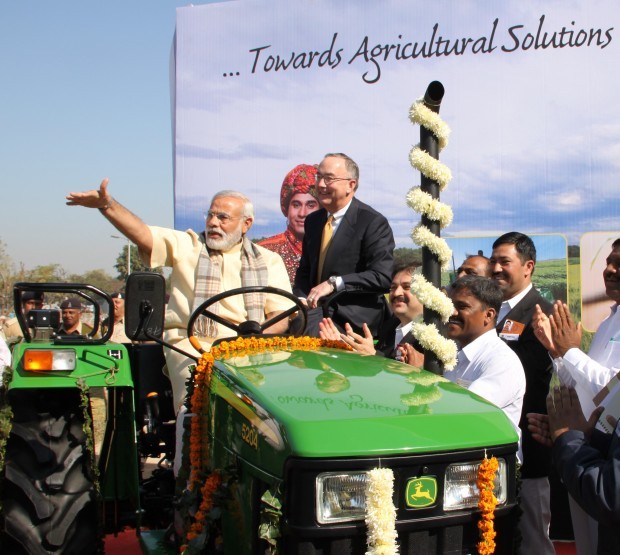 Deere & Co. plans to partner with the state government of Gujarat, India, to help provide the region's low-income farmers with the skills needed to mechanize their farming operations and increase their crop production.
Moline-based Deere announced plans Thursday for the unique public-private partnership with the Gujarat Tribal Development Department. Over the next five years, the program is expected to introduce about 50,000 Indian farm families to the benefits of modern agricultural technology.
"The world is challenged to increase food production significantly in the next few decades," Samuel Allen, Deere's chairman and chief executive officer, said in a news release. "All around the world, John Deere is working to help customers be more productive. Deere supports developmental projects such as this one in India to help farmers increase their chance for prosperity and improve their quality of life."
Deere said it will open small agricultural implement resource centers across Gujarat, making more than 500 John Deere tractors available for use by local farmers. The program also will give farmers access to a set of 13 different John Deere implements for various operations.
Farmer groups using the equipment for crop cultivation will pay only for operating and maintenance costs. Deere spokesman Ken Golden said "because of their economic conditions they cannot afford the cost of buying the equipment, and they haven't been shown the true value of mechanization."
"The idea is to introduce technology that isn't currently used in farming there," he said, adding that much of the farming continues to be done by hand or with the assistance of animals.
You have free articles remaining.
The Gujarat government also plans to help the farmers develop additional skills in soil testing and micro-irrigation.
"Many experts, including Deere, believe we have to increase the productivity of agriculture to feed the growing population," Golden said. "Those places where we think we can have a significant impact in improving productivity (is where) we're looking at, and this program fit perfectly."
According to Narendra Modi, Gujarat's chief minister, the public-private partnership is the first of its kind in India's agriculture sector. "This is a shining example of a program that will help empower and provide economic wealth to our marginalized farmers and tribal brethren," he said at an inaugural ceremony last week.
The event was attended by about 500 people, including beneficiary tribal farmers, representatives of Indian nongovernmental organizations, senior government officials and Deere's staff and leaders, including Allen.
The company said it also will ensure technical skill development and enhance future job opportunities by training about 1,000 Indian residents to be tractor operators and another 500 to be tractor mechanics. Each resource center will have a trained operator and maintenance staff.
Allen credited Gujarat's policy initiatives in recent years for helping facilitate farm mechanization in the state. "Initiatives have addressed important topics such as market access, contract farming, agriculture extension services, water conservation, micro irrigation and the availability of quality electricity."
Four local nongovernment organizations — Sadguru Foundation, ANaRDe Foundation, Shroffs Foundation and JNPCT — have been asked to bring together groups of farmers whose farms cover at least 100 acres. Golden said this size of farms will allow the farmers to be more productive as well as allow the equipment to be used to its capacity.