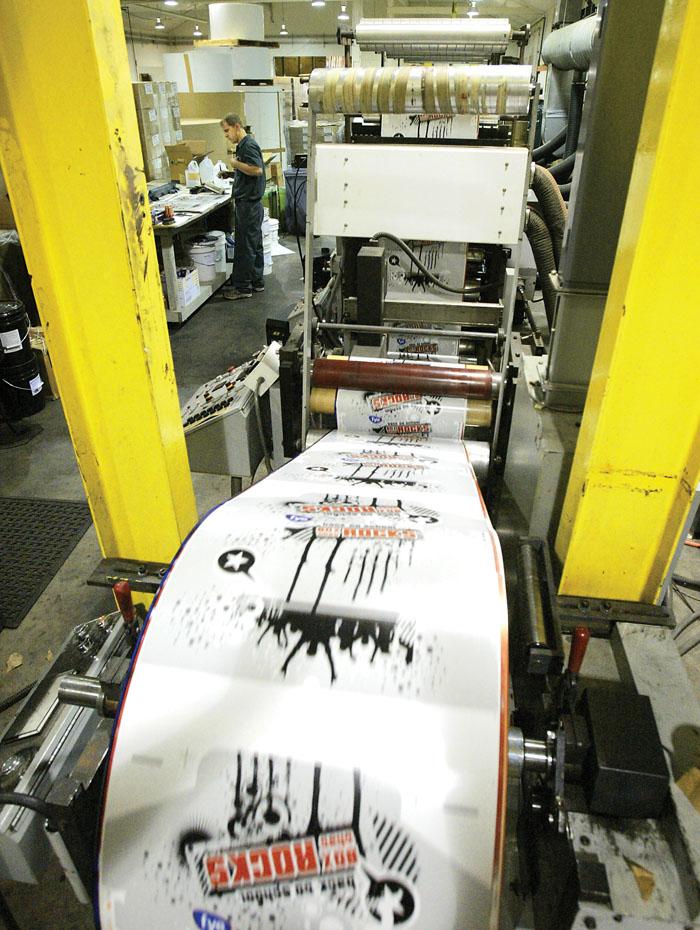 CLINTON, Iowa — Bob Simpson remembers it starting out as coffee-room chatter.
"We should start our own paper company," the Clinton, Iowa, native remembers saying.
That was during his management days at the former International Paper plant in Clinton, before the community was devastated by its downsizing and then shuttering of the 43-year-old operation — one of the city's largest employers — in 2001.
Hundreds of workers were let go, while Simpson transferred with the company out of state and then moved on to other jobs.
But he never gave up on his dream to start his own packaging manufacturing operation. And two years ago, he and business partner John Huling finally did — in Clinton.
Big River Packaging recently celebrated its second anniversary with an emotional employee luncheon, at which Simpson and Huling both offered heartfelt thanks to their 20 workers for assisting in the small plant's steady growth.
The company now is making plans to expand by soon purchasing the building where it operates at 823 S. 3rd St., and adding another bakery box production line. The owners also are looking for new investors, Simpson said.
"People ask, 'Why Clinton?,' " he said. "It's all because of the folks here. The work ethic is here."
Several people who used to  work with Simpson and Huling at International Paper now work for them at Big River Packaging, which manufactures boxes, primarily for the bakery and hardware industries.
The company makes about 400,000 boxes per week for its more than 1,400 customers, many of whom discovered Big River online through its product Web site.
"We have no interest in competing with the big guys," Simpson said. "It's really about smaller customers, and our service and design capabilities to help them with their projects. That's what our business plan was built around."
"We're on plan financially," he added. "Our growth rate is 10 percent month over month."
Big River's printing presses operate during first and second shifts, Monday through Friday, in a building once used as a Rent-a-Center store behind the Hy-Vee grocery store in Clinton.
Average pay on the manufacturing floor is $13.60 per hour, with entry level positions starting at about $10 per hour, Simpson said, but "competition is pretty stiff" for those jobs.
"It's put some of the talent back to work that was originally employed by International Paper," said Steve Ames, the president and chief executive officer of the Clinton Regional Development Corp. "I think the potential for growth is significant."
Ames said International Paper's closure definitely impacted the economy, "there's no question about it. That certainly had an impact at the time when you lost that many jobs," he said.
Big River employee Gary James, 50, was one of those who lost his job after 27 years at International Paper, where he worked as a lead cutter. Afterward, he worked for another local manufacturer. But he did not like that line of work as much as working in the paper business, he said.
"I love being back in the paper business," he said. "I always wanted to, but I didn't want to leave the area. It's really neat."
Big River is unique because it can customize and run short production lines to meet customers' needs, Ames added, describing the company as "much more dynamic than a larger-type box manufacturer."
One of Big River's most asked-for boxes is the cupcake box, inspired by Clinton's Sweetheart Bakery owners, Chuck and Brenda Thornton.
The Thorntons used to buy boxes in bulk — a year's supply at a time — from a company in Minneapolis. But when Huling — who they knew from International Paper — approached the Thorntons with questions about their uses for bakery boxes, a working relationship clicked, Chuck Thornton said.
The Thorntons told them they needed a way to transport cupcakes so the frosting wouldn't rub together, instead of using sheet-cake boxes. So, Big River designed an insert for boxes to hold cupcakes, especially for the Thorntons.
When the first design wasn't quite right, Huling and his employees went back and improved the insert until the Thorntons were satisfied, the couple said. Sweetheart Bakery now buys all of its boxes through Big River, and is one of the company's premiere customer accounts, they said.
"We always try to buy local, and they can produce any box we've requested of them," Brenda Thornton said.
"We've very happy with their product," her husband added.
Dave Foster, 56, joined Big River's ranks six months ago as a glue-machine operator. He brings 23 years of experience in the paper industry to the start-up company.
"It's been great. It's nice to have a job," Foster said. "There are so many people who don't. I appreciate it greatly."
So do Huling and Simpson, who recently told employees how very much they value their service. In fact, Huling choked up as he tried to speak, prompting a few employees to call out, "We love you, John!"
"I really feel blessed," Simpson said. "To be honest with you, God's had a hand in this whole thing from the beginning."
To contact the company, call (563) 243-5210.