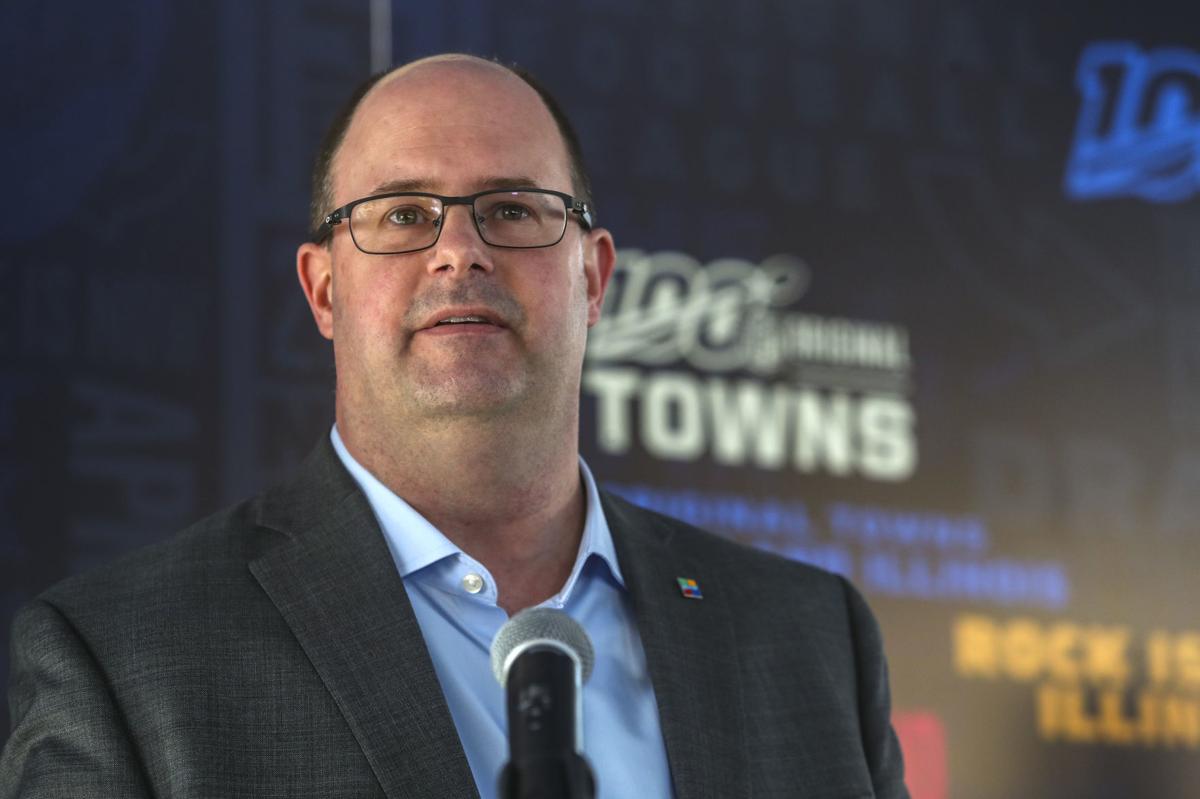 It was nearly a year ago that Dave Herrell was named president and CEO of Visit Quad Cities. In his 10 official months leading the region's official Destination Management and Marketing Organization (DMMO), he's had the chance to get to better know and understand the area and its possibilities in tourism. Herrell brought in Jon Schmieder's Huddle Up Group (HUG) this past week to assess the area for sports tourism and to provide stakeholders some insights on the challenges of fully entering the $15 billion sports tourism industry market. For our first Give Me Five! — as in five questions and five minutes of your time — Herrell is our guest. This will be an occasional feature in Sunday's Business section. 
1, Question: You have been here for almost a year. What is the biggest thing that you have learned?
Herrell: I've learned a couple of things. One, I have learned that we are a sleeping giant in the destination space. If I talk to my counterparts around the country, they all feel like the Quad-Cities has a tremendous amount of upside. So that's the first thing. The second thing, I think there is sort of the civic pride factor where we are humble, we do demonstrate this level of humility, that Midwestern spirit. We've got to get on the rooftops and talk about how great this place is. So I really look at my role as sort of the chief marketing officer, the chief kind of cheerleader, to just kind of get out there and talk about how wonderful this place is. And I think that is something you are going to see move very rapidly in this community where people are talking about how great it is and not necessarily, like we are self-deprecating and we've got that Midwestern hospitality and that spirit, but we're also at the forefront of how we sell and how we tell the story of the Quad Cities.
2, Question: A lot of forward thinking with (Thursday's) talk on sports tourism regarding the sports commission and facilities. it seems like a big part of this is changing the thought process. How do you go about that?
Herrell: I think first and foremost you gotta have a vision and you have to have a plan. So part of the process for us in looking at the destination is where are the opportunities. We feel like sports tourism is a huge opportunity for us. I don't think that we've necessarily been resourced in the best way in the past in terms of having that plan, understanding where we rank against other markets that we are competing with every day. So engaging a company like this (Huddle Up Group) can kind of help us weigh out the sequence, so when we try to build this buy-in, not only with Quad-citizens but certainly the public sector/private sector to try to move the ball down the field. We are going to have some consensus. But it's not just about us, it's the chamber, it's the municipal partners, it's the professional sports franchises. It's the iconic institutions like the John Deere Classic, the (Quad-City Times) Bix (7), the (Quad-Cities) Marathon, all these entities working together. And it's a fundamental question. Do you want to be in sports tourism or not? Do you want a healthy and vibrant sports landscape or not? I firmly believe that we do, and I want to help lead that charge and move that needle in a positive way.
3, Question: Is the beginning of this conversation on this topic?
Herrell: So we have what's called an operating guide, called the River Pilot. Within that operating guide from a Visit Quad Cities perspective, there are a variety of things within that. One of those key components is what is our sports tourism strategy? What do we look like from the facilities perspective? What are the events we are going after? What's our organization look like? Are we attacking this business in a meaningful way? So for me coming in here, being 10 months on the job, I really wanted meaningful thought into how we are going to attack this sector. So in order to do that, as opposed to being maybe a shotgun approach, I want maybe a rifled approach to make sure it's very strategic in nature and intentional.
4, Question: So what are the goals to accomplish to come out of this (talk on Sports Tourism on Thursday)?
Herrell: So for us the goals are getting a clear understanding of what does our market look like. Where are the deficiencies. Where could we be more competitively and appropriately positioned so we can go after this business to compete for relevance as part of this people attraction strategy.
5, Question: Looks like there's a lot of work to do but there has been success in the Quad Cities.
Herrell: I think that a lot has been accomplished. If you look at our sports landscape on the event side, whether it's the John Deere Classic, the Bix 7, the Iowa Soccer Association,  the Storm, the Steamwheelers, whether it's events like we've recruited like the Missouri Valley Women's basketball tournament; or NAIA Golf championships or the Marathon, we've got a really good portfolio. Now it's really the mode, let's step back for a minute and see the broader picture. Where do we want to be 15-20 years from now down the road in this space. And I am bullish on this space. I think you're hearing that this is a space that adds a lot of value for communities, whether it's economic development benefits or its quality of life benefits, branding opportunities for our community, so it definitely adds value. Now it's really the time to capitalize on its breadth.
Bonus Question: Why will it work here? You must think it will or you would not have brought (Jon Schmieder of HUG) in.
Herrell: Yeah, I think it will work here because i think one, the geographic positioning of where the Quad Cities is. I think is very strong. Secondly, you're seeing some private investment like TBK Bank's Sports Complex (in Bettendorf), You know, and what that asset is doing. Three, We've got land. And now there's this spirit of collaboration from a regional perspective that I think is going to pop us to a whole other level if we have the right vision and strategy to move it forward. So again, highly competitive space, but I think people can get to the Quad-Cities relatively easy. We just have to figure out, what are the right opportunities for us to chase and let's get chasing them.
 'And now there's this spirit of collaboration from a regional perspective that I think is going to pop us to a whole other level if we have the right vision and strategy to move it forward.' — Dave Herrell, president and CEO of Visit Quad Cities. 
The business news you need
With a weekly newsletter looking back at local history.