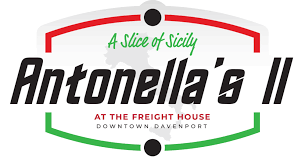 Antonella's Pizzeria II is the winner of this year's The Arc of the Quad Cities Area Slice of the Q-C.
Antonella's II is located at the Freight House, 421 W. River Drive, Davenport.
Slice of the QC is a fundraiser that celebrates the local businesses that make up the roots and flavors of the Quad-ities while raising funds for people with disabilities. Participants voted at an in-person event on Oct. 1 at Crawford Brew Works, and online. A total of 1,976 votes were cast. Antonella's won with 1,142 votes
The other five participating pizza restaurants from around the Quad-Cities were Happy Joe's, Quad-City Pizza Co., Pizza & Subs, Pagalo's Pizzeria and LoPiez Pizza.