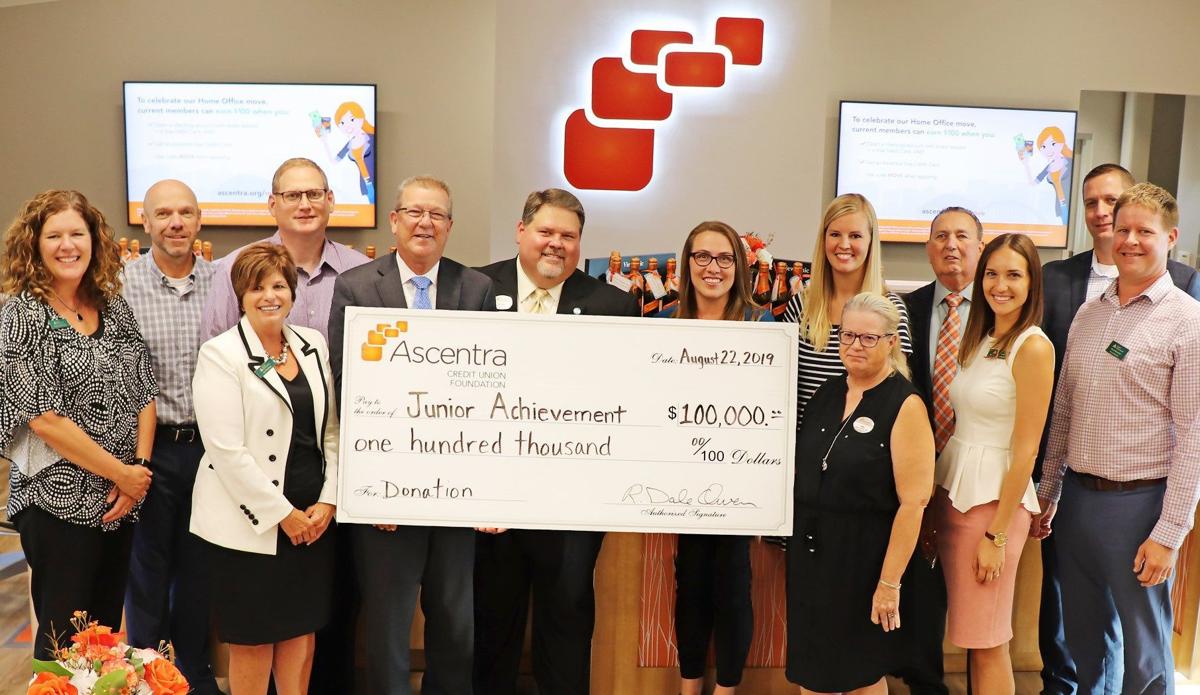 The Ascentra Credit Union Foundation has given a $100,000 grant to Junior Achievement of the Heartland to educate young people about their financial future. The grant will be distributed over a five-year period through 2023-24.
Junior Achievement of the Heartland offers financial literacy, work readiness and entrepreneurship programs to students in grades K-12 helping them learn important skills like creating a budget, becoming work-ready and developing a business plan. The majority of these core mission programs are offered to schools at no cost.
"The mission of Junior Achievement is directly aligned with Ascentra and the credit union's philosophy," Dale Owen, President and CEO of Ascentra Credit Union, said in a release.
Junior Achievement of the Heartland serves two dozen counties in eastern Iowa, western Illinois and one in Wisconsin. More than 52,000 K-12 students benefit from JA programs each year.
MetroLINK wins award
MetroLINK was recognized for implementing a first-of-its-kind battery electric bus charging system during BusCon in Indianapolis last month.
Luke Hansen, director of facilities, developed a ceiling-mount system for the Proterra battery electric bus fleet. The fleet size was recently increased to eight.
MetroLINK has won three national awards this year, including the "Bus Safety Gold Award" for excellence in safety and security, in May, the Silver Sustainability Award, in August. Both came from the American Public Transportation Association (APTA).
Recycle Denim, Support a Good Cause
You have free articles remaining.
Denim-owners can recycle their denim at any Theisen Home Farm Auto location in October and receive a coupon for the purchase of new denim.
Now in its third year, the recycling program is a partnership between Theisen and Cotton Incorporated and Blue Jeans Go Green. The collected denim is "upcycled" and turned into insulation, which will, in turn, go to communities in need. Habitat for Humanity has used the insulation.
To date, Blue Jeans Go Green has recycled more than 1,230 tons of denim and manufactured over 4.8 million sq. ft. of insulation. This year, Theisen's goal is to collect 10,000 items of denim.
The program ends Oct. 31.
Quad-Cities is one of U.S. Cellular's First Markets for 5G Network
U.S. Cellular customers in the Quad-Cities will be among the first to access the new 5G network in early 2020. The new network will have faster data speeds and the ability to connect more devices to the network at the same time.
"Iowa and Wisconsin are two of our largest markets, and we're excited to introduce 5G technology to customers in both urban and rural communities where other carriers have not," said Michael S. Irizarry, executive vice president and chief technology officer of U.S. Cellular.
U.S. Cellular plans to roll out its 5G network in parts of 140 cities across Iowa early next year. East Moline, Moline and Rock Island will also be included, according to a release from the company.
When 5G is available, customers in Iowa, Wisconsin and additional markets will be notified through local advertising and targeted marketing.
New 5G features can be incorporated through new software rather than needing new hardware. U.S. Cellular said that coverage will also improve in rural communities.