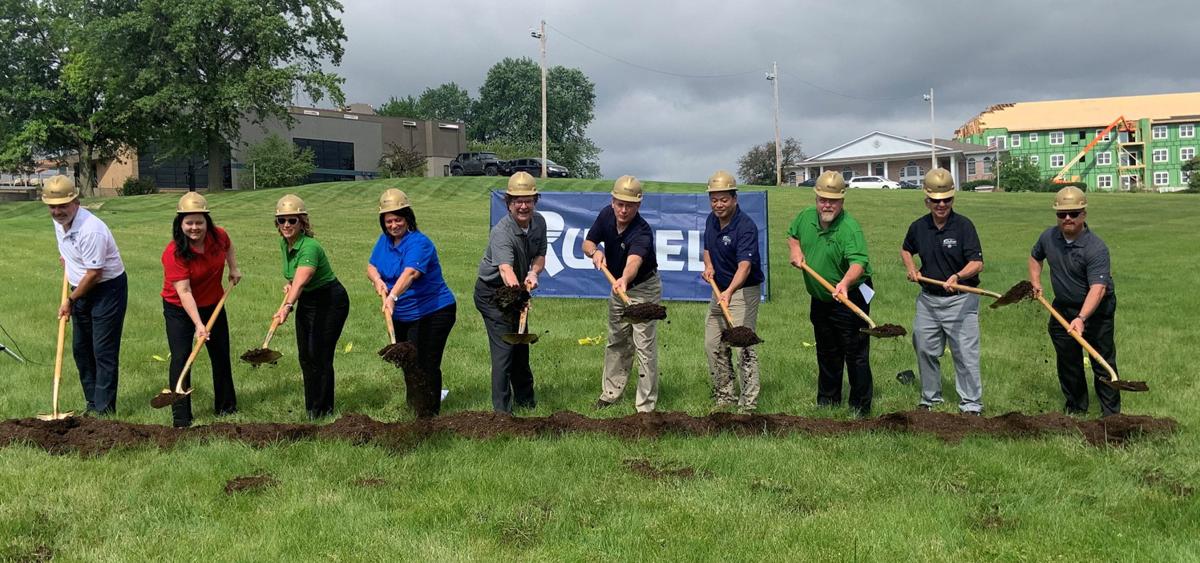 WEST DES MOINES, Iowa — Hy-Vee Inc. will again partner with Kellogg's and Keurig Dr Pepper for the second year of its End Summer Hunger campaign. This year, Chobani has also joined the campaign that helps to provide meals to children and families in need through the Feeding America network of food banks. During the month of July, for every qualifying purchase made at a Hy-Vee grocery store, Kellogg's, Keurig Dr Pepper, Chobani and Hy-Vee will help provide one meal to families in need this summer.
"COVID-19 has caused the number of people experiencing food insecurity to double in many areas across our eight-state region. Even as the pandemic wanes, the increase in those who are food insecure remains at an all-time high and will continue to be for quite some time," Tina Potthoff, senior vice president of communications for Hy-Vee, said in a news release. "Hy-Vee, along with our partners, are proud to support Feeding America with this campaign to ensure families have access to meals no matter what time of year it is."
During the school year, 22 million children have access to free or reduced-cost meals at school. But less than 4 million kids receive similar meals through USDA Summer Food Service Programs, leaving a gap of 18 million children who may not know where their meals will come from over the summer.
Donations will be made through the purchase of select products at Hy-Vee's more than 280 retail grocery stores. There is no limit to the number of product purchases per customer. Products include Kellogg's EGGO Waffles, Frosted Mini-Wheats Cereal, Nutri-Grain Bars, Cheez-It, Town House CLUB and Toasted crackers; select Bai (six-pack), Evian (six-pack), Core (six-pack), and Green Mountain Coffee; and select Chobani Greek Yogurt.
"Feeding America member food banks work hard to ensure children who receive free or reduced-cost meals at school will have enough food during the summer to be healthy and free from worry. We are thankful to Hy-Vee, Kellogg, Keurig Dr Pepper and Chobani for joining us in the fight to end hunger and helping families who need it most through the End Summer Hunger campaign," Lauren Biedron, Feeding America vice president of corporate partnerships, said in a news release.
End Summer Hunger runs the entire month of July.
*From July 1 through July 31, Hy-Vee will donate 10 cents for every participating product purchased. $1 helps provide at least 10 meals secured by Feeding America on behalf of local member food banks. Hy-Vee guarantees a minimum contribution of $100,000, with a maximum donation of $150,000.
DuTrac Community Credit Union announces new branch
DuTrac Community Credit Union laid out its plans for a new branch office to open early summer of 2022 in Bettendorf when the Quad-Cities Chamber of Commerce led a groundbreaking ceremony July 8 at the corner of Happy Joe Drive and Middle Road in Bettendorf.
The Bettendorf branch office will be DuTrac's second-largest facility and brings DuTrac's total number of branches to 14 in two states. The branch will offer the community a suite of financial services, including consumer and commercial lending, mortgage loans, vehicle loans, wealth planning and management, trust and insurance services, two drive-thru lanes and a drive-up ATM.
"DuTrac is grateful to open its newest branch in Bettendorf and the greater Quad-Cities as we help to build upon the growing economic success the Quad-Cities are enjoying," Andy Hawkinson, DuTrac Community Credit Union president and CEO, said in a news release. Hawkinson thanked Bettendorf Mayor Bob Gallagher, Bettendorf aldermen and city oversight personnel for their assistance in approving the project. Russell Construction Company of Davenport is the builder.
CertaSite Serves to support United Way
CertaSite Serves, the charitable giving arm of CertaSite, a commercial fire protection and life safety company, announced recently that its latest community initiative was giving back to local United Way branches in the 16 markets where CertaSite has offices.
"I'm so excited for this initiative. Being able to support our communities and United Way of Clinton County, Iowa, is the kind of work we pride ourselves on," Eric White, general manager at CertaSite, said in a news release. "Our people have the hearts for this community initiative, and the commitment to show our communities that we are more than fire extinguishers. We're here to offer a helping hand and provide a meaningful impact to our neighbors in need."
Through this donation drive, CertaSite is encouraging all employees, friends and customers to participate in an effort to bring attention to some of the most vulnerable in the communities. The goal is to gather 100 supplies at each location over the span of the campaign totaling more than 1,000 essential supplies.
This is CertaSite Serves' fourth community initiative. Last year, the company collected more than 7,500 pounds of food and essential items in response to COVID-19. Over the 2020 holiday season, the company partnered with Toys for Tots and donated more than 1,000 toys to make the holidays a little brighter for kids. Most recently, CertaSite gathered more than 4,400 animal supplies to donate to local Humane Societies.
Hy-Vee to help Unity House of Davenport
Hy-Vee invites the public to give back to those in need and reduce single-use plastic in the environment as the purchase of a Hy-Vee reusable bag at store at 1823 East Kimberly Road in Davenport will have $1 going to Unity House of Davenport during August.
The reusable red "My Heart" Bag costs $2.50.
Unity House of Davenport is a nonprofit organization that offers transitional housing for individuals with substance and/or behavioral addictions.
Deadline set for Quad-Cities women leadership awards
The deadline for nominations for three categories of the Quad Cities ATHENA women's leadership awards is Aug.
Award categories are the ATHENA Leadership Award, Women of Influence, and Emerging Leaders. Nomination details and required forms are at https://www.wlcglobal.org/services/athena-awards/. Bank of America is the Presenting Sponsor of the ATHENA Awards Luncheon on Oct. 13 at the Waterfront Convention Center.
Delta Dental gives $72,000 grant
Healthy Birth Day Inc. received a $72,000 grant from Delta Dental of Iowa Foundation to expand outreach and education especially with expectant mothers most at risk of losing a baby — women of color, refugees, lower-income individuals and teenagers.
According to the 2019 Iowa's Barriers to Prenatal Care Project, only 44% of non-Hispanic Black women and only 46% of Asian Pacific Islanders visited a dentist during their pregnancy. The stillbirth rate for Black women in Iowa is more than double that of white women. Populations that have higher risks of diabetes and heart disease are often at higher risk of oral health issues and gum disease, which has a direct impact on poor birth outcomes.
West Liberty Foods named to Top Green Providers list
WEST LIBERTY, Iowa — Food Logistics, the only publication exclusively dedicated to covering the movement of products through the global cold food supply chain, has named West Liberty Foods to the 2021 Top Green Providers list.
Food Logistics' annual Top Green Providers recognizes companies whose products, services or leadership is enhancing sustainability within the cold food and beverage industry. The editorial staff evaluates a company's participation in such programs as the EPA's SmartWay and other recognized sustainability programs; facilities that are LEED-certified and/or feature solar panels, LED lighting and other energy saving installations and retrofits; and other means of producing measurable reductions in GHG emissions, to name a few.
"When the pandemic hit, I thought for sure that sustainability would be pushed to the wayside. But, in fact, the complete opposite happened. And, I couldn't be more appreciative of the supply chain industry's efforts in making sustainability top of mind in every aspect of their organization despite the many supply chain disruptions they continue to face," Marina Mayer, editor-in-chief of Food Logistics and supply & demand chain executive, said in a news release. "Sustainability is the key to success, and the recipients of this year's award prove that when sustainability matters to them, they will continue to do great things and make a difference in the industry."
Brandon Achen, president of West Liberty Foods, said: "Our Sustainability team is in the midst of several initiatives including reducing GHGs and water consumption, and honing in on our zero-waste goal. I cannot be more proud of the team for leading the progress we've made in the name of sustainability. Look out for more successes from West Liberty Foods."
Recipients of this year's award will be profiled in the June 2021 print issue. Go to www.FoodLogistics.com to view the full list of all 2021 Top Green Providers.
Maybanks to lead Iowa Solar Energy Trade Association
The Iowa Solar Energy Trade Association (ISETA), a trade association serving Iowa's solar energy industry, has announced that Genie Maybanks will be its first executive director.
"We are proud to welcome Genie to ISETA," Lewis Butler, president of the Iowa Solar Energy Trade Association, said in a news release. "As a relatively young association, we look forward to having her on board and leveraging her unique background in sustainability to help grow our organization and take us to the next level. Solar will continue to play a leading role in the energy revolution, and having a robust solar organization with resources will be critical to Iowa's growing industry."
An Urbandale native, Maybanks spent 18 years at New Pioneer Food Co-op in marketing, outreach, education and staff development. She led New Pioneer Co-op's social media channels and spoke at many schools on the benefits of environmentally-friendly food production processes.
She earned her B.A. in geography at the University of Iowa. She is an avid cook, a mother of two and politically active with her husband, Nick, the first assistant Linn County attorney.