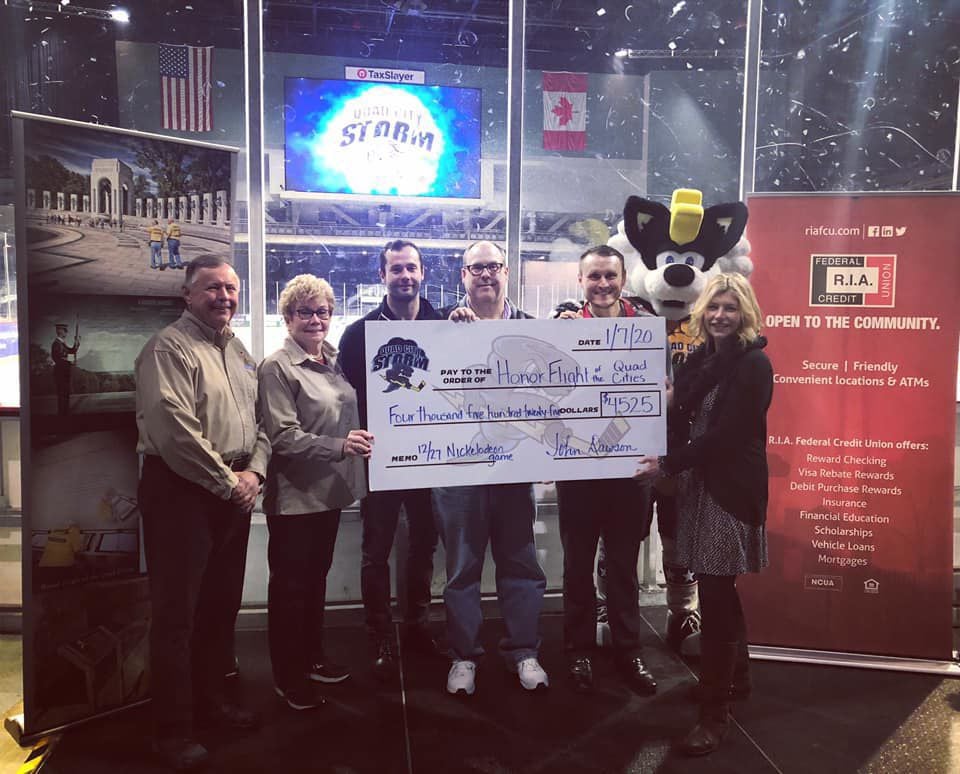 The Quad City Storm and R.I.A. Federal Credit Union gave a $4,525 check to the Honor Flight of The Quad Cities this past week.
The funds came from the Storm's Nickelodeon Night on Dec. 27 and a game-worn Ninja Turtle jersey auction, both sponsored by R.I.A. Federal Credit Union.
This brings the season total of donations by the Storm in its current season to more than $45,000.
AT&T donates $15k to King's Harvest in Davenport
AT&T workers based in Davenport helped lead to a $15,000 contribution from the communications company to King's Harvest, a food bank, soup kitchen and shelter.
Terri Gleize, director of King's Harvest Ministries, noted that "this heartfelt gesture from AT&T" will help those "facing economic hardship, homelessness and hunger."
"Many kind-hearted people compassionately remember the homeless and hungry during the holidays, but their needs are just as acute now as during the holiday season. We appreciate AT&T's contribution and how its employees volunteer their time, roll up their sleeves and help those in need in our community," she said in a news release.
Workers at AT&T's Davenport Call Center "helped direct this contribution," said Dustin Blythe, director of external affairs for AT&T Iowa.
GreenState Credit Union continues charitable giving effort
An Iowa-based credit union has continued its tradition of participating employees directing a $150 to their favorite charity.
According to a news release, GreenState Credit Union, with locations in the Quad-Cities, Iowa City and Coralville, had more than 450 staff members participate in this year's "The Big Give," which will lead to hundreds of $150 checks going to individual charities.
GreenState estimated about $68,000 was headed to charities through December 2019's program.
"For many of these organizations, it's an unexpected shot in the arm for the start of the year," said Jim Kelly, GreenState's chief marketing officer. "Some will receive several checks."
GreenState is Iowa's largest credit union with 200,000 members and 19 branch locations.
You have free articles remaining.
IMEG Corp. buys three firms
IMEG Corp. added three new firms to end 2019.
According to a news release, the Rock Island-based company brought in W.L. Cassell & Associates, Inc., an engineering firm in Kansas City, Mo. that works in design and construction administration for mechanical, electrical and communications systems; Monroe & Newell Engineers, Inc., of Denver and Vail, Colo., which has expertise in post-tensioned concrete, precast concrete, structural steel and wood; and Territorial-Landworks, Inc., based in Montana which specializes in public and private sector land use in Montana, eastern Washington and western North Dakota.
Blending each acquired firm with IMEG's "full-service engineering portfolio we bolster our synergy for continued future growth throughout the U.S. — allowing us to leverage a broader base of market and ever-expanding technical expertise," said Paul VanDuyne, president and CEO of IMEG.
The firms joined IMEG on Dec. 31 and each will continue to operate out of their existing locations.
Two local companies become one
Crawford Company assumed ownership of Art-O-Lite on Jan. 2 as AOL has become a new division of Crawford Company. The employees, contact information and internal structure remain the same as they were, a news release said.
Eventually, AOL will relocate from Moline to 1306 Mill St. in Rock Island, but its main phone number (309-797-2548) and web address (www.artolite.com) will be retained.
Brad and Scott Williams, owners of Art-O-Lite, will continue employment with Crawford. AOL was founded in 1967 and is a premier electrical contractor.
Crawford Co. was founded in 1952 and specializes in several sectors, such as HVAC, plumbing, electrical and brewing equipment.
Bush Construction donates $9,500 to Humility Homes
In a ceremony Thursday afternoon, Bush Construction gave a $9,500 check to Humility Homes and Shelter, 1016 W. 5th St. in Davenport.
In lieu of Christmas gifts to clients and partners this year, Bush made the donation in their honor to the Davenport organization which provides emergency shelter to men and women 24 hours a day, seven days a week year-round, a news release said.
"We wanted to come up with a way to show a deeper level of gratitude to our project owners and partners we worked with this past year. Construction is about supporting growth – growth in businesses and our community," said AJ Loss, president and CEO of Bush Construction.
"What better way to strengthen and support our community than to help further the growth of valuable organizations that are serving those that need our help the most."