Aspiring engineer Sabrina Starkweather, 16, got a closer, and virtual, look at what it takes to enter the manufacturing industry Wednesday afternoon.
The Moline High School sophomore was one of about 40 students who volunteered to visit the John Deere Seeding Group plant in Moline to learn about future job opportunities. Along with the tour, she tried her hand at virtual reality welding and heard stories from employees who chose manufacturing as their career paths.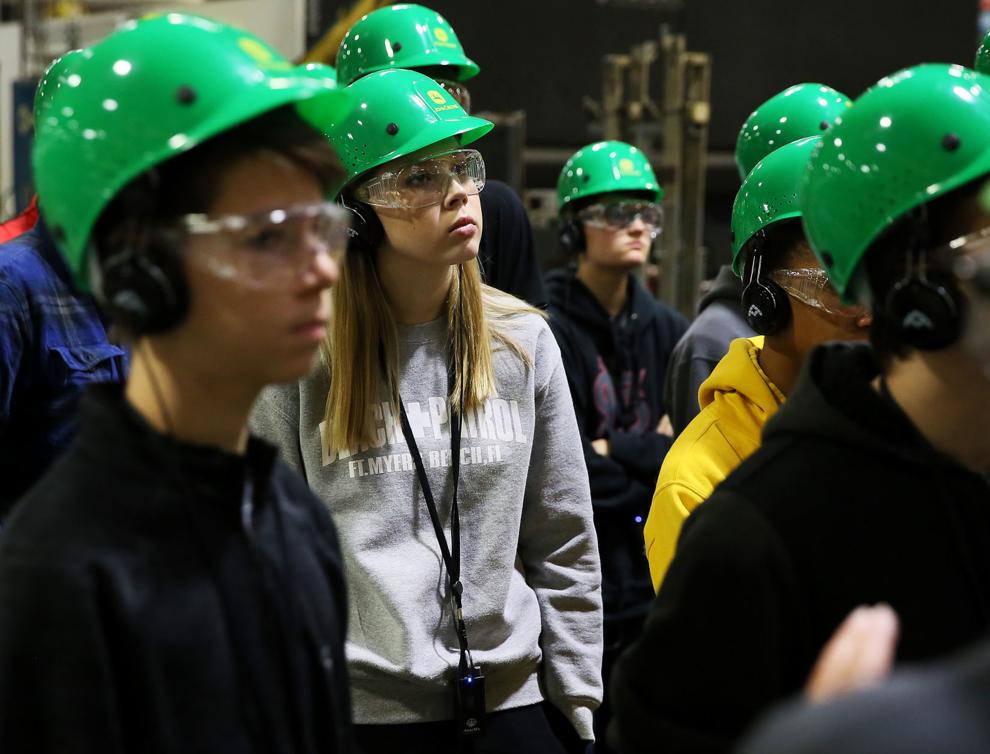 "I wanted to come because when I'm older, I want to be an engineer, so this all intrigues me," Starkweather said, after seeing how well she scored on the VR training program. "I think people often think of factories as being unsafe, but seeing everything today, it seems like a really nice place to work and they have a very innovative way of doing everything. And seeing the women working here, it seems like the number of women going into jobs like this is going up."
Deere is opening its doors to students more often, according to Director of Labor Relations David Ottavianelli, hoping to attract a new generation of manufacturing workers. As the manufacturing sector grows and unemployment continues to drop, he said Deere is trying to be proactive to meet future hiring needs.
"This is not just a John Deere issue. There are a number of partners throughout our community that are in the same situation," Ottavianelli said. "We know in the long-term with the increase in manufacturing jobs and retirement of baby boomers across the nation, there's going to be an increased need for manufacturing roles."
Advanced manufacturing is Iowa's largest industry, employing over 213,000 people, representing around 14 percent of the workforce, according to the Iowa Economic Development Authority. In the Quad-Cities, the manufacturing sector makes up more than 17 percent of the local laborshed, according to a 2016 report by the Quad-Cities Chamber of Commerce.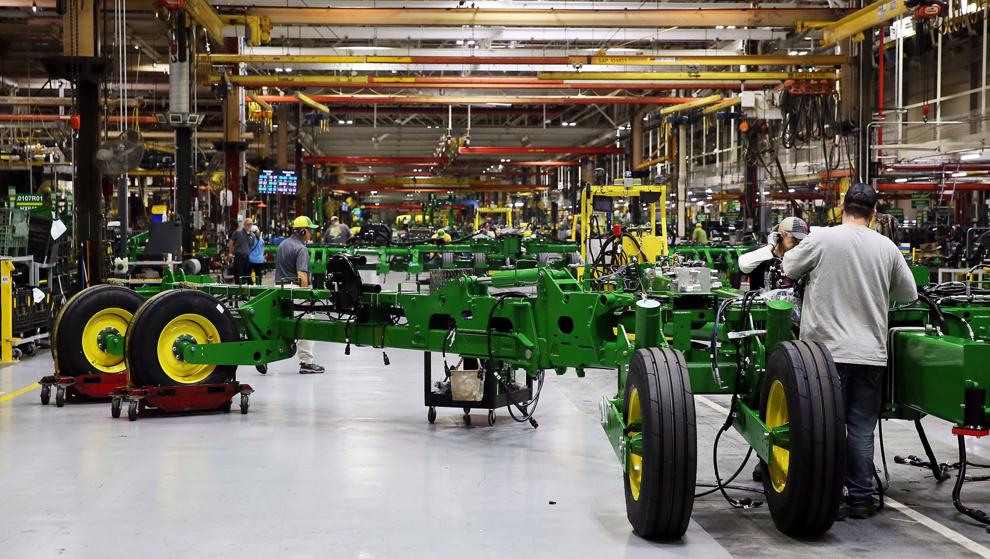 While it's still working to recover from the 2008 recession, the manufacturing sector has been growing. This summer, the Bureau of Labor Statistics announced manufacturing has added 327,000 jobs over the past year, nationwide. That's the largest job gain of any 12-month period since April 1995, the report stated.
In Iowa last month, there were more than 5,000 manufacturing jobs open across the state. And as the state's unemployment rate remains at 2.5 percent, industry leaders are worried about finding a skilled workforce. That's sparked initiatives like Gov. Kim Reynolds' Future Ready Iowa and other collaborations across both Iowa and Illinois.
At Deere, Ottavianelli said the company is a member of the Eastern Iowa/Western Illinois Advanced Manufacturing Sector Board, a collaboration of community organizations hoping to fill the skilled workforce gap. Deere also partners with Quad-City high schools, community colleges and career centers.
"As we talk to a lot of administrators, we realize there is a portion of the student body that won't go on to advanced schooling, and there are great opportunities for that," he said. "We hope that students consider this as an option or potential path to consider, where with the more traditional manufacturing jobs, you can avoid student debt and get great benefits. The long-term goal is to meet the needs of the students with the needs of the businesses."
Deere & Co. employs around 68,000 people worldwide, and more than 6,000 in the Quad-Cities, according to public relations manager Dan Bernick. He said the most difficult positions to fill require technical certificates, such as welders, machinists, electricians and technicians.
"There's the very traditional manufacturing jobs, like welders, assemblers and painters," Deere Seeding Factory Manager Tom Johnson said. "But I think we're really trying to expose students to the fact that it's getting more high-tech. That means we need electrical technicians, we need people who can troubleshoot robots, or who know how to ensure our lasers are operating efficiently."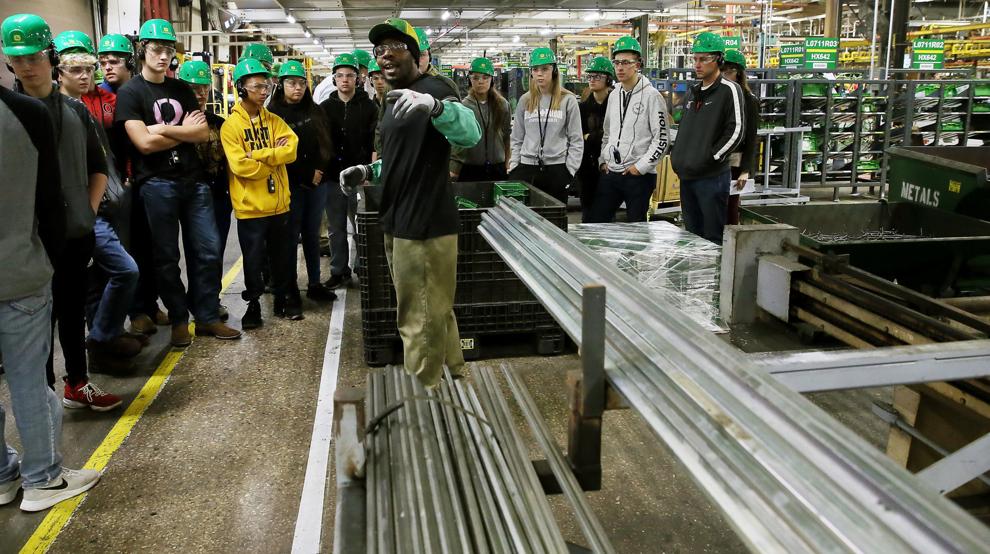 At the Moline factory Wednesday, high schoolers watched as lasers cut pieces of steel and robots assembled planters. While Deere is also seeking manufacturing engineers and more experienced workers, the company explained manufacturing could be an alternative to a four-year college path. Welding and machinist jobs pay on average more than $18 per hour in Iowa.
"The welder of 20 years ago is not the welder of today," Welding Training Instructor Zach Carter said. "Not everyone is a four-year degree type person, but it doesn't mean they're not a great worker. And the welder of today is not the welder of the future. We need to change the mindset of parents, and then the students, and explain manufacturing is different than it was in the past and it'll be different in the future."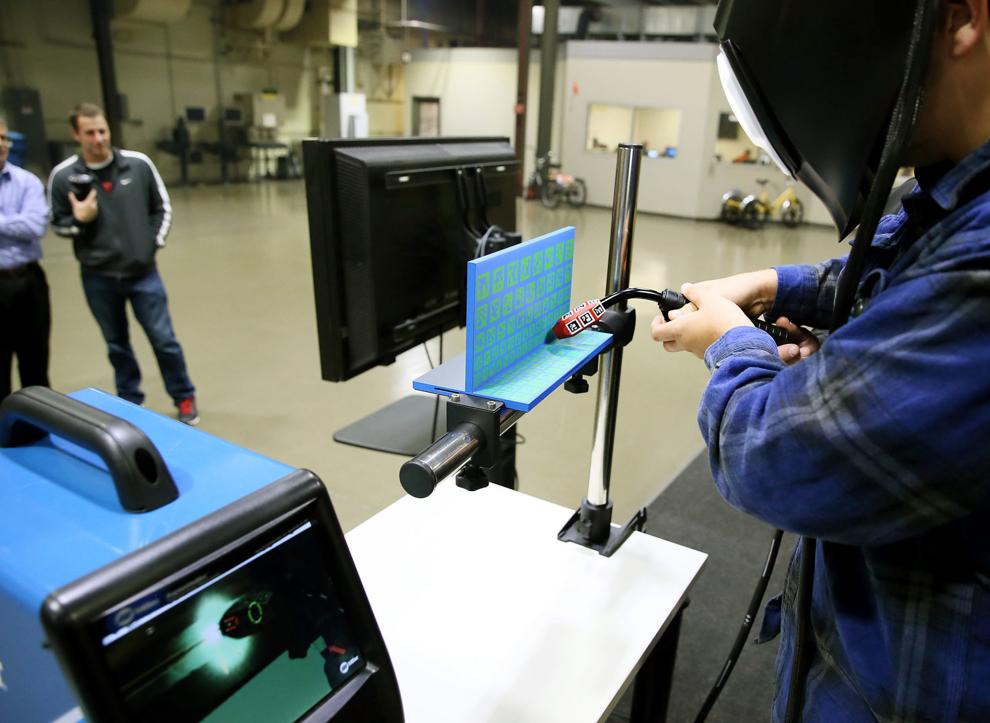 Deere has gotten a head-start on reaching out to the next workforce, by offering scholarship and internships through its Manufacturing Technology program. It partners with Eastern Iowa Community Colleges and Black Hawk College for job coaching and welding programs.
And, its weld scholarship program, supported by the John Deere Foundation and John Deere Harvester Works, has provided scholarships for 32 students so far, Bernick said. Deere also donates used welding helmets to local high schools, in hopes of keeping programs alive.
But, Ottavianelli said the company is just getting started, and is working on a longer term plan for filling jobs over the next few decades.
"We are looking at expanding apprenticeships, externships and scholarships; we want to grow those and gain more support for all of those," he said. "We are going through a long-term strategy to increase the workforce and sustain those levels. We have an excellent relationship with United Township and the Area Career Center, and we want to grow relationships like that with other schools."
Focusing on sparking an interest in the 40 high schoolers at Deere Seeding this past week, Thompson said he wants students to walk away realizing, "manufacturing is fun, especially with new technology."
"There's a lot of reward in building something and delivering that to a customer and then seeing that in the field," he said. "I think there's a pride that goes along with that, and it means a lot to our employees."