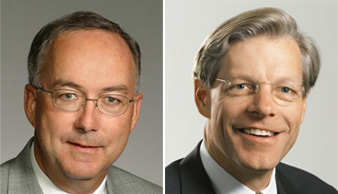 As Samuel Allen, a 34-year Deere & Co. veteran, moved to the helm of the world's largest farm equipment maker Monday, company executives and community leaders used words such as "strategic," "business-oriented," "competitive" and "intense" in describing him on and off the job.
Allen, 55, who began his Deere career in 1975 as an industrial engineer, was elected by the company's board of directors to succeed Robert Lane as chief executive officer when he steps down Aug. 1. Allen assumed the duties of president, chief operating officer and board member effective Monday.
Deere announced in a news release Monday that Allen will become the ninth chief executive in the company's 172-year history. Lane, 59, will serve as chairman until Allen's expected succession as chairman. Lane has led Deere since 2000.
"The board recognizes, as I do, that Sam is a superb, smart, ethical executive, a wise and uncommonly capable leader, and someone with the proven experience and ability to effectively lead John Deere in growing a great, sustainable, global business," Lane said in the release.
Allen, who has been president of Deere's Worldwide Construction & Forestry Division since 2005, has served as a senior officer since 2001 with responsibilities in human resources and industrial relations as well as oversight of John Deere Credit's global operations.
Allen said he is honored to "follow in the footsteps of previous chief executives who have led Deere with great distinction."
"We have significant challenges but exciting global opportunities. I look forward to working with all of the uncommonly-committed employees of John Deere to distinctively serve our global customers in ways that are highly rewarding to our shareholders," he said in the release. 
The company declined a request for an interview Monday with Allen.
News of Allen's selection was applauded by business and community leaders, many of whom have met him through his active role with the John Deere Classic golf tournament.
"He is a terrific leader and someone everyone admires," said Clair Peterson, the tournament's director. Allen has been on the tournament's executive committee and board for eight or nine years, he added.
"Sam has given so much of his time for the event. He understands what it means for the community, from a business standpoint, and he understands there is a huge charity component," Peterson said, adding that last year the John Deere Classic raised $4.79 million, which was divided among 500 local charities.
Peterson credited Allen with negotiating the last extension of Deere's sponsorship agreement with the PGA Tour. Deere has two more events left in its four-year sponsorship commitment but has made no announcement of its plans past 2010. He added that having Allen at Deere's helm "is comforting knowing exactly where he stands and how much he values the John Deere Classic …"
Past tournament chairman Doug Hultquist, the president and CEO of QCR Holdings – the parent company of Quad-City Bank & Trust — said Allen has helped cement Deere's strong relationship with the PGA Tour.
"As a result of initiatives Sam has taken, the Tour considers Deere to be one of the best sponsors on the tour," he said.
Hultquist also described Allen as competitive and good on the golf course himself.
"He can be an intense guy, but he also knows when to have fun. I'm pleased they tabbed Sam for (Lane's) successor. From a tournament standpoint, if we had a choice, Sam is the perfect choice."
He also complimented Deere's unique management training. "John Deere shuffles their senior management team among jobs like no other Fortune 100 I know of … Most companies think you groom someone to get a special skills set."
Allen, who received his bachelor's degree from Purdue University, is a native of Sumter, S.C. His career at Deere also has included oversight for the global operations of the Deere Power Systems Group since 2003.
Bettendorf City Administrator Decker Ploehn, the immediate past tournament chairman, described Deere's new top leader as visionary and business savvy. "You just see him working all the time. His brain is just always going. I think he's very good for the Quad-Cities."
Although news of a change in leadership at Deere caught many in the community by surprise, Deere spokesman Ken Golden said the decision was "a very orderly, systematic process by the board of directors" under Lane's direction.  
Lane said Allen was chosen after an 18-month selection process.
Moline Mayor Don Welvaert knows Allen through John Deere Classic circles and is looking forward to working with him. "He's very dedicated certainly to this community and the John Deere Classic."
Welvaert was, however, surprised that Lane was stepping down. "There was no indication anything like that was coming, but corporations do change CEOs and presidents to get fresh perspectives into them."
Peterson drew many comparisons between Lane and Allen — including their vast experience and their humble natures.
"Sam's someone if you don't know him already, you're going to really respect him and be very happy he's leading John Deere, which is the most important organization in town now and will be for many years to come," he said.