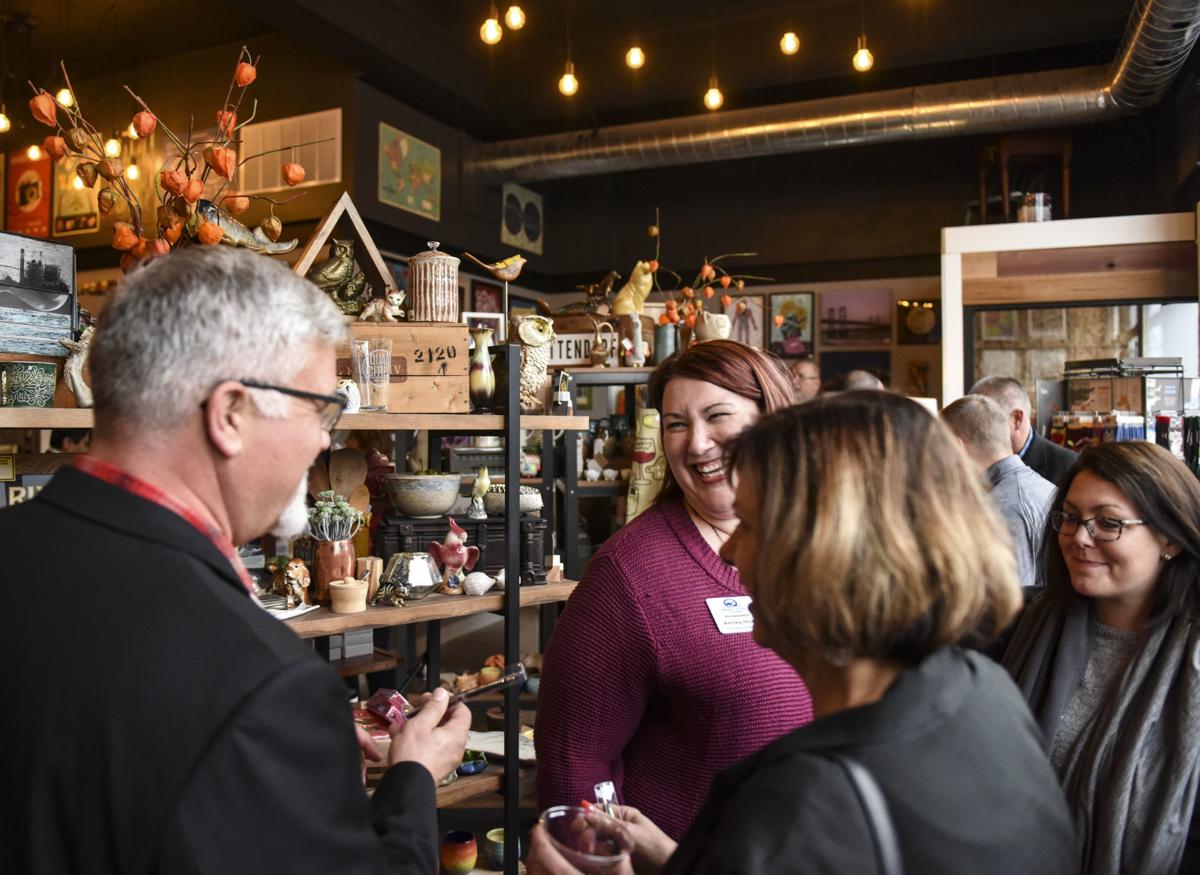 DAVENPORT — Months after downtown Davenport was overwhelmed by flooding, two businesses are celebrating new beginnings on E 2nd Street.
At a ribbon-cutting on Friday afternoon, downtown Davenport celebrated a new, post-flood future.
For the owner of a new store, and the owner of an old store in a new home, it was an occasion to celebrate the end of an arduous journey.
"It's been a long process with a lot of blood, sweat and tears," said Annie Stopulos, owner of the new men's clothing boutique Theo & Co. at 219 E 2nd St. "Disasters happen. You rebuild."
Stopulos said that clientele will be mostly adult men shopping for everyday clothes.
"We can dress everyone from a teenager to my grandpa," she said. Merchandise includes a wide range, from performance wear to custom suits. "I try to stick to brands that people don't really know about," she added. "I want to bring something new to the Quad-Cities that people haven't seen."
Mary Talbert is the owner of Crafted Quad Cities, a gift shop previously located two doors east of its new spot at 221 E 2nd Street. Since its humble beginnings 4 ½ years ago selling work from 12 artists, Crafted QC now sells a wide variety of goods from more than 130 artists.
Talbert sees momentum downtown picking up again. "I think it's going to keep getting better," she said.
You have free articles remaining.
Stopulos had planned to open in April. Then the flood hit. Second Street was underwater. Construction was delayed months, and the store didn't open until September.
"I wasn't going to let it scare me away," Stopulos said. "We want to rebuild downtown. We want it to be a really cool place like it used to be, back in the day."
For local leaders at Friday's ribbon-cutting, the business openings are evidence of revived momentum downtown.
On 4th St, a new 73,000-square-foot, $22 million YMCA recently broke ground near East River Drive. On E 2nd Street, a plat of vacant land is being discussed for a new commercial building with 60 apartments.
For young professionals, downtown Davenport's rebound is central to the future of the region.
"Cities start and end with their downtowns," said Ashley Hicks, a retail market manager at Northwest Bank & Trust and ambassador for the Quad-Cities Chamber. Like other Quad-Citians, she was encouraged by the new business activity on E 2nd St. "After such a catastrophic event, it speaks to the resilience of downtown."
Or, as Davenport Mayor Frank Klipsch said: "It's a strong indicator that people know this is the place to be."
"There were so many people that came together during the flooding," Klipsch added. "Now it's time to come back and buy from the stores they helped support."