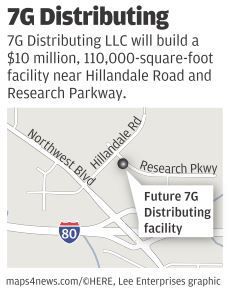 The Eastern Iowa Industrial Center will have a new inhabitant come next year.
7G Distributing LLC, a local, family-owned distributor of Anheuser Busch products, has decided to keep its business in Davenport and build a $10 million, 110,000-square-foot facility near Hillandale Road and Research Parkway.
"It's a done deal," Mason Lee, vice president of operations, said. "We acquired the property in 2014 and decided it's time to upgrade into a new facility. We looked at a bunch of options but reinvesting in the Davenport community is the best answer."
7G formed in 2010 after the merger of Cedar Rapid's Dale Lee Distributing and Dubuque's Kirchoff Distributing. It distributes Anheuser Busch products, national craft and local Iowa beer throughout eastern Iowa.
Its Davenport facility, currently located at 8717 Northwest Blvd., distributes those products throughout Scott, Muscatine and Cedar counties and employs 65 people.
Lee said the company will begin moving dirt next week at the new facility. It will be an upgrade of its current facility that spans 50,000 square feet over three warehouses.
"We're not growing tremendously, but in our current location, we're cramped and undersized, and this will give us greater capabilities," Lee said. "If you think about beer years ago, there wasn't much variety. Craft and Iowa beer has exploded where there's now over 1,000 different products, and you just need more space to handle that kind of complexity."
Lee said 7G has deep Iowa roots with Kirchoff Distributing Co. being formed in 1915 and the Lee and Salkeld Distributing Co. formed in 1954 and never threatened to leave Davenport.
The company looked at other areas within the city, such as the Interstate 280 and Locust Street corridor, which the city of Davenport is currently exploring for a certified development site.
But with infrastructure already in place, the Eastern Iowa Industrial Center made the most sense.
"The fact that it was a certified site was big deal," Lee said. "We needed to move quickly, and all the utilities were there."
Lee said construction is scheduled to run through March 2018 with the hope of moving into the new facility by April or May.