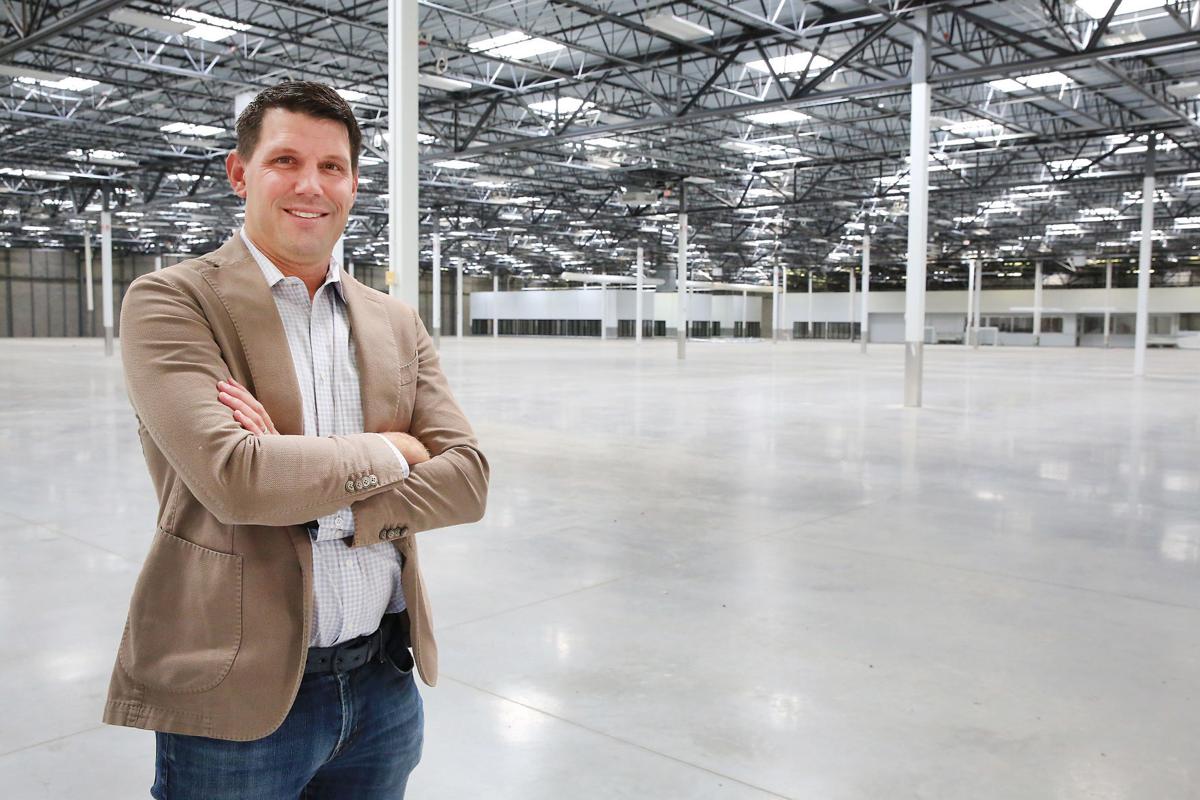 Vibrant Credit Union will revitalize the vacant Sam's Club in Moline as its new headquarters.
Vibrant, which currently houses about 130 of its nearly 220 employees at 1900 52nd Ave., will stay within Moline. The new HQ will likely be unveiled in six to eight months, said Matt McCombs, Vibrant's CEO and president.
The need arises from a growth in the company itself as it has expanded to more than $900 million in assets, up from more than $400 million in 2011. The financial institution has roots in the Quad-Cities going back to the 1930s and had operated as DHCU Community Credit Union before rebranding as Vibrant Credit Union in 2015.
The expansion in the company has led to alterations at its current HQ, such as meeting spaces being changed to office space, so a move to a bigger space has been a conversation for the past few years.
"When we look at our community, there are a number of large buildings that have stayed vacant for some period of time, which is something I think ends up being detrimental to a community in the long run if you can't figure out how to re-purpose or re-manage those," McCombs said.
So Vibrant being able to re-define what an existing building can look like, while spending "a fraction of the cost" on a new corporate building, allows the credit union "to do something that I think is responsible as an organization as well as be a strong display to our community of how they can revitalize and reuse some of these large buildings that can, by themselves, be decades of just sitting there vacant," he said.
Sam's Club announced it was closing its store at 6600 44th Ave. in January 2018. Martin Vanags, interim Moline city administrator, said one of the first meetings with the city was an enterprise zone meeting about this project.
"Anytime you have an empty retail building like that and someone comes in and either it's a retailer who re-leases it and brings new life to the building, or an adaptive reuse of the building, that's exciting. We welcome them as a new tenant of the building, and I think it will have a positive impact for the community in a number of ways," he said.
Creative adaptive reuse is an economic development term that is mostly focused on vacant retailers, such as big-box stores and malls that have seen an increase in vacancies as national chains continue to take financial hits and close stores. And that was before COVID-19 hit, which may further exacerbate the situation for retailers.
One of the most prevalent creative adaptive reuse strategies is to take a large vacancy and chop it up so that multiple stores may occupy what, for example, was once a grocery store. McCombs said Vibrant wouldn't occupy all of the space, and credit union officials are still working on plans, but there could be space for retailers or other types of businesses to occupy some of the space.
Liquidation sales are ongoing for Pier 1 Imports and Gordmans in Davenport, two companies that had financial hardships before the coronavirus pandemic, and neither could find a buyer through bankruptcy court proceedings.
Paul Rumler, president and CEO of the Quad Cities Chamber of Commerce, said the economic development concept is prevalent in downtown Moline and downtown Davenport, both areas having warehouse space turned into office buildings and/or apartments.
"You see a really strong revitalization of our downtowns in particular have seen the best of those adaptive reuses, and we've benefited through the use of historic tax credits that have allowed a lot to happen. Each community has their own version of it, such as East Moline and the Rust Belt," Rumler said.
"It's great to have creative minds that see the former shell of a building and envision what it could look like for a different use. I think this definitely a trend that is happening and will continue to happen."
"Development is always welcome; jobs are always welcome. They all have a positive impact on the community, particularly it's good to see something like this when we're in the middle of a pandemic and economic downturn as we are these days and we don't know what the future holds. I'm glad to see it, definitely," Vanags said.
McCombs said Vibrant looked throughout the Quad-Cities but focused on the vacant Sam's spot.
"I think our ability to maybe put a big acceleration point back into where Moline's put a lot of energy in the last 10 years and seeing that building after just a few years of use go vacant, I think we can help continue to see growth down that John Deere corridor and moving forward," McCombs said.
Shifting to a different use there has a tax implication; instead of sales taxes being collected from a retailer, it's about preserving jobs in the area and foot traffic from office use, Rumler said.
"So it might not be a direct sales tax benefit, but it is certainly an indirect benefit of having activity there, which is really what you're trying for in a holistic economic development approach," he said.
"There's some office traffic that's along (John Deere Road) now so that's a key commercial corridor so it's great to have a mix of residential, office and retail and restaurants" there.
Another factor in favor of the Moline location was the fact that it would be one-story; a way to physically demonstrate Vibrant's "in it together" approach versus having certain workers operate on designated floors of a traditional office space.
McCombs pointed to Vibrant's relationship with customers and being able to thrive in several business segments — an insurance company, retail banking, mortgages and commercial banking — as a way to do multiple things well.
"It has to be a balanced approach, and if you're not growing in a balanced format, you're getting really skewed into one thing (and) you leave yourself vulnerable," he said.
And speaking of business, Vibrant has had a busy five months just like every other financial institution in the Quad-Cities. McCombs said Vibrant helped members secure more than $160 million for businesses seeking the federal Paycheck Protection Program, a package that allowed business owners to keep employees on payroll during part of the economic upheaval caused by COVID-19.
Vibrant's commercial banking team worked 18-hour days for nearly seven consecutive weeks to secure those PPP loans, McCombs said.
"Our entire focus was if we see the heart and soul, the small business of our community, stumble through this, we're not going to recover. It doesn't even matter what Arconic and John Deere do if we see the mid-level companies inside the Quad-Cities kind of fail, we're in a lot of trouble," he said. "So our entire focus was we're going to dive in, become experts in this and do everything we can. Our commercial team was unbelievably strong over seven weeks to be able to help that."
"We're just excited to continue to be a part of this community and to do everything we can to help navigate this environment we're in," McCombs added.
And there may even be an acceleration of creative adaptive reuse in the Quad-Cities area in a "worst case scenario" for how the coronavirus pandemic impacts the area in the next 12 to 18 months, Rumler said.
"Worst case scenario is if businesses aren't successful, you might have more empty buildings. Nobody wants that," he said.
"What we hope is that if that comes to be our reality, we would have the use for them again at some point in time so it's good to see that this Sam's Club, in a relatively short amount of time, has come back online and is rebirthed into another concept."