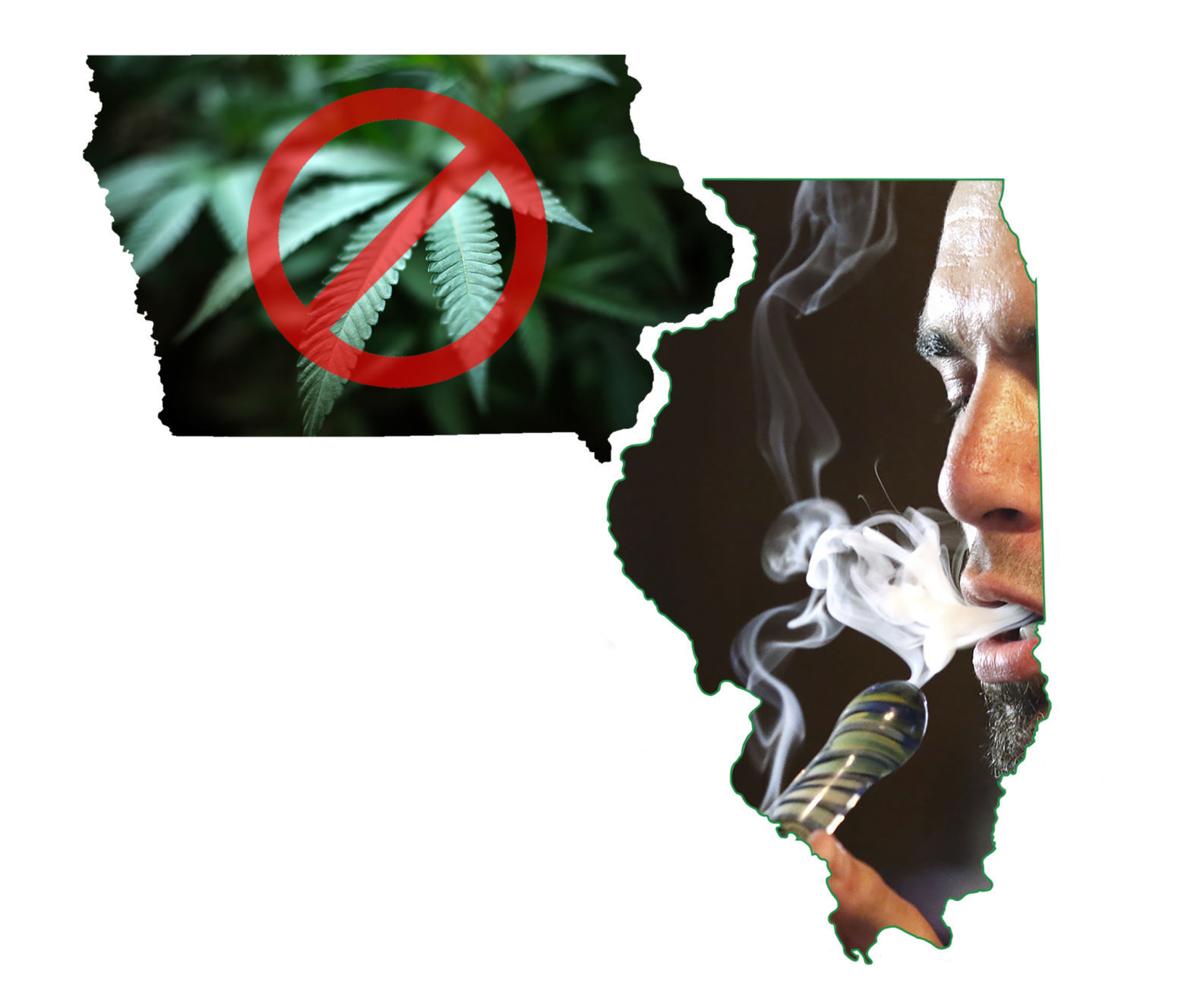 MOLINE — For cash-strapped Illinois, recreational marijuana is expected to be a headrush of revenue.
But for Illinois businesses, surveying the new legal landscape it has already caused a headache.
At a panel event on Thursday, local leaders in policy, business and law discussed how legalization will impact workers and employers in the Quad-Cities.
Marijuana will be regulated like alcohol, including an age limit of 21 and penalties for intoxicated driving and public consumption. Employers can still adopt a drug-free workplace and zero-tolerance policies.
But the nature of the drug and unresolved questions of law has led to confusion and disagreements about what workers and their bosses can and cannot do. 
The consensus is that Illinois employers will need to revisit their employee and insurance policies.
Employers can also perform basic due diligence to avoid legal trouble, panelists said.
For one, employers should train supervisors to recognize and report when an employee might be under the influence, recommended Gene Krismanits, of Mel Foster Insurance.
Krismanits also suggested businesses review their drug-free work policies, which remain legal under Illinois law. For example, an Illinois business can still fire an employee for violating company drug policies that include marijuana.
One source of consensus among panelists was to recommend employers document problems scrupulously, such as incidents and concerns that an employee is impaired
Recreational pot remains illegal federally, so government agencies and contractors must follow federal rules. In addition, the Department of Transportation rules requires many in the transportation sector to test employees for alcohol and drug use.
Drug testing is perhaps the biggest source of confusion for businesses, and panelists expressed some uncertainty about the new law's implications for how current employees and potential hires can be tested legally.
"People are protected for lawful use of products outside of work," said Selena Castle, a human resources expert at MRA. "Pre-employment is, by nature, outside of work...In practical terms, we're not going to be able to pre-employment drug test for marijuana."
Matthew Pappas, an attorney at Pappas O'Connor, explained that random drug tests are still allowed but now have a mechanism to safeguard employees.
"The law has said that you can still have those [random] tests," Pappas said. "If you have those tests, you can terminate, but you have to give people a reasonable opportunity to question them. There's a lot of nuances that have not been explored yet."
Some companies will choose to forgo testing for marijuana. Unlike alcohol, which the body expels in a matter of hours, THC, the primary psychoactive part of marijuana, can remain in urine for weeks and in hair for up to three months.
An employee might consume cannabis once and then fail a drug test days or weeks after they were impaired.
The law contains a "good faith" provision that protects supervisors who suspect employees are impaired because they exhibit "specific, articulable symptoms while working that decrease or lessen the employee's performance of the duties or tasks of the employee's job position."
Though the law lists relevant symptoms, there remains no agreed-upon standard for impairment by marijuana, unlike alcohol.
The legislature is likely to clarify ambiguities through further legislation, said Tyler Diers, director of legislative relations at the Illinois Chamber of Commerce.
The Chamber, he said, wants the state to ensure that an employer has the ability to take disciplinary action against job applicants who fail pre-employment drug tests or against employees who fail random drug tests. The Chamber also wants clarification that a business with a zero-tolerance policy does not need proof of impairment to take disciplinary action.
The panel was hosted by the Quad Cities Chamber of Commerce and held at the TaxSlayer Center. More than 100 people attended.
In Iowa, where recreational pot is illegal, businesses will not have to change when Illinois legalizes recreational sales and consumption on Jan. 1, 2020.
Rep. Mike Halpin, D-Rock Island, explained that legalization will have a slow rollout in Illinois. Within three years, the state will have around 300 licensed dispensaries.
"If you think about the state of Illinois, that's actually a pretty small number," he said. Colorado, which is less than half the size of Illinois, has 572 recreational stores, according to the Colorado Department of Revenue. "It's a way we can slowly and deliberately introduce this to Illinois to catch problems as they occur," Halpin said.
Estimates on revenues from legalization vary. Halpin offered a range between $95 million and $600 million, which are based on sale rates in California and Washington.
Initially opposing legalization, the Illinois Chamber has since moved to a position of "neutrality," Diers said. That's because of the law's workplace protections — which Diers called the "strongest" in the country — and the guarantee of local control.
Municipalities can choose how to zone, or altogether ban, cannabis sales. Rock Island has allowed cannabis sales, whereas Decatur and many Chicago suburbs have banned them.
Legalization is expected to also affect hiring.
"We talk to our colleagues in Colorado, and they're having a hard time finding people that can pass a drug test," Diers said. "In the tight labor market that we're in right now, we're starting to see a lot of employers remove cannabis from that test."
Or, as Castle put it: "You're all going to have to redo your drug and alcohol policies, most likely."
Summarizing others, she emphasized cautious uncertainty around legalization.
"How do you know, if someone tests positive, that their use was in violation of your policy? How do you know that they were under the influence at work?" Castle said. "There's just a lot of unknowns. We're with you; we get it. It's creating a practical quagmire. We're just going to have to wait and see how it plays out in agencies and court systems."