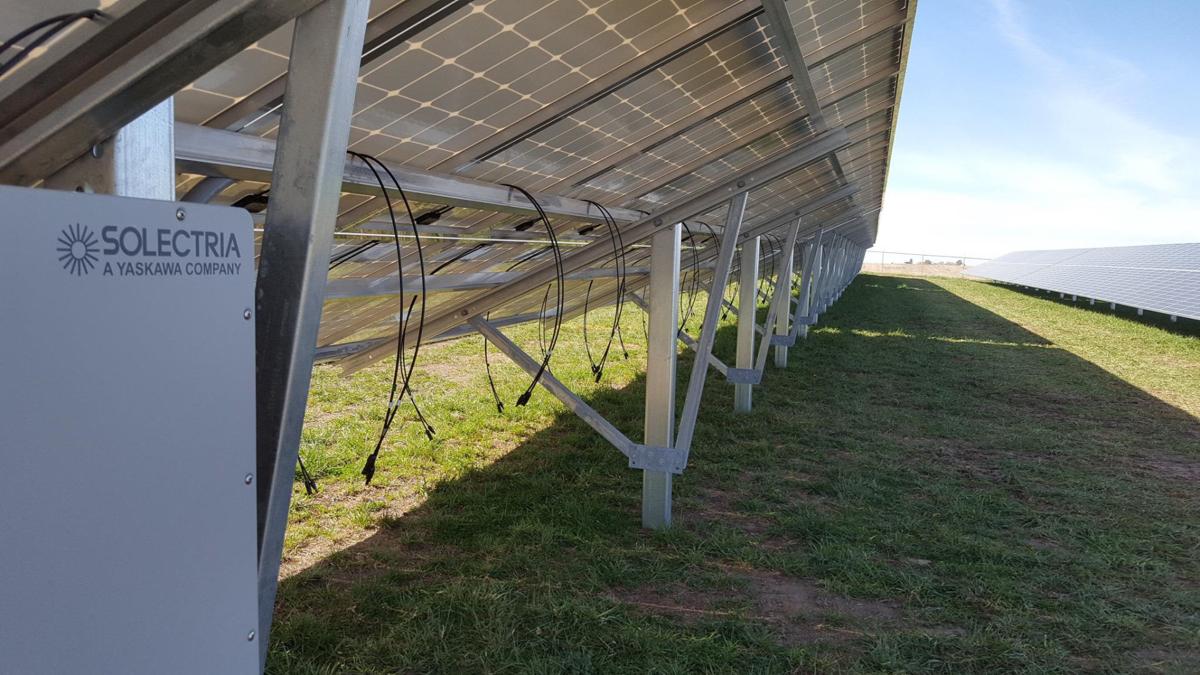 DES MOINES — Jobs related to solar energy are on the rise in Iowa, bucking a national trend.
But those job gains and the burgeoning solar industry in Iowa could be undone by proposals under consideration in the state and federal governments, solar energy advocates say.
There were more than 800 solar energy jobs in Iowa in 2017, a 45 percent increase over the previous year, according to the latest National Solar Jobs Census, published recently by The Solar Foundation, a national nonprofit, nonpartisan organization that advocates for solar energy.
The growth of solar jobs in Iowa stands in contrast to the national picture: solar jobs declined 3.8 percent nationally from 2016 to 2017, according to the report. The biggest drop came in California, which remained the country's largest solar employer despite a 21 percent drop from 2016 to 2017.
"The solar industry is strong in Iowa; strong and growing," said Tyler Olson, president of SiteGen Solar in Cedar Rapids and secretary of the Iowa Solar Energy Trade Association. "I think the outlook is very positive."
YOUNG BUT GROWING
Bolstered by new technology, decreasing prices and government incentives, the solar energy industry has made modest gains in Iowa. In addition to the job growth, Olson estimates a state solar tax credit has sparked roughly $166 million in capital investment across the state.
A 15,600-panel, 5-megawatt array, the largest in the state, was constructed in June in Dubuque in a partnership between Alliant Energy, the city of Dubuque and the city's economic development organization.
But for all its growth, Iowa's solar energy industry remains in its infancy with significant room for growth, especially compared to other states. Iowa is No. 42 in the country in solar jobs per capita, according to the Solar Foundation report.
Most of Iowa's neighbors have more solar industry jobs: Minnesota, for example, has more than 4,000 jobs, an increase of nearly 50 percent from 2016 to 2017, according to the report.
And solar energy accounts for less than 1 percent of the state's electric generation, according to the state's utilities board.
Olson said he thinks solar energy use will continue to grow as long as policy makers hold the industry harmless, he said.
"If we could get some regulatory stability, I'm very bullish on solar in Iowa," Olson said. "It's just going to be whether or not policy makers side with the big utilities, the big monopolies and try to squash Iowans' choice in how they choose to produce power."
POSSIBLE POLICY CHANGES
Olson and other solar energy advocates are concerned proposals in the Iowa Legislature would do irreparable harm to the industry.
State lawmakers are considering a couple of proposals that would make significant changes to programs designed to encourage energy customers to purchase energy efficient appliances and engage in energy efficient practices. One of the proposals would eliminate the requirement for energy efficiency practices altogether.
Also contained in one of the proposals is a provision that would allow utility companies to make revenue-neutral changes to utility rates without approval from the state board that regulates utilities, and another that would eliminate a requirement that utilities not apply rates that discriminate against any class of customer.
Solar energy advocates say they fear these proposals would allow utilities to increase the rates for solar customers and lead to fewer individuals and businesses purchasing solar energy equipment.
"There are just so many different pieces of (Iowa's) clean energy leadership that are under attack in these bills," said Josh Mandelbaum, an attorney with the Environmental Law and Policy Center, which is headquartered Chicago and has seven offices across the Midwest, including Des Moines, and one in the nation's capital. "That's what makes it one of the worst pieces of legislation we've ever seen."
Matt McCoy, a Democratic state senator from Des Moines, expressed similar reservations during a committee hearing on one of the proposals this week at the Iowa Capitol.
"We are rolling back energy efficiency programs that have been hard-fought and placed on the books by thoughtful legislatures prior to this bill coming to the floor, that have done so with the best interest of the consumers and the best interest of Iowa businesses, and creating Iowa as a place that cares about green energy and energy efficiency and cares about what role we have in taking care of our planet," McCoy said. "I think this bill is taking our state in the wrong direction. ... I think you've made sausage that nobody is going to be able to swallow."
Spokespeople for the state's largest utility companies, Alliant Energy and MidAmerican Energy, said they support some of the provisions in the proposals and are monitoring the legislation. Both said their intent is to foster new programs and services for customers more quickly, not to raise rates on any customers, including those who use solar energy.
Justin Foss, a spokesman for Alliant, said he disagrees with solar advocates' interpretation that the proposals would allow utilities to charge some customers more than others.
"In the days now of Tesla, Apple and Google, customers want new technology, they want new offerings and ideas faster to market, and that's really what we're trying to push for," Foss said. "A lot of these policies just have not been updated in a long time, and the competitive business has changed, and we're trying to help move that forward."
Tina Hoffman, a spokeswoman for MidAmerican, also said the company does not think the proposals eliminate any oversight by the state utilities board, and that the proposals are created not to raise customer rates but to make rates fairer.
"While we currently utilize wind energy as our primary renewable source, we support all forms of renewable energy, including solar," Hoffman said. "We rely on a diverse energy mix to ensure that electricity remains clean, and we continue to explore ways to diversify energy production and use while keeping prices affordable for our customers."
Recent federal changes also could have an impact on the solar industry. President Donald Trump in January imposed steep tariffs on imported solar energy cells. The president said the move will protect U.S. manufacturers; some solar energy advocates worry it could drive up the cost of solar installations.
The new federal tariffs will put some pressure on prices this year, but not enough to delay any solar projects, Olson said. He said despite the tariff, the payback and rate of return on solar projects will remain attractive for businesses and utilities.