In her more than 20 years in safety management, Donna Said has gotten used to being one of a few women on job sites. 
"When I first started in 1998, it was a very male-dominated field," said the safety manager for McCarthy-Bush Corporation in Davenport. "You might have had an HR assistant or safety assistant, but the manager was always male. So you really had to prove yourself if you're a woman out in the field. Once you show them your skillset and prove you know what you're talking about, then they'd start to open up."
Over the years, she said the number of women around her has increased, and moving to McCarthy-Bush in 2013 made a difference. Around 11 percent of the local construction company's employees are women. That's higher than the national average, where around 9.9 percent of people in the construction industry are female, according to 2018 data from the Bureau of Labor Statistics.
"I believe I'm lucky enough to work for a company that doesn't look at it as a man or woman out in the field. They look at your abilities very closely," she said. "Whether it's slinging a hammer or operating equipment, if you're knowledgeable in your field and have the skillset, they'll go out of their way to help you advance."
With a dearth of construction workers, some companies are working to recruit more women to fill skilled workforce gaps in the industry. The number of women in the field hasn't changed much in the past decade. And that 9.9 percent of women in the field also includes administrative and office positions.
Around 3.7 percent of construction laborers in 2018 were women. In the field production and extraction industries last year, around 3.4 percent of workers were female.
McCarthy-Bush spokeswoman Alexandra Dirck said the company is "proactively seeking to grow that number." Recent efforts have involved working with the National Association of Women in Construction, or NAWIC, to celebrate Women in Construction Week and start a women's connection group.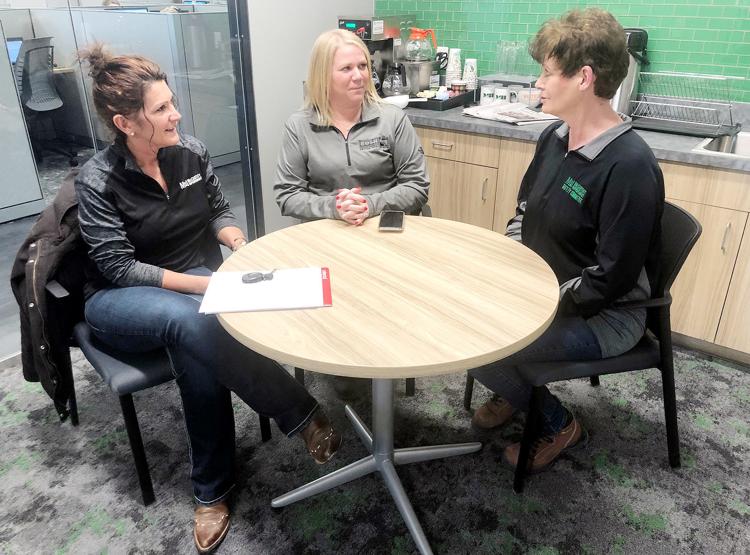 "Women in Construction Week highlights the opportunities available for women and the needs for more women in the construction industry," Bush Construction Project Coordinator and NAWIC Treasurer Becky Avise said. "It's important that we encourage other women to start careers in construction as this will help ease the workforce shortage."
Said knew joining the construction industry would be a challenge.
"And, boy, was it a challenge," she said.
But, the support of female mentors encouraged her to reach for higher positions in the industry.
"One of my female managers, she kind of took a step back when I showed her my abilities, and then just kind of let me run with it to see where it goes," she said. "She went from testing the waters with me to saying 'we need this done by the end of the day.'"
Despite seeing more women in the field — driving forklifts, operating machinery and in management positions — she said there's always pressure to "prove yourself."
"I still think there's the challenge of proving your capability versus a male counterpart," she said. "If they had a choice between a woman operating a dozer and a male operating a dozer, and the male wasn't available so they sent the female, I think they'll question how much she can actually do — until she actually goes out there and shows them on that first day."
But Said has found success managing from her unique perspective.
"I don't show favoritism. You have to be consistent and you have to mean what you say. And always follow through," she said. "And I think guys are more willing to speak up to me than a male counterpart. They might be worried about a situation on the job, but don't want to bring it up to a male foreman or manager because they don't want to be seen as the weak link in the chain. I think women sort of balance that out. We bring a little more fairness."
Said's mantra, she added, is "always lead by example."
"This moment stands out to me: I was talking to an employee and he was telling me a story about how he was teaching his son to do yard work," she said. "And he immediately went to the garage and put on safety glasses because he was telling his son to wear safety glasses. Before, he would tell his son to wear safety glasses, even though he didn't have them on. He realized if he's going to teach his son the right way, he can't take shortcuts. To me, that was one of the best things."
To help more women enter and rise up in the construction industry, Said highlighted the importance of having a support system.
"I think it's very important that women who work in construction do a lot of networking," she said. "You have got to have a group you can use as sounding boards. Sometimes we might get a little bit of frustration built up in any job, but in construction, you don't want to manage by emotion. So sometimes it helps to have a network of people that might be going through the same things you are."
Said's advice to women interested in entering the construction field is, "Don't let your (gender) hold you back. If you have the confidence in yourself and the skills you possess, it's an industry where women can go far."