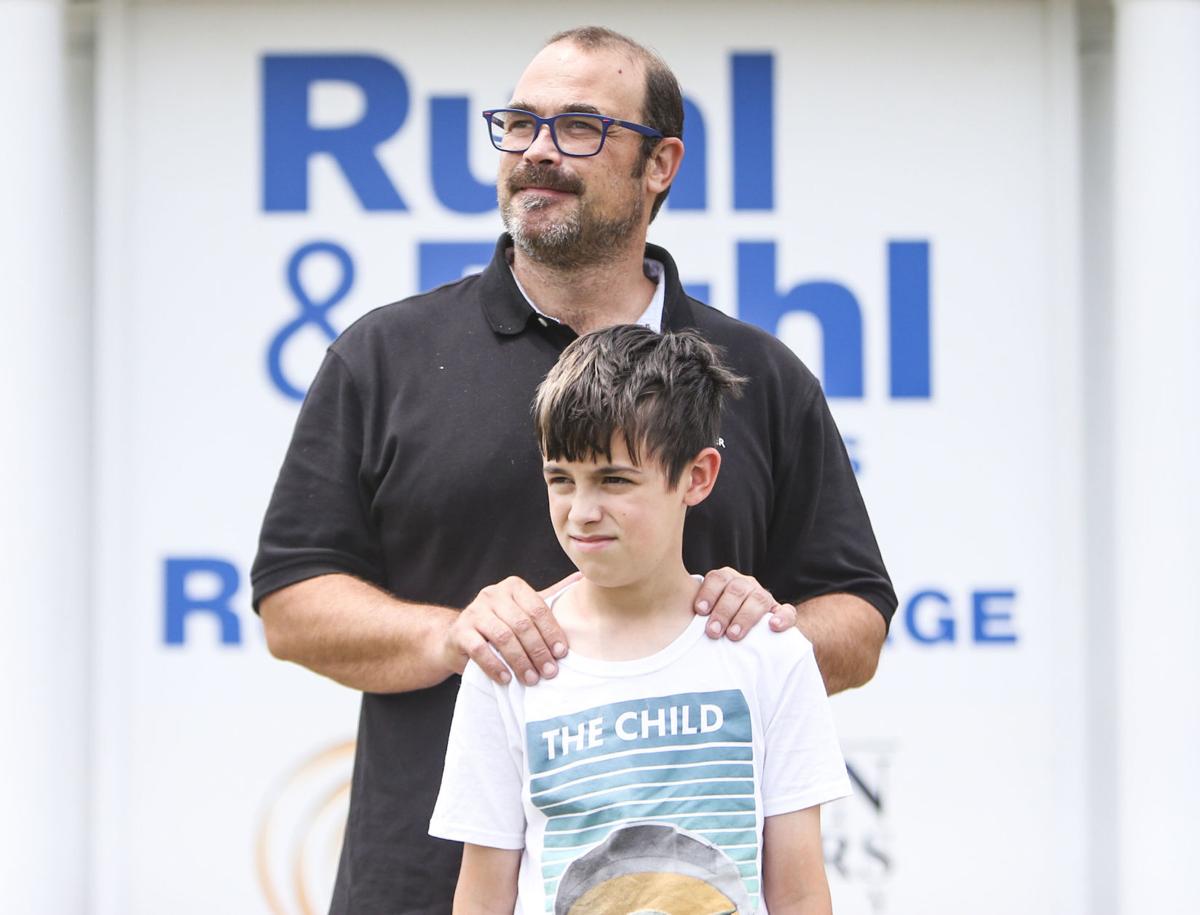 Sergio and Yolanda Canavate bought a house in Bettendorf 48 hours after it listed.
Yolanda got a job in the Quad-Cities, and the couple knew they needed a house before the school year started this fall. But they couldn't take their time weighing the options.
Because in the Quad-Cities and beyond, the housing market is "bananas" Ruhl & Ruhl real estate agent Tanja Whitten said.
The Canavates' experience was intensely short, Sergio said. They were preapproved for a loan on Friday, toured three houses on Tuesday and made an offer that was accepted Wednesday. 
The sellers asked to close without inspections or contingencies because it could hold up the process, and the Canavates paid more than $100,000 above the price range they initially planned to be in.
Despite the market challenges, Sergio said it was their one chance to purchase a house in the school district they wanted for their two kids. Plus, they knew the sellers, and felt they could trust the house was in good condition.
"We feel like we made the right decision with the house we bought yesterday, but the market was pushing that decision," Sergio said.
They paid $415,000, $15,000 above the $400,000 asking price. Sergio said although the house was on the high end of their budget, they would redistribute their income to put more toward a mortgage payment.
Their story isn't uncommon statewide in the housing market, where people are seeing homes, especially entry-level homes, fly off the market. Buyers are entering bidding wars for a home, and sellers are opting to wait until they find a house until they list theirs.
"If you list it, it will sell," said Nicole Moran, a Quad-Cities Realtor with Realty One Group Opening Doors.
In May 2016, a house in Rock Island or Scott counties was on the market for an average of 59 days. In May 2021, that average was nearly halved to 36 days, according to data kept by the Quad City Realtors Association.
The price of a home has also increased — from January to May this year, the median Scott County or Rock Island County sold home price was $159,900. In 2020 that was $145,000 and in 2016, the median home sale price was $127,000. 
In Iowa, the supply of houses isn't as low as on the West Coast, University of Iowa business professor Jarjisu Sa-Aadu said, but there are more people interested in buying a home with historically low interest rates, and they are squeezing Iowa's housing market like the rest of the country.
The other reason there are more buyers? Millennials.
Sa-Aadu, who specializes in real estate, said millennials — now the country's largest generation with roughly 72 million millennial households nationwide — were reaching the age and financial security to buy a home.  
But, the U.S. is building fewer entry-level homes than a generation ago. Nationwide there are 270,000 new units built every year, he said, compared to 418,000 new homes in the 1980s. That's for a few reasons.
Shortages in the past few years caused lumber prices to more than double this spring, according to Business Insider, which raised the cost of building an average single-family home by more than $24,000 since mid-April 2020. Zoning ordinances that weren't in place 40 years ago slow the process for developers. Plus, after COVID-19, more people are looking for space to work from home.
The competitive housing market is causing buyers to go without typical home inspections. If a home inspection is included, the buyers know before signing off if the house is in need of costly repairs, like a new roof, upgraded electrical work or a new furnace, for example, and can negotiate the price accordingly during the closing process. Now, real estate agents say, sometimes asking for a pre-closing inspection could mean the potential buyer loses out.
"A new buyer who's eager and preapproved is competing with seven or eight offers coming in at the same time," Moran said. "By the fourth or fifth offers, they are just willing to do whatever it takes."
Kendra Mulcahy, president-elect of the Quad City Area Realtors, said buyers had to weigh their priorities. Could they go without the home? Or could they pay for or deal with anything that could come up after the closing?
"Realtors always have to inform our clients of all possibilities," Mulcahy said. "As advisers, it's not our job to tell them yes or no and allow them to make the decision. That decision is up to the buyers if they're willing to take that risk."
Mark Crowley, owner of National Property Inspections in the Quad-Cities, said in the 20 years he'd done home inspections his company had done roughly 20 post-sale home inspections. All of those happened in the past year, he said.
Crowley stressed home inspections are even more important after a year of pandemic, when people may have completed home improvement projects that weren't up to code. One of the most common dangers he sees is do-it-yourself electrical work, like a ceiling fan installed in the place of an overhead light. Ceiling fans require a different electrical box, and since it moves and is often heavier, runs the risk of falling through the ceiling.
"The biggest danger of not having a home inspection is the total unknown," Crowley said.
Could this be a bubble that brings a housing market crash like in 2008? Probably not, Sa-Aadu says.
In 2008, debt was cheap. More purchases were being made with little or no down payment. Lenders allowed mortgages, and some borrowers couldn't catch up.
The lending regulations changed in the aftermath of the financial meltdown.
"Most lenders have learned their lesson, and we are not seeing some of those bad loans that were made in the past," Sa-Aadu said.
A common piece of advice among Quad-Cities real estate agents is to find one you trust and get ready. Houses are listing one day, and pending soon after, with dozens of offers.
Home buyers should assess their budget before starting to look at prospective houses, Mulcahy said. Then they should look at lower price points, Mulcahy said because buyers will often be competing with several other offers and submit a higher offer than the listing price.
Knowing their budget also allows buyers to be more nimble and make an offer quickly.
Mulcahy said she hoped the housing market leveled itself out. Lawrence Yun, chief economist at the National Association of Realtors, predicts come fall it will remain a sellers' market, Mulcahy said, but interest rates could increase.
But for now, Mulcahy says it's still a wild ride in the housing market.
"I have to tell both buyers and sellers," Mulcahy said, "that it's kind of a jungle."