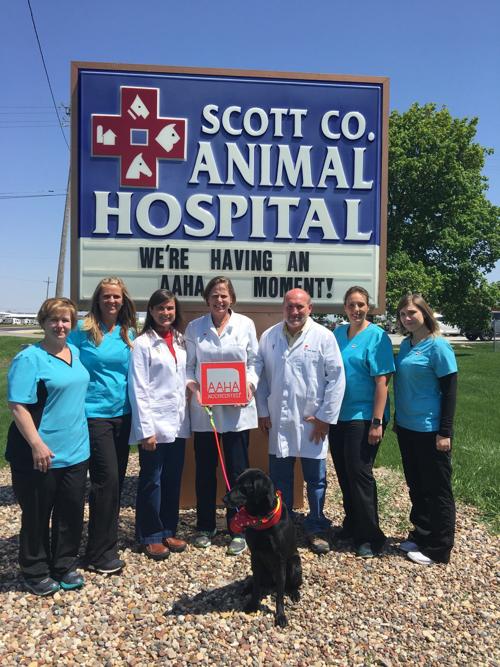 The Scott County Animal Hospital has shown it is among the top dogs in its field, having earned the highest level of veterinary excellence from the American Animal Hospital Association, or AAHA.
The Eldridge animal hospital earned the AAHA accreditation after a rigorous review of the facility's practice protocols, medical equipment, facility and client service. 
Unlike human hospitals, veterinary hospitals are not required to be accredited. In fact, less than 15 percent of the veterinary hospitals in the United States and Canada achieve the voluntary accreditation.
"While the veterinarians and staff here at Scott County Animal Hospital have always been practicing high-quality medicine, it's nice to be formally recognized for doing so," said Dr. Jennifer Ewoldt, one of the practice's three veterinarians. 
To maintain accreditation, Scott County Animal Hospital must be evaluated regularly by AAHA.
Located at 115 S. 16th Ave., Eldridge, the hospital has been in operation at the same location since 1976. It is run by Dr. Ann Sampson, Dr. Dave Eaton and Ewoldt, all licensed veterinarians.
Ewoldt also is the Rural Route 4 columnist for the Quad-City Times.
The practice, which has transitioned from a mixed-animal practice to a small animal practice, employs a staff of 11 with veterinary technicians and assistants and other staff as well as several additional kennel staff.
Q-C entrepreneurs compete
in state Surge Summit
The Quad-Cities entrepreneurial community and the Quad-Cities Venture School were well-represented as local teams competed in a pitch-off contest at the Surge Summit at the Hawkeye Innovation Expo.
The students and alumni of Quad-Cities Venture School, an initiative between the Quad-Cities Chamber and University of Iowa Venture School, competed against 12 teams in Iowa City. Venture School, now in its fourth year in the Quad-Cities, helps entrepreneurs and existing businesses test their new ideas for developing or expanding a company. 
Three Quad-City teams placed:
Trigger Engineering LLC, Tyler Brockel, LeClaire, which is developing an Attachable Interactive Modular Shooting System or AIMSS, won 2nd place and $2,000. AIMSS is an app controlled system of modular electronic devices that attach to firearm targets and transform them in an interactive shooting experience.
Citispoon, Dapo and Ola Kolawole, Davenport, which is a community-based restaurant app that personalizes dining recommendations, won 2nd place and $2,000. 
Hungry Goat, Cody Kiroff, Davenport, whose goal is to transform the way organic produce is grown and sold, won 4th place and $500. 
Citispoon and Hungry Goat competed in the Alumni Pitch-Off.
Additional Q-C participants: Silver Spaces, Dr. Jill Bjerke; QC Open Network, or QCON, Kathy Weiman, Michael Glanz, Kristy Rodgers and Mark Mathews; and Road Jet Rolling Office, Mark Ross, Jim Thomson, Amy Nelson, Steve Thornburg and Bill Dykema.    
Dunkin' Donuts, police 
help Special Olympics  
For the 16th consecutive year, law enforcement from across Illinois will show their support for Special Olympics Illinois by staking out nearly 300 Dunkin' Donuts rooftops. 
From 5 a.m. to noon, Friday, May 18, police officers will take to the rooftops of 272 shops to raise awareness and donations for Special Olympics. Among the participating stores is Dunkin' Donuts on Moline's Avenue of the Cities.
The goal is to raise a total of $700,000. Special Olympics Illinois provides year-round training and competition in 18 sports for more than 23,000 athletes with intellectual disabilities and nearly 20,000 Young Athletes with and without disabilities.
To get the donations rolling, the Canton, Massachusetts-based Dunkin' is donating $15,000 for Special Olympics. 
Dunkin' guests who donate during the Cop on a Rooftop will receive a free dooughnut coupon. Those donating at least $10 will receive a free Law Enforcement Torch Run travel mug and free coffee coupon. 
What a tasty way to support a Special Olympian.   
New Athletico opens
on Elmore Avenue
Athletico Physical Therapy is continuing to expand its footprint in the Quad-Cities with a new location at 4730 Elmore Ave. No. 1, Davenport.
Founded in Chicago in 1991 by CEO Mark Kaufman, the company entered the market in 2013 in Silvis and now also has locations in Bettendorf and Rock Island.
Athletico Davenport will be managed by Scott Howard, a Princeton, Illinois, native, who will be the primary physical therapist. Howard graduated from physical therapy school with his doctorate from Midwestern University in 2012 and practiced ever since with Athletico.
The facility will provide physical therapy, complimentary injury screenings, workers' compensation treatments and athletic rehabilitation.
Biz Bytes is a weekly column by Quad-City Times reporter Jennifer DeWitt. Contact her at 563-383-2318 or jdewitt@qctimes.com
The business news you need
With a weekly newsletter looking back at local history.