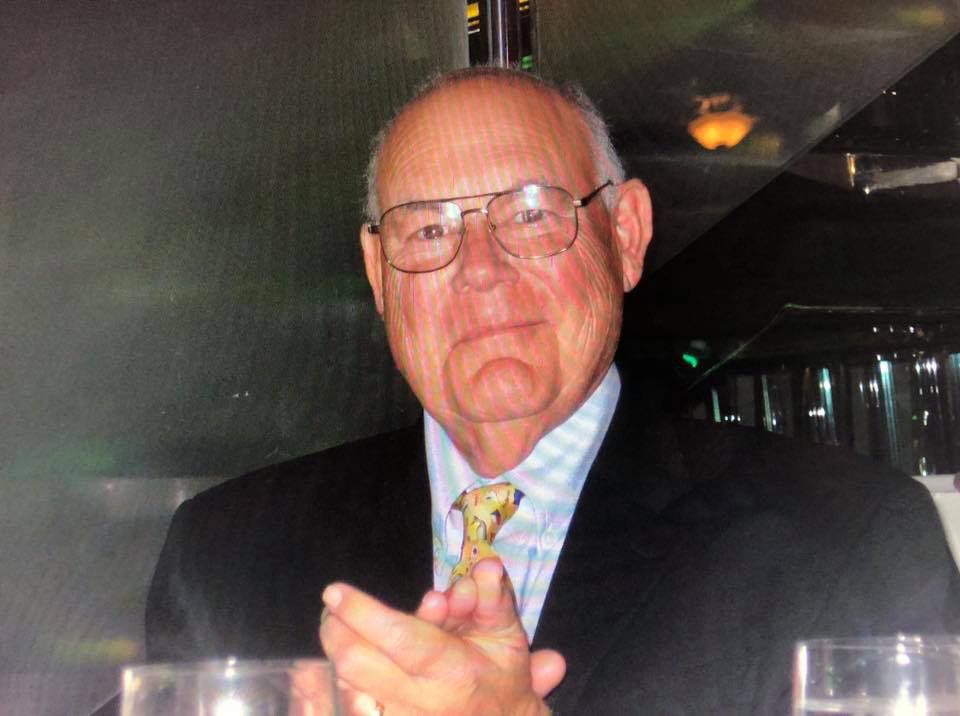 James "Jim" Slavens, whose careers spanned the fields of law, banking and business, was remembered Tuesday as "the idea guy" and an early entrepreneur.    
"I don't know that there has ever been a more creative business mind that I ever met. Jim was always full of ideas, always on the cutting edge," said his nephew Joe Slavens, who succeeded him in leadership at Northwest Bank & Trust Co., Davenport. 
Jim Slavens of Bettendorf died Monday at Clarissa C. Cook Hospice House in Bettendorf. He was 77.
He is survived by his wife Cheri; three sons, John, Matt and Sam Slavens; and 15 grandchildren. Funeral services are pending at St. Paul Lutheran Church, Davenport. Halligan-McCabe-DeVries Funeral Home, Davenport, is in charge of arrangements.
"My Dad was an interesting guy," son Matt Slavens said. "He had a passion for getting out in the world and seeing things and meeting people ... and learning from them. He really wanted to get to know and meet people. He had friends all over the world." 
Many a friend near and far can share memories of enjoying a night on the Mississippi River aboard one of his boats, including The Riverbanker and The New Era. He also owned a speedboat named The Adventure.
"My Dad liked to come up with (business) ideas of what can we do, what can we try," Matt Slavens said. "Even after I sold my businesses, to this day, he was calling me about this idea (asking) what do you think about getting involved in this?"     
Raised in Bettendorf, Jim Slavens graduated from Bettendorf High School and the University of Iowa, where he earned a law degree. He and his brother Bob Slavens, who died in 2001, practiced law from 1966 to 1969 when Jim Slavens first joined Northwest Bank to run the trust department.
The brothers initially had a small investment in the northwest Davenport bank, which had been founded by American Germans in 1941. The family bought majority ownership in 1971. In 1976, Jim Slavens was named the bank's president. He retired in 1999 at age 57 and continuing to practice law and pursue other entrepreneurial ventures. He owned a business brokerage, developed properties and offered mediation services.  
"To Jim's credit, he realized in the late 1990s in order for the bank to thrive it was necessary for the family to reallocate the family investments," said Joe Slavens. His father Bob Slavens and family retained the bank, while Jim Slavens and his sons moved onto other business pursuits. 
"Jim would dream and create. Bob would sort through his ideas and execute," Joe Slavens said. He credited his uncle with making Northwest Bank the first drive-through ATM in the Quad-Cities, launching the bank's own credit card and other banking programs that at the time were cutting edge. "I'm sure there was a much longer list of things that didn't get implemented or weren't successful, but that's what being an entrepreneur is all about." 
Jim Russell, owner of Russell Construction in Davenport, recalled delivering Jim Slavens the afternoon Times Democrat newspaper in the 1970s and being one of his Cub Scouts. "When I started my business in the late '80s, Northwest Bank was the first business I did banking with," he said. 
Quad-City entrepreneur Mike Whalen, owner of Heart of America Group in Moline, also credited Slavens for helping give him a start with The Machine Shed restaurant and then the hotel business. 
"Heart of America would not be what it is today had we not had a guy like Jim Slavens and his brother Bob," Whalen said. "I remember Jim coming out and sitting in a booth (at the Machine Shed) working on a larger loan we did. ... He was the kind of guy who assessed your character as much as your credit."
"When I see community banks being gobbled up I wonder how long we'll have people like Jim and Bob Slavens making loans to people like me when I was 24," Whalen said. 
Joe Slavens said his uncle loved to help people see and reach their full potential. "He always wanted people to be the best whoever they could be, whether it was in their profession, whether it was as a parent or a member of the community. He was a cheerleader for everybody to win." 
The business news you need
With a weekly newsletter looking back at local history.