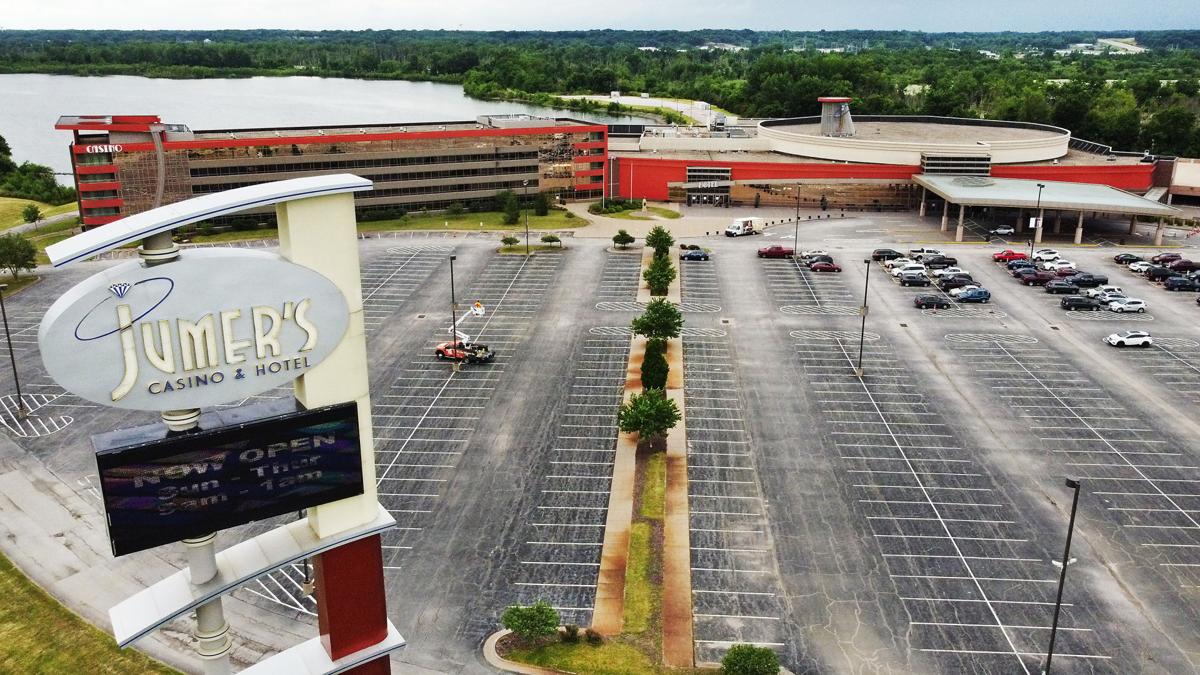 Masks are required for customers seeking to return to Jumer's Casino and Hotel in Rock Island.
The gaming facility opened at 9 a.m. Wednesday for the first time in more than three months, as allowed under the Illinois' economic reopening plan during the COVID-19 pandemic.
Mitigation efforts to combat the virus will continue. Visitors and employees must wear masks, and visitors will have their temperature taken upon entry. Anyone with a temperature of 100.4 degrees or higher will not be allowed in, said Travis Hankins, general manager.
The facility will operate at 50% capacity, with every other table game chair and every other slot machine turned off to maintain social distancing. No one will be allowed to blow on dice to play craps, something a superstitious gambler might do.
There will be no food and drink allowed at the table games. And large gatherings on the floor, such as a drawing for a car or poker tournaments, will be halted until the next phase of reopening for Illinois.
Jumer's will be open 9 a.m. to 1 a.m. Sundays through Thursdays and 8 a.m. to 3 a.m. Fridays and Saturdays.
Employees were trained ahead of Wednesday's reopening to ensure the health and safety of both customers and employees, Hankins said.
Jumer's bought masks for employees, as well as hand sanitizer for stations to dot the gaming floor, before reopening.
Hankins said parent company Delaware North reopened another property where workers were using an average of 4 gallons of hand sanitizer a week. Jumer's has purchased at least 256 gallons of hand sanitizer, Hankins said.
Jumer's hotel will use 100 of its 205 rooms on the first three floors, so customers can take the stairs to avoid the elevator.
"We're removing a lot of items that you would frequently touch" in the rooms, Hankins said. For example, throw pillows, room phones and alarm clocks have been removed.
"You have to really look at every detail of the business, down to the iron, to decide if this is something we'll have to sanitize" and how often, or if it should be removed, he said.
There will be single-use covers on TV remotes in each room.
A few weeks ago the Illinois Gaming Control Board authorized more Illinois casinos to move forward with sports betting, a feature offered at the Iowa Quad-Cities casinos. Jumer's was not among the Illinois casinos approved.
But Illinois Gov. JB Pritzker's decision to suspend the requirement of an in-person registration for online sports wagering has changed things for Jumer's.
Delaware North, Jumer's parent company, wants to relaunch sports books at properties in Arkansas and West Virginia, but Pritzker's action accelerates Jumer's mobile plans.
"No confirmation of dates or anything, but (Pritzker's executive order) changed a lot, though," Hankins said Tuesday. "Definitely accelerated our plan for launching mobile, so I think in the near future we may have some information."
Quad-Cities consumers have been able to gamble in Davenport and Bettendorf for about a month, but Hankins said Jumer's is confident it can retain the market share it had before the pandemic.
"If you want to go to a place where masks are going to be required in a non-smoking environment, that's going to be something our competitors are not going to be able to offer," he said.