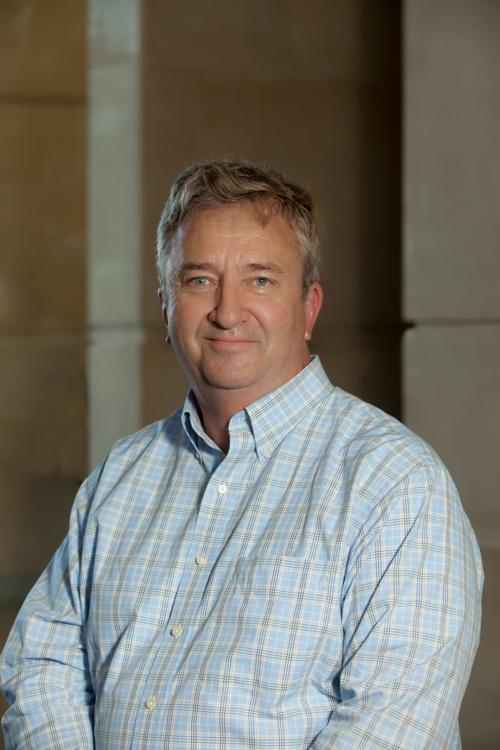 After 21 years of communicating the corporate announcements and business decisions for Deere & Co., company spokesman Ken Golden is preparing to retire.
It is a role that Golden, the director of strategic public relations, has both been dedicated to and relished. "I am proud to have represented, defended and promoted the reputation of the company," he said in an interview last week. 
Golden, 63, will wrap up 30 years in all with John Deere and its subsidiaries on Friday, Feb. 28. He will be replaced as spokesperson by Jen Hartmann, associate director of strategic publications.
"The work of our profession is to attempt to easily communicate difficult information," Golden said. "How do we help all our audiences understand that in a way that makes sense is always the challenge." 
During his tenure, Golden has guided the company's enterprise communications including: 80 earnings releases, 21 annual shareholder meetings, 14 board appointments, 12 dividend increases, three UAW labor agreements, three extensions of the company's title sponsorship of the John Deere Classic as well as President George W. Bush's 2002 visit to John Deere Harvester Works in East Moline.
He also led the communications for more than 30 business acquisitions, including Deere's two largest — the Wirtgen Group and Timberjack — and 15 business divestitures, including the company's largest — its sale of John Deere Health Care. 
Recalling four months of working 12- to 16-hour days ahead of the Wirtgen announcement, he said: "Because I was the only communicator that could be on the project, I was writing letters to our dealers, their customers, a magazine to Wirtgen and getting ready for the announcement to Wall Street. It's a lot of work behind the scenes to, first, be sure we're saying what the business wants to say and we're keeping all these communication pieces consistent."
Golden has been the media contact for news organizations around the globe as well as the Quad-City media. 
He also has been the voice as Deere faced issues with potential negative impacts to its reputation from fires, floods, hurricanes, industrial accidents to protests against Deere. 
"We truly care about people, in my opinion. I've been in meetings where people were wringing their hands because they had to make a tough decision (impacting personnel)," he said, adding that negative news impacting people "were the most difficult."   
His most heart-breaking day came in 2000 when two teenagers on a Take our Kids to Work Day died in a workplace accident at the former John Deere Welland Works in Canada. They were killed during a test-drive of a Gator utility vehicle. "We had to deal with the emotions of all that, these were employees' kids, as well as the news media ...," he said.
For Golden, a 30-year career with Deere has been his target retirement date. "While the work of being director of public relations has been intense and consuming, my No. 1 vocation and highest priority has always been to focus on our faith and family, including our children and now our grandchildren," he said.
He and his wife, Donna, will continue to live in Davenport. Their family includes five children and two grandchildren, with another due in May. 
Golden is only Deere spokesman to work under four Deere CEOs. No other Deere spokesman before had served under more than two chief executives.   
"I've had the privilege of working for great leaders, leaders very committed to making the company a great company," he said.