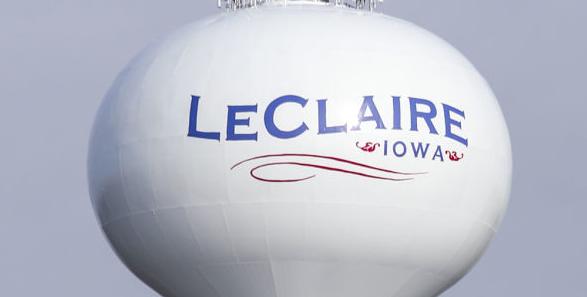 Slagle Foods, the only full-service grocer in LeClaire, is closing its store as its owner eyes retirement.
Paul Slagle, who owns the store with his wife Lynda Slagle, announced the closing to his employees Monday morning. Their store in northwest Davenport is not effected, he said.
"The time is right and it's a first step toward retirement," he said in an interview. "It's been a great run. The people of LeClaire have been fantastic and we really have enjoyed being out there." 
The store has been a part of LeClaire since 1965 when Slagle's parents, Harold and Sue Slagle, opened the store in downtown LeClaire about three years after they opened their first store in Davenport. The family built the current LeClaire store location at 1301 Eagle Ridge Road in 1993.
At one point, the family operated five locations across the Quad-City region and in Morrison, Ill.
Paul Slagle, 64, has worked in the family business since graduating from Iowa State University more than 40 years ago. After his father's death in November 2012, he bought his brother out of the LeClaire store. He and his wife, who is a registered nurse, already had owned the Davenport store for a few years.
He said the closing will impact about 15 employees.
News of the closing came as a surprise to city and community leaders alike.
City Administrator Ed Choate, who learned the news when a reporter called, said the next step is something the city will have "to figure out."
Asked about recruiting another grocery store, he said "We'll have to sit down and talk about it. Talk with our chamber. Talk with our economic development committee and see what their thoughts are and what direction they want to go."
Kathy Anderson, president of the LeClaire Chamber of Commerce, also learned of the closing from a reporter's telephone call.
"I'm sad," said Anderson, who has enjoyed being able to walk to the store since moving to LeClaire eight years ago. "I've gotten to know the employees and wish them nothing but the best in this transition."
"We're very grateful to the Slagle family. They have had a presence in LeClaire for many years," she said. "As a community, many of our families have been shopping there and now their children are shopping there. They are really going to be missed."
Anderson said Slagle's "had a big footprint in our community" that will need to be filled. "While we will miss the Slagle family and wish them well, we look forward to the future and hopefully bringing another grocery to our growing population."
She said attracting another grocer is so important to "the number of families that are now calling LeClaire home."
Slagle said the store's building was sold a year ago to LeClaire businessman Austin Nelson, who has been leasing it to Slagle Foods. A Subway restaurant, located inside the grocery store, also will close, he added.
"It's just time," Slagle said, adding he plans to operate the Davenport store a few more years. With four decades in the retail business, he said that is a lot of long hours as well as six and seven day work weeks.
"We're taking this opportunity to move ahead to the next phase of our life," he said. "I've made noises (about retiring) for a couple years. I'm not going to be doing this when I'm 100."
Slagle Foods will immediately begin a closing sale.
"We thank the people of LeClaire for supporting us all these years," Slagle said.