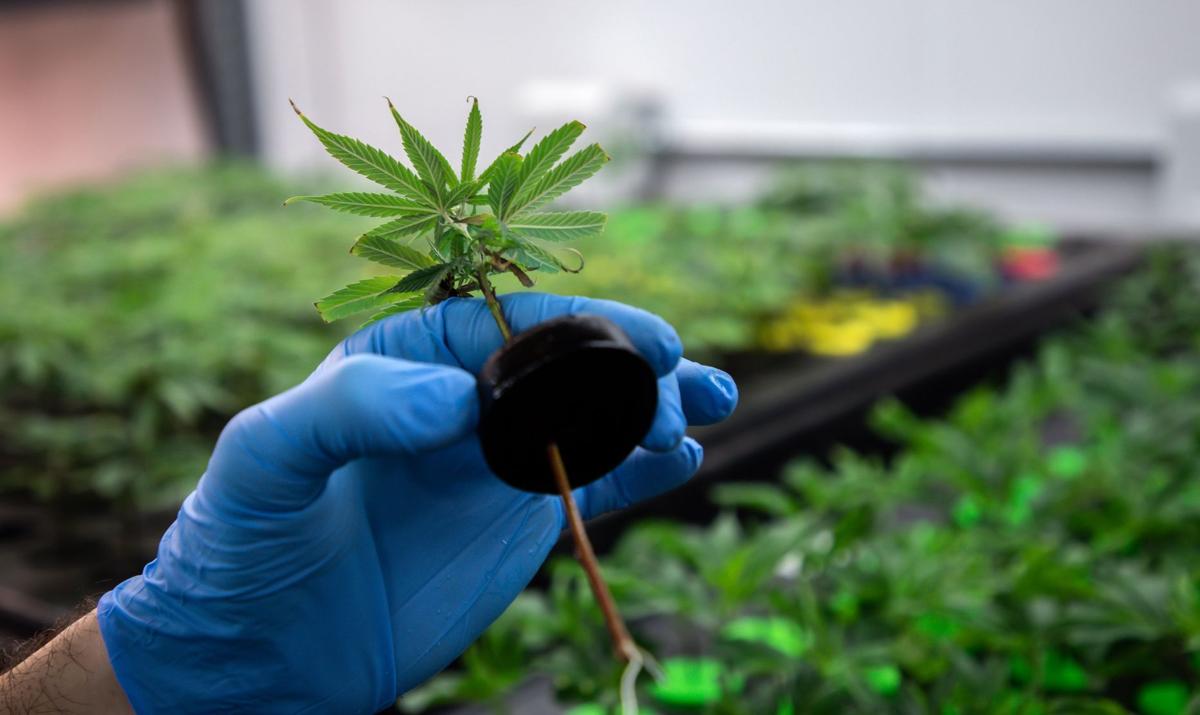 A Chicago-based entity has received a conditional license to sell recreational-use marijuana in the Quad-Cities.
According to a July 30 press release from the Illinois Department of Financial and Professional Regulation, West Side Collaborative LLC, managed by Sandra Brown, received one of 55 adult-use cannabis dispensing licenses awarded to businesses that scored 85% or better on their application out of 626 applicants in the IDFPR's first license lottery.
Brown, who resides in Chicago, listed Leon Zelechowski LTD, a law firm in Chicago, as the company's agent. Applicants like Brown were able to apply for licensing anywhere in the state even if they are not a current resident of the area, according to IDFPR.
The Quad-City Times was unable to contact Brown and has no information on where the dispensary will be located. Brown has 180 days to find a physical location in the area.
Chris Rice, Rock Island resident and cannabis activist, said this dispensary was just one of the first steps for building the adult-use cannabis market in the Quad-Cities.
"They're gonna have long lines because there's not enough of them in the Quad-Cities area," Rice said. "We're not just serving the Quad-Cities, we're serving all of Iowa, we're the closest place to most of the population of Iowa."
Despite being slated to receive a conditional license, applicants must wait for Cook County Judge Moshe Jacobus's ruling on an ongoing court case.
Wah Group, LLC, and Haaayy, LLC, are suing IDFPR, Deputy Director Bret Bender, KPMG, LLP and Roe Corporations over claims that the initial scoring of last year was unfair, with different scores received by identical applicants.
The initial application process filtered out businesses without a perfect score, which was only possible to achieve if the applicant was a veteran-owned business. Under this scoring method, only 21 applicants qualified.
Veteran-owned businesses are predominantly white-owned businesses, therefore the old scoring system limited communities of color's access to licenses, despite those communities experiencing the largest incarceration rates for marijuana-related offenses.
Pam Althoff, executive director of Cannabis Business Association of Illinois, said although there were changes to the scoring methods, the creation of two new lottery opportunities better served communities of color.
"The General Assembly recognized that the original lottery results did not meet their anticipated goal of the legislation, which was to get entities into the industry that were more diverse and that were impacted by the war on drugs," Althoff said. "I think that the success was the passage of the legislation itself."
The remaining lotteries on Aug. 5 and 19 will offer 130 additional opportunities for social-equity qualifying applicants who live in areas designated as disproportionately affected by the war on drugs or if they or their family members have been arrested or convicted of a minor cannabis offense. But the Aug. 19 lottery will also be open to regular applicants.
Social-equity applicants received a 20% bonus in scoring and paid half of the associated fees on the first lottery. Charity Greene, associate communications director for Gov. J.B. Pritzker, said "100% of applicants eligible to participate in the lottery qualified for social equity." The IDFPR doesn't have demographic information available for this lottery because the application was "race neutral."
Some applicants, mostly small businesses without financial reserves, suffered financial losses while waiting for the lottery throughout the yearlong delay and paid with their own savings.
In response, the IDFPR waived fees for the two later lotteries for social-equity applicants, who pay $2,500 to enter the lottery. 
Althoff said the Cannabis Business Association of Illinois had been advocating for restitution for the financial loss applicants faced while waiting for the lottery. There are additional funds that are available in the Illinois Department of Commerce and Economic Opportunity Loan Grant Program for cannabis that was funded by the preexisting industry, according to Althoff.
"I would hope that the state does everything within its power to broaden the availability of these new license holders' access to that money," Althoff said. "I just hope that however they decide to frame the program, it gives everybody the most latitude to gain access because there's a whole lot of money in that file."
When asked about restitution, Greene said IDFPR is committed to "standing up a diverse, inclusive adult-use cannabis industry quickly and efficiently."
"To minimize barriers to access for applicants from diverse communities, applicants for adult-use cannabis dispensary licenses were not required to expend funding up front to secure property or other collateral, though some applicants opted to do so," Greene said.
If finalized, business owners will need to pay at least $15,000 for the license, with non-social-equity applicants paying $30,000 for their license.