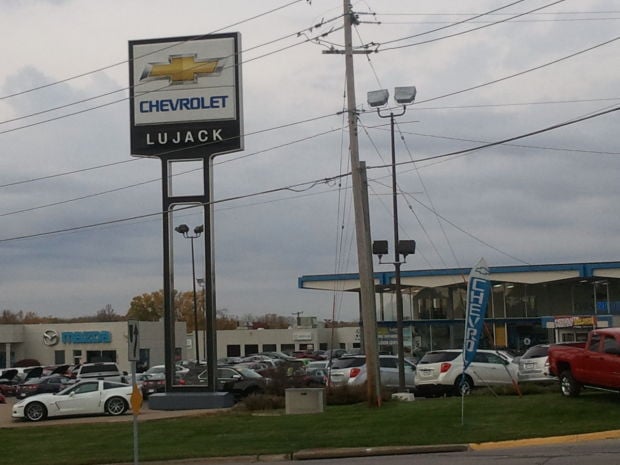 A lawsuit filed by General Motors accusing Lujack's Northpark Auto Plaza in Davenport of fraud has been settled, GM officials have confirmed.
"We have been in litigation with this dealership, and the case has been settled. The details of the settlement are confidential," GM spokesperson Rynde Carney told the Quad-City Times.
Davenport attorney Bob Waterman, who represented GM, said Thursday "the matter has been settled and the proceedings will be dismissed."
Attorney Stephen Holtman of Cedar Rapids, who represented Gurley-Leep, declined comment Thursday other than to confirm that the matter had been settled.
The settlement was signed Monday. But because the agreement is confidential, details are not being revealed, including how it might affect Lujack's Chevrolet franchise dealership.
Lujack's has sold Chevrolet vehicles for 60 years.
In early 2013, GM filed a lawsuit in U.S. District Court, Davenport, claiming that Lujack Chevrolet fraudulently reported retail sales and selling used cars as if they were "like new."
The lawsuit stated that Lujack reported dozens, if not hundreds, of new car sales to GM that were not "bona fide" retail sales at all. The vehicle titles were transferred to other dealerships owned by Leep Chevrolet, which purchased Lujack in 2007, and the vehicles were sold to the public as "used" vehicles that were "like new," the lawsuit stated.
"Dealers and manufacturers have disagreements from time to time," Don Reese, chief operating officer of Gurley-Leep Automotive Family, Leep Chevrolet's parent company, said in January 2013. "We strongly disagree with the allegations noted and find them entirely without merit. We're hopeful for a swift and amicable resolution."
GM filed an 11-count petition that claimed: breach of contract (false reporting and fraud); fraud; conspiracy to commit fraud; breach of settlement agreement; breach of contract (sale for resale); breach of contract (deceptive and unlawful conduct); and indemnification. 
In response, Gurley-Leep filed a seven-count counterclaim against GM, including claiming: fraudulent misrepresentation; fraud in the inducement and breach of contract (bad faith).
The lawsuit claimed that Gurley-Leep's motivation for the scheme stemmed from 2010, when the company and GM were involved in litigation under a federal statute.
On June 1, 2009, General Motors Corp., or GMCorp, filed a voluntary Chapter 11 petition for relief under the federal bankruptcy code. As part of bankruptcy proceedings, GMCorp identified poorly performing dealers and offered wind-down agreements, which allowed the dealers to continue selling and servicing GM vehicles until Oct. 31, 2010, when their dealer agreements would expire, the lawsuit said.
Gurley-Leep was offered and accepted a wind-down agreement, agreeing to cease its Chevrolet dealership operations, the lawsuit said.
According to the lawsuit: Leep sought relief from Congress, and Gurley-Leep took advantage of new legislation to seek reinstatement to the GM dealer network through binding arbitration. Gurley-Leep and GM settled the arbitration claim and entered into the Chevrolet Settlement Agreement, which reinstated Gurley-Leep as an authorized Chevrolet dealer. The lawsuit claimed Gurley-Leep breached the agreement.
According to the lawsuit, at one point, "Leep implemented what became known as the 'Daisy Chain,'" and involved participants known within Lujack's as "mules." The suit said there were 13 mules, 11 of whom were Lujack's employees and two were spouses of those employees.
The lawsuit claimed that the mules "received funds from Gurley-Leep Automotive Management ... and signed promissory notes payable to Gurley-Leep Automotive Management once funds became available. Those funds were used to purchase a new vehicle from Gurley-Leep, typically either a Chevrolet Malibu or Silverado. Once the title was transferred to the mule's name, the mule would trade in that car for another new vehicle. GM alleged in the suit that 321 vehicles were purchased this way. 
The suit also claimed that in most cases, two employees who were not mules drove the vehicles over weekends. Once traded back to Lujack's, the dealership would market the cars as used, "either on its own lot or that of another dealer affiliated with Leep ... or by way of auction." Some of them were also marketed as "like new."
The case was moved last year to Scott County District Court.