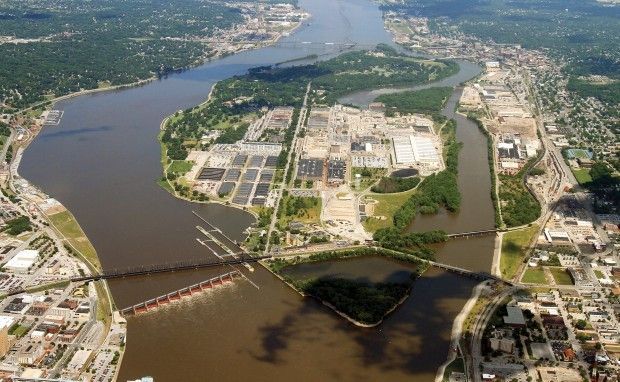 The Rock Island Arsenal's factory would gain critical flexibility to vary its labor rates under legislation that lawmakers introduced in the U.S. Senate on Tuesday. Backers of the legislation say it would help the Arsenal compete with the private sector for work.
U.S. Sens. Mark Kirk, R-Ill., Dick Durbin, D-Ill., Joni Ernst, R-Iowa, and Chuck Grassley, R-Iowa, introduced the bill. The legislation, called the Army Arsenal Revitalization Act, would create a three-year pilot project to allow the Joint Manufacturing and Technology Center to adjust its labor rates throughout the year.
Currently, labor rates are set for the entire year and can be an obstacle in competing with private industry. The Quad-City congressional delegation has provided funding to help bring those rates down, but maintaining fixed rates throughout the year still is aan impediment.
"The skilled workers at Rock Island Arsenal in Illinois play a vital role in maintaining military readiness and strengthening our national security," Kirk said in a statement announcing the legislation. "Removing these unnecessary barriers will give arsenals the opportunity to compete on a level playing field and stay at the cutting edge of manufacturing."
The Rock Island Arsenal is one of three Army arsenals around the country.
The JMTC is a key part of the Arsenal Island workforce. It employs more than 1,000 people and maintaining its viability in peacetime has been seen for years as a key part of keeping the entire installation viable. The Arsenal is one of the largest employers in the Quad-Cities.
In addition to allowing the factory to vary its labor rates, the legislation would require the Defense Department to identify the critical capabilities of the factory and determine the amount of workload needed to maintain those strengths.
Last year, a Government Accountability Office study criticized the Pentagon for failing to identify those capabilities. The study also said that efforts over the years to direct work to the JMTC had largely failed to improve its financial picture. During the wars in Iraq and Afghanistan, Arsenal workload surged, but it has dropped off as troops have been drawn down.
Lawmakers said this latest bill is part of an ongoing, bipartisan effort to position the base.
"This bill would build on our ongoing efforts to help the Arsenal adapt to a changing workload and remain competitive," Durbin said.
In addition to giving flexibility on labor rates and requiring the Pentagon to identify critical capabilities, the legislation would tell the Defense Department to consider Army arsenals for the production of some "legacy" items no longer manufactured by the private sector, as well as on sole source contracts.