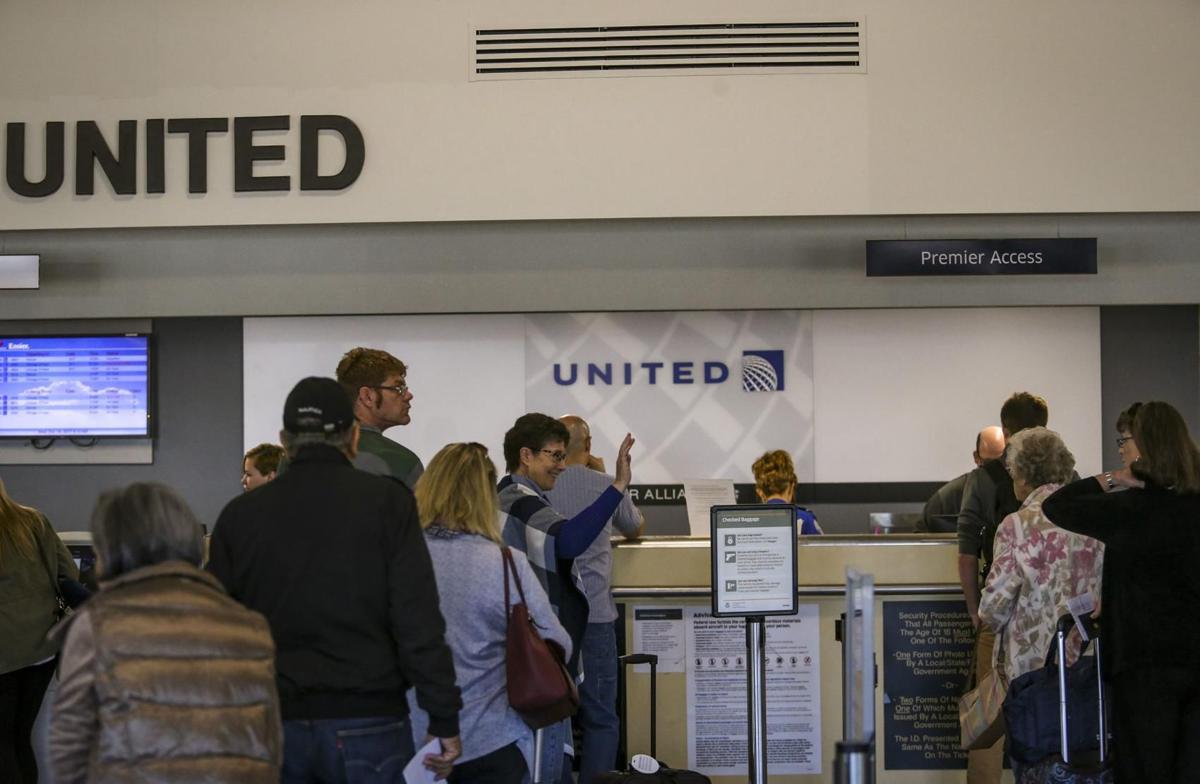 The Quad-City International Airport ended 2018 on a high note. 
The number of total passengers was up 17 percent in December, Executive Director Ben Leischner told the Rock Island County Metropolitan Airport Authority at its meeting Tuesday.
"A good portion of our increased numbers can be credited to the airlines doing a better job filling seats on existing capacity," Leischner said. "The promising takeaway from this data is that it would appear that we have stabilized our multiple year recession in airline activity since AirTran left our market in 2012." 
The month's total passengers, including enplanements and deplanements, rose from 50,807 passengers in December 2017 to 59,274 last month. 
The airport reported 30,105 enplanements in December, a 16 percent increase from the same month last year, where 25,897 passengers boarded planes.
It was the strongest December since 2014, according to airport data. Numbers were boosted by a 60 percent increase in enplanements for United Express, led by the continuation of flights to Denver, Leischner said. 
For the year, he said the airport boarded 355,857 passengers, a 7 percent increase from 2017, which saw 333,975 enplanements. The number of total passengers was up 6 percent for the year.
Leischner said 2017 was an outlier year, ending in 7 percent fewer passengers than the year before. While this past year's numbers look "optimistic," he said the passenger increase mostly brings the airport to "stabilization."
"I look at (2017) as being more of a dip than it should have been. So this is really rightsizing that to stabilization," he said. "This is definitely a positive story. But it's not something where, 'hey, we're suddenly growing really fast.' We're back to where we should have been." 
He said this past year's total passenger numbers were 1 percent lower than in 2016. 
Leischner said the airport's next challenge is adding complementary air service to what is already offered today, "that isn't going to take away from existing carriers' success." 
Potential solar project
You have free articles remaining.
Leischner is looking at ways to take advantage of state incentives by building a solar network at the airport.
He said the airport is applying for renewable energy credits through Illinois' community solar initiative. For community grade projects, a lottery will decide which developers receive incentives from the Illinois Power Agency. 
At the same time, Leischner said he's in talks with developers about building a solar panel system. He hopes the project could bring in state incentives and new revenue. 
"We spend around $600,000 a year on electricity, and we have the opportunity to use those same funds and get credit for it," he said. 
Because of challenges with the airport's existing electrical infrastructure, he's considering creating a dual-purpose facility with a vertical system of solar panels. 
Leischner wants to make it a "solar project that also provides a higher level of service for passengers," such as building covered parking and walkways. He hopes the project would better serve passengers driving, parking and walking in the snow, rain or heat. 
The airport may consider charging more for the covered parking, to bring in additional revenue, he said. 
"So the overhead is a big cost component. But in utilizing incentives for solar with the possibility of increased revenue, this could actually have a pretty good return," Leischner said. "Any project that offers a higher level of service and has that renewable energy component is money well spent thinking about the future." 
The airport board agreed to move forward with sending out requests for proposals from solar developers, to determine the feasibility of the project. 
Leadership changes
Also at Tuesday's meeting, Leischner said the airport board is undergoing a national search to fill a new executive position. 
The airport's controller, Angela Burch, has been renamed as director of finance. The controller position has traditionally served the role of chief financial officer, and will now focus more on "outward facing opportunities," he said. 
In addition, a national search began around a month ago, Leischner said, to hire a director of operations and maintenance. He said around 60 people have shown interest in the job, and he hopes to fill the position in the next couple of months. 
"I look forward to the contributions this position will make in managing the daily tactical planning of the airport, as well as contributing to strategic objectives of the organization with a strong focus on leadership and communication," he told the board.