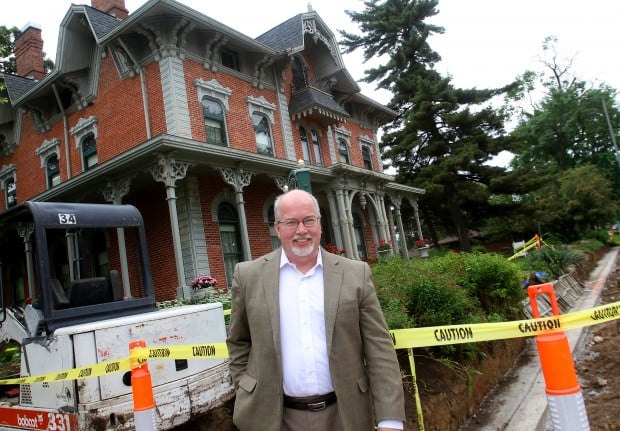 A Quad-City native, Scott Tunnicliff was born in Davenport, where he attended McKinley Elementary and Sudlow Junior High and graduated from Davenport Central High School. He is a graduate of the University of Iowa with a concentration in English, history and political science.
He worked with his father Philip H.Tunnicliff in the land surveying and civil engineering field before gravitating to economic and community development. Most of his experience in that field has been in the Quad-Cities. He received a master's degree in business administration from St. Ambrose University in 1996, and graduated from the U.S. Chamber of Commerce Institute for Organizational Management at Notre Dame University in 2001.
After leading the former Bettendorf Chamber of Commerce, he was chosen as director of Hilltop Campus Village in August, 2009.
Tunnicliff has been active in community theatre, including serving as Master of Ceremonies for the Bucktown Revue.
He and his wife Melita live in Bettendorf with their two children, Anna and Philip.
Q: You've now led the Hilltop Campus Village for three years, tell us what it was that drew you to this job and why this program and Davenport neighborhood interested you?
A: "Well, part of it was that I wanted to remain in the field of economic and community development, and also continue to contribute to the Quad-Cities' efforts to improve. The icing on the cake for me was that, having grown up in Davenport, been a life-long member of Trinity Episcopal Cathedral, graduated from Central High School and received my MBA from St. Ambrose, I have strong ties to this part of the community and wanted to do what I could to help it grow strong again."
Q: Hilltop Campus Village was just honored by Main Street Iowa for reaching the $20 million mark for new investment, tell us some of the key projects that contributed to that milestone?
A: "A combination of large projects, mid-sized and smaller ones. Certainly the Aldi Food Store's new building, North Hall dormitory at St. Ambrose, the careful renovations of historic buildings at Palmer College, plus the renovations of McButts on Harrison Street, the expansion and façade improvement at Greatest Grains, and more recently the renovation of the apartments on the southeast corner of Perry and 7th. One of the key tenents of the Main Street Iowa four-point approach is that restoration and revitalization efforts are incremental."
Q: What do you see as some of the successes the Main Street Iowa program has had in the Hilltop Campus Village that do not involve dollar investments?
A: "The major one to my mind is assisting in the formation of working partnerships between groups such as churches, neighborhood associations, colleges and universities, merchants and city departments. There will always be some naysayers and chronic complainers, but one of the real satisfactions of directing this effort comes from working with people who want to get something done without concern for who gets the credit."
Q: You have a history of involvement in economic development in the Quad-Cities, what makes your latest job with Hilltop different than some of your past roles?
"The focus on revitalization and restoration is different from my work in the late 1980s when much of the effort was on external marketing to bring business to the area. My chamber of commerce experience centered on working with existing businesses, legislative advocacy and business-education partnerships. Here, I use some of that experience but mostly it is to help volunteers re-build an area that should again become one of the most vital corridors in the Quad-City community. The framework supplied by the Main Street Iowa program is invaluable."
Q: At the end of a perfect day …
A: "If it were really perfect, it wouldn't end, would it?
I am very fortunate to enjoy my work, to have such partners in this adventure and to be able to take part in some of the things -- such as Genesius Guild, Quad-City Music Guild and the Bucktown Revue -- that make this area really, really special. My wife and children are pretty cool, too."