Taking hygiene by the horns: Meet the Village of East Davenport's goat milk soap maker
Walking into the Village of East Davenport's new soap shop is like stepping into a candy store.
Scents of cotton candy, peppermint and pumpkin spice fill the air as customers walk past containers filled with colorful bath bombs and handcrafted bars of soap. Owner Matt McClanahan looks up from his morning coffee, revealing a thick mustache that matches the one printed on his mug. He passes out free miniature soaps to kids who stop by. 
"That's the feel I really want for this place. I want it to feel like an old-fashioned type candy shop, but for all of your senses," McClanahan said last week, in between helping customers and packaging bath bombs. 
He opened Escape Goat Soaps in the Village of East Davenport, at 1018 Mound St., earlier this year, with his wife, Heather. The couple had been selling their handmade goat milk soap for around five years, but never set out to open their own business, he said. 
After moving to the outskirts of Davenport several years ago, McClanahan's family decided to raise goats, starting out with six long-eared Anglo-Nubian goats. 
"How I got into goat milk soap-making was from that, because I failed miserably at making cheese," he said, with a laugh. "And I didn't care for drinking it because it was easier to get at a store. So we took all of the milk and froze it, and used it for soap. And what you get is a really mild bar of soap that lathers extremely well."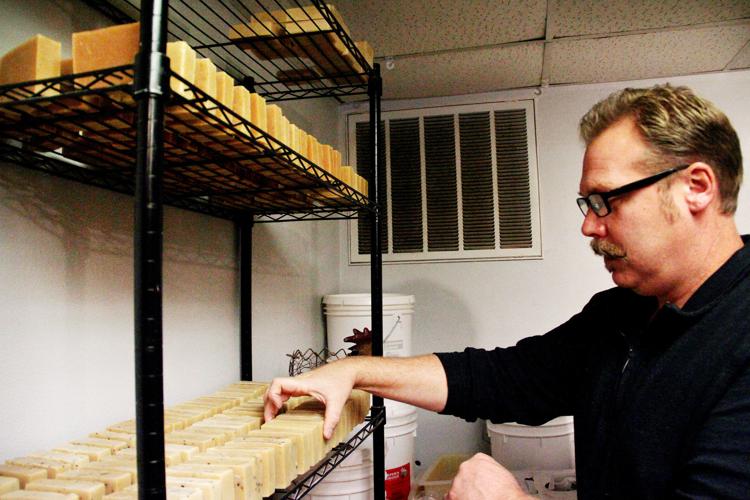 McClanahan never expected to get into the soap business, although he's had a passion for it his entire life. 
"It dates back. I don't want to sugar coat it, but when I was a kid, I used to collect baseball cards like every other kid. But I'd also take allowances and Christmas presents and and go out and buy colognes and soaps," he said. "I built up a collection, and at one time I had like 75 different colognes." 
The son of a Pleasant Valley art teacher, McClanahan also had a passion for all things hand-made. On his goat farm five years ago, he said everything "just fell into place." 
Escape Goat Soaps' line includes cold-processed soaps and bath bombs, made with goat milk and essential oils. McClanahan said all of the products are natural and do not contain synthetic ingredients. 
Not long after his soap-making venture began, McClanahan started selling his products in stores. First, the former Soap Box in the Village of East Davenport agreed to sell his items. Then, they were picked up by Iowa Machine Shed restaurants and other retailers across the state. 
But last year, his business took a hit. Two of McClanahan's major retail partners, the Soap Box and the Quad-Cities Food Hub, closed their doors. 
"We used to carry our stuff around the block at the Soap Box, and (owner Connie Scott) had been there 38 years," he said. "When she retired, that's what kind of prompted my wife and I to think about opening a store here. We've always loved the Village and I've come down here since I was a kid. All of the mom-and-pop shops that adorn the Village have always been a staple for us. So the opportunity presented itself."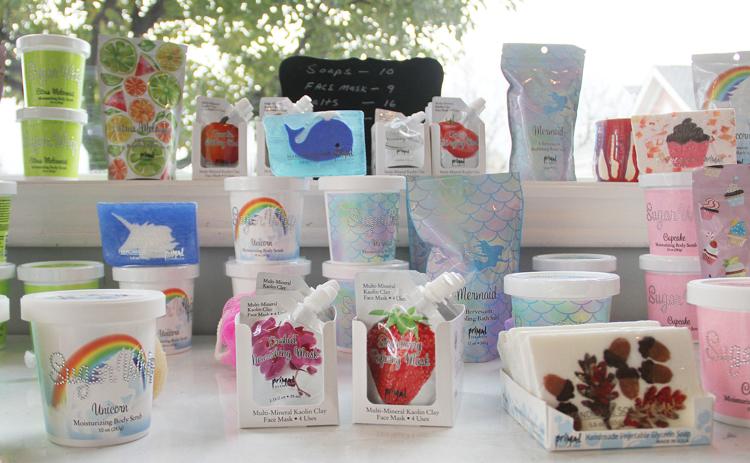 The couple decided to open Escape Goat Soaps this past spring, next door to the Plaid Rabbit in the Village. 
McClanahan said some of the store's lines pay homage to the Village's nearly four-decade soap shop staple, the Soap Box, which carried several high-end products. He offers lines such as Archipelago, with luxury soaps and lotions, and Primal Elements, which has unicorn-shaped soaps, sugar scrubs and other gift items.
Escape Goat Soaps also sells candles, lip balms, beard oil and grooming products for men, alpaca socks and several other gift and body care items. Most of the store is filled with locally and regionally made soaps, including several products made by his friends and colleagues.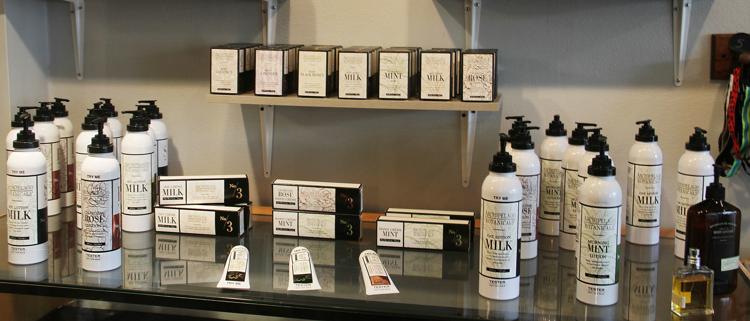 "It's really not about me anymore," he said. "I'm representing a lot of other brands and finding out I like these brands as much as my own. So to me, I guess that's what makes this job fun every day, is searching out and meeting new people who share the passion I do. They have stellar products and I'm slowly trying to introduce them." 
And McClanahan plans to share his passion for soap making with anyone who is interested. He'll host an "adventures in soap making" class at 6 p.m. on Nov. 15, at the Village Herb Cellar, 2114 E. 11th St., Davenport. He also hosts bath bomb making and other classes at Quad-City businesses.
McClanahan said Escape Goat Soaps is expected to add a lotion bar in the store, where people can customize and scent different lotions. And his goal is to continue expanding the business until Escape Goat Soaps is a household name. 
"I love this business," he said. "It's just fun meeting all of the makers and meeting all of the people who put the work into making stellar products. And the pleasure is really derived from having customers who are happy and come back."