When Damar Hampton walked out of federal prison this past spring for the first time in 10 years, he felt like he had a giant "X" drawn on his back. 
"America speaks about second chances a lot, but it seems like it's just speak a lot of the time. We don't really believe in it," Hampton, a Rock Island native, said. "I've been told I can't get a job if I don't have experience, but how can I get experience without a job? Or, you get an eviction on your record. Well, you can't get an apartment if you've been evicted. I guess I'm supposed to be a bum on the street. It all works against you." 
After struggling to find a job on his own, Hampton was connected to the Quad-Cities Safer Foundation's Advancing Careers and Employment, or ACE, program. 
Officials with the U.S. Department of Labor-funded program, which just completed its first year, helped Hampton earn his commercial driver's license, or CDL. A few weeks ago, he started his first full-time job. 
"There's been ups and downs, but I feel good right now," Hampton said. "I'm making $14 an hour, plus I get raises every few months, and benefits. This is legal money. I'm not going to jail for this. I don't have to look over my shoulders or worry. It feels good. I'm looking forward to taking my kids out, to building up my credit. Just because I'm an ex-felon doesn't mean I'm a lost cause."
Nationally, more than 60 percent of people with criminal records struggle with unemployment one year after release, according to the Safer Foundation. And without intervention, about 52 percent of ex-offenders return to prison. 
In Iowa, approximately 35 percent of offenders return to prison within three years, according to 2016 data from the Iowa Department of Corrections. With many Iowa prisons over capacity, and a rare low state unemployment rate, Safer Foundation director Sue Davison said it's important to offer job opportunities to ex-offenders. 
"It's an at-risk population: at risk of recidivism, at risk of poverty," program manager Angela Richardson said. "So it's really important for this population. I have met some really great people through this program, and all they needed was a chance — for someone to be invested in them and show them there is another way." 
Waiting on the background check
Hampton was raised in Rock Island, going to church on Sunday mornings. But, his life was a double-edged sword. 
"I never considered myself to be a street individual, but I had connections to the street from the other side of the family," he said. "Sometimes the street life is just attractive for whatever reason. But there was a smack of reality at some point. I realized if I don't straighten up, I'll end up where I came from. And that wasn't an option for me." 
He took classes in prison, but most were taught by fellow inmates, and "sometimes you learned the right thing and other times maybe not." 
"I didn't know what resources to go through, or if I was wasting my time with companies that might not hire me," he said. "And after 10 years, there was all of this technology. I didn't know how to do applications and resumes on the computer."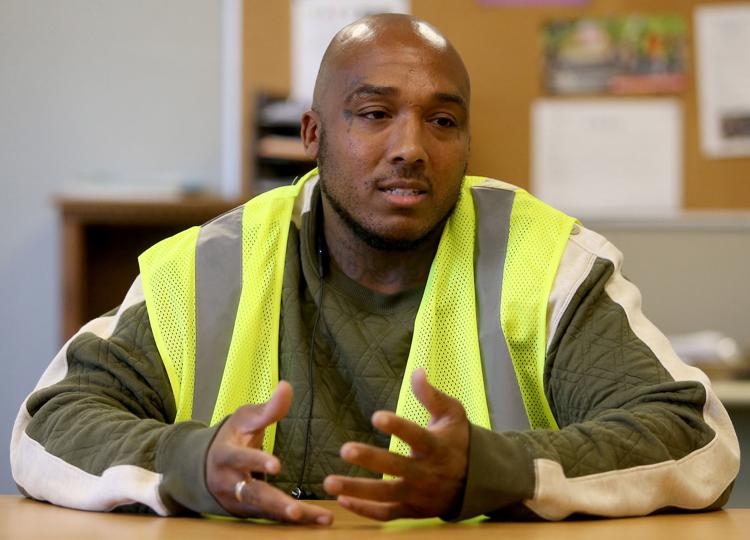 Hampton enrolled in community college, but debt from his first attempt at school stopped him. He applied for jobs, but was denied for being on probation or not having experience, he said.
Waylyn McCulloh, director of the Seventh Judicial District Department of Correctional Services, said the unemployment rate for people under correctional supervision is around 24 percent, compared to the state's current rate of 2.5 percent.
"The 'offender label,' is the primary barrier to employment. Employers are hesitant to take a chance on someone that has a conviction," McCulloh said. "Many clients have little or no job skills, and almost no experience, so with a criminal record, they're difficult to place. Many clients lack those soft skills that most of us take as a given."
After meeting with a case manager at the Safer Foundation, Hampton received career planning, free tutoring, interview and soft skills training, assistance with resumes and other support. Within six weeks, he earned his CDL through the 160 Driving Academy.
Despite the support, Hampton doubted he'd be hired. Last week, he sat at a table with Monica Gonzalez, who served more than eight years in prison, and also received help from the program.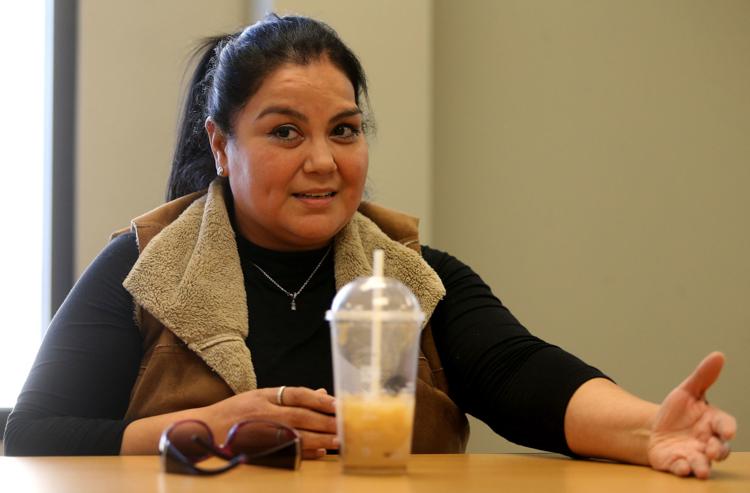 Gonzalez — who works and attends college full-time, and cares for six children — said it was hard to wait on the results of the background check.
"I kept thinking they'd call me, even months after I was hired, to tell me the background check didn't go through," she said.
"You're sitting there thinking, 'I know I'm a great person, I know I can do this job, I know I'm capable,' but what about that background check coming back," Richardson said. "It's really unfortunate that people have to think about that, especially if they served their time."
'Something inside me didn't let me give up'
In the past year, the ACE program, which is federally funded for three years, has served more than 70 Scott County clients, including 22 currently seeking occupational training.
It tries to place clients in areas lacking skilled workers, such as advanced manufacturing, construction, culinary arts and transportation. It partners with community colleges for training programs, and department of correctional services, bail bond companies and other groups to close the employment gap.
"It's definitely needed because we have folks that need to reintegrate back into society," Davison said. "And it's a benefit for all of us and our entire community. If we help them, they can be contributing taxpayers instead of tax liabilities. If we can help them get employed they can have a sense of purpose. Because what you do for a living is so tied with your identity."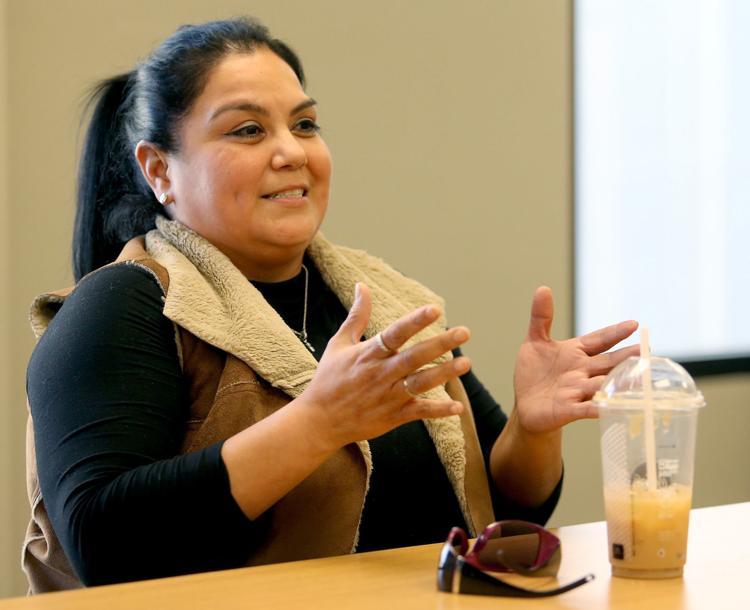 Davison considers the program's first year a success, but said it needs more funding to start similar programs across the country.
Jan Dolan, with IowaWORKS, helps manage the statewide GAP Tuition Assistance program, which covers tuition and fees for training and education programs for people in poverty and ex-offenders. She recently helped Anthony Spraggins and Kelcey Tingle earn their CDL licenses and get jobs at Hahn Ready Mix in Muscatine.
The program directors are optimistic the stigmas are changing. There are more jobs open than unemployed people, Davison said, so employers don't have as many options.
"We are starting to see a shift in employers, when it comes to the bias employers have demonstrated in past years. That's beginning to lift," Davison said. "They realize they don't have the luxury of being quite as selective because of our workforce shortage and skills gap. They're being forced to look at other populations, and this population has been found to be a viable option for some."
Davison commended Illinois for passing the "Ban the Box" law, which prohibits employers from asking about an employee's criminal background during the application process. She'd like to see Iowa follow suit.
McCulloh, who has a 42-year background in criminal justice, also urges more education and career opportunities for inmates.
"In the prison system, one of the hurdles is that, in spite of our efforts to have a productive prison industry employment system, you have the push back from some private employers. They believe the prisons have an advantage of not having to pay the inmates a competitive wage," he said. "So the private industries resist competition with the prison industries, and I understand that. But if we had those industries within the prisons, inmates can learn skills they can market in the competitive world."
Dolan said barriers persist beyond the hiring process, too, including access to transportation and child care. Employers who accommodate a different kind of workforce often find "the most loyal employees," who are eager to prove themselves, she said.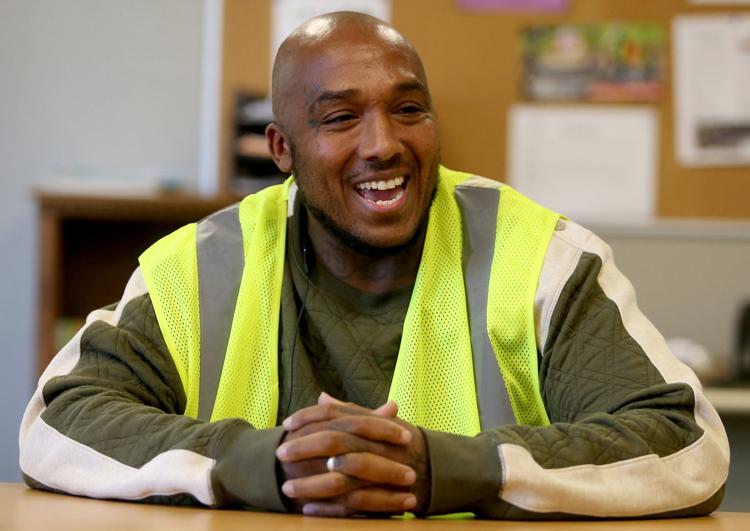 Even with a network of support, Hampton had times when returning to prison felt like the best option. There, he'd have a bed and regular meals. But, he added, "there's always been something inside me that didn't let me give up."
"There were times I felt like, man, I wouldn't make it, or this wasn't for me," Hampton said. "I wanted to give up, but I didn't. I mostly credit that to the people I met while incarcerated. I got some friends who are good people and are still locked up. Some are never coming home, but they're good people. They take people like me under their wing, and say, 'I'm never coming home, but you're getting a new chance, you need to focus when you get out of here.'"