One day, sitting at his desk while working for the Environmental Protection Agency in Washington D.C., Davenport native Tom Miner looked down at his trash can. 
"I used to buy every energy bar under the sun. I was always looking for a snack mid-day or after a workout, and I was eating like five bars a day," Miner, 30, said. "One of those days at work, I was looking down at my wastebasket and saw all of those wrappers stacked up. It seemed so wasteful. And I kept wondering, 'why isn't this recyclable?' Then I started looking at the ingredient list." 
Not only did Miner realize he was producing a substantial amount of trash every day by eating energy bars, but he also realized he was consuming large amounts of sugar and sugar alcohols. He argued the ingredients were causing him "brain fog" and nausea. 
"Protein bars and energy bars — these snacks labeled as 'healthy' — have all of these hidden ingredients," he said. "So it became this two-fold problem, with the waste from all of the wrappers and the ingredients. I just felt duped, and frustrated companies are doing this and able to get away with it." 
A few years later, and Milner has now taken the bar into his own hands. With the help of two partners, Miner has launched a sustainable, eco-friendly energy bar company in Denver, Colo. 
And the company, Unwrapp'd, just made its first major sale. The vegan, bake-it-yourself bars, packaged in recyclable containers, are now available in 200 Hy-Vee stores across eight states.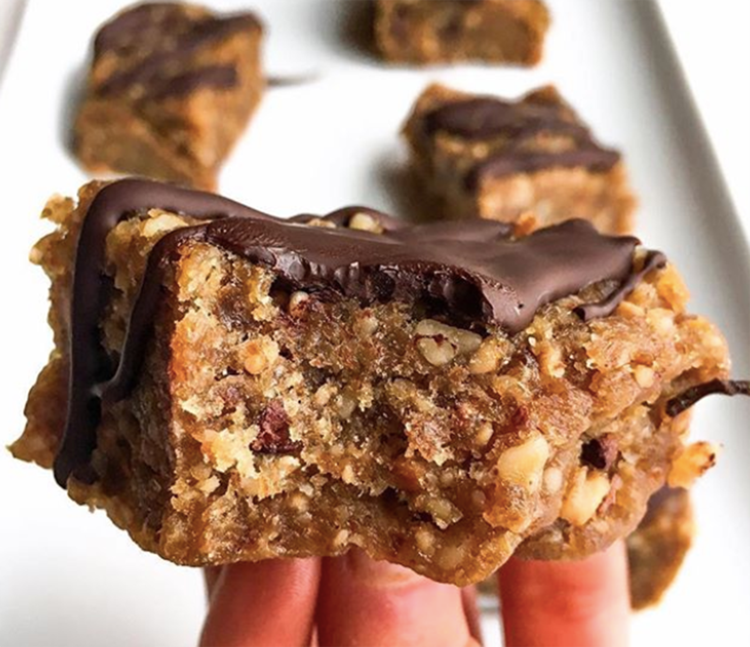 "It's our first true big launch, which has been super exciting," Miner said. "It's kind of cool because we're not a huge company and we don't have a huge ad budget. We've grown really authentically. And it wouldn't be possible without the support of friends and family in the Quad-Cities." 
'I just couldn't wait to pursue it anymore'
After growing frustrated, feeling duped by products labeled as "healthy," Miner started tinkering with his own recipes. 
"I was running down to Whole Foods and buying some super simple ingredients, then started whipping together bars from home," he said. "I was making them in a food processor and it came out in this cookie dough consistency. My roommates and friends were really enjoying it. I received really good feedback, so I started to do some research." 
Miner recognized there was packaged cookie dough, and there were energy bars, but there "wasn't really a hybrid of the two." 
"For me, combining the two really solved a lot of problems. And then realized packaging them in a sustainable, clear container made it a lot more transparent," he said. 
Knowing Washington D.C. wasn't the "most ideal place" to launch a health food company, Miner returned home to Davenport. There, he received the encouragement from friends and family to make the leap and move to Colorado to start his own business. 
"It was terrifying and exhilarating all at once, leaving my day job in this government space," he said. "But I was reading all of these entrepreneur stories and saw everyone had been in the same spot. It's this leap of faith that's required. And it just got to this breaking point. I just couldn't wait to pursue it anymore." 
Miner packed up and moved to Denver, where he met his neighbor, who eventually became his business partner. The two, both Iowa natives, realized they shared common interests. Reed McIntyre, 29, of Indianola, also had a passion for clean eating and sustainable living.
Then, they met Maria Capecelatro, 30, who helped fill in the rest of the gaps. A master nutritionist, Capecelatro knew the ins and outs of nutrition and developing food formulas. 
In 2016, the trio began taking their home-made cookie dough bars to the local farmers market. The products were growing in popularity, and by spring 2017, Miner said the owners had received all of the permits and licenses to operate a commercial kitchen and launch a business under the name Unwrapp'd. 
Stores in Boulder, Colo. were the first to begin selling the energy bar dough. It's available in several flavors, including chocolate chip cookie dough, peanut butter chocolate chip, cinnamon roll, mint chocolate and chocolate sea salt. Instead of sugar, the dough is sweetened with dates, plus made with raw cocoa powder, nuts, seeds and coconut flour.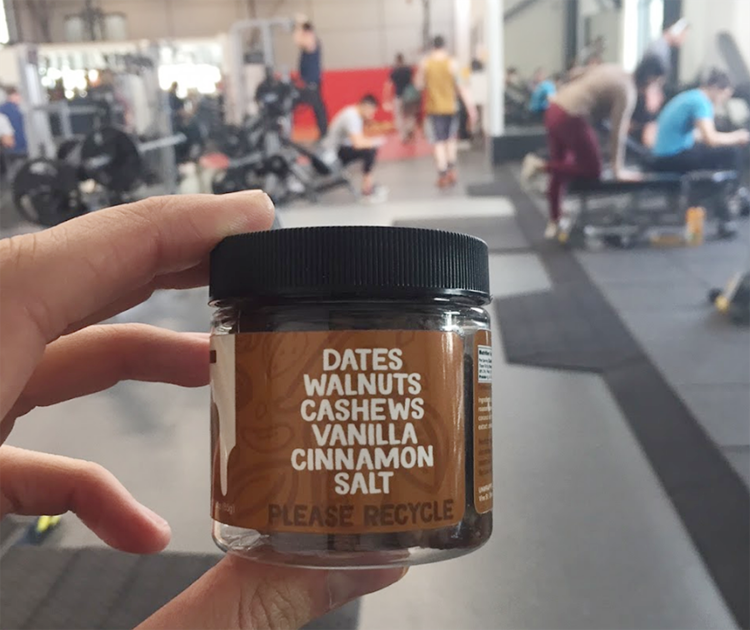 This past year, Unwrapp'd arrived on grocery store shelves in Iowa. Hy-Vee began selling the products in Ankeny, Des Moines and the Quad-Cities.
"We started growing rapidly this year, and a lot of that is due to support in the Quad-Cities," Miner said. "Luckily, thanks to product movement, and a lot of friends and family spreading the word in the Quad-Cities, we eventually went and pitched to Hy-Vee corporate."
Now, Unwrapp'd products will be available in 200 Hy-Vee stores across the Midwest, he said. 
'It's pretty powerful — the support of your home town' 
Miner recalled growing up in Davenport, living in a house on a hill overlooking the Mississippi River.
"It was a cool house to grow up in, and it led to a big imagination as a child," he said. "The neighborhood really allowed for big ideas to flourish. And my passion for the environment, I really attribute to growing up in the Quad-Cities. I remember growing up and all of the field trips, Bald Eagle Days and river clean-ups. I think it was all an inspiration to me and led to what I ended up doing with Unwrapp'd." 
Miner still thinks of Davenport when searching for inspiration. He was sitting on his old porch, overlooking the river, when his parents gave him the encouragement to move to Denver. 
"A lot of people have ideas they want to pursue, and that's a really vulnerable time period. You can lose a lot of confidence if you don't have support," he said. "So my parents being supportive was so great. And everyone in the Quad-Cities has spread the word about the company, and that's made the biggest difference. It's pretty powerful — the support of your home town." 
He hopes the eco-friendly company will make strides in the food industry, and help to preserve the natural environment, including the Mississippi. Miner wants to push other businesses to switch to more sustainable packaging and clean ingredients. 
"In the next five years, a packaging revolution is going to sweep every industry, not just food. Around 30 percent of all waste we generate comes from product packaging," he said. "So it's time for companies to take initiative on this. How are we going to solve this problem?" 
The Unwrapp'd owners hope customers will reuse and recycle each jar. And eventually, Miner said the company plans to switch to jars made out of disposed plastics. 
Now that Unwrapp'd will be sold in stores across the Midwest, Miner wants to move to nationwide distribution in the next few years. 
"That's our next step. We want to push the boundaries on packaging," he said. "We want more companies to start questioning their packaging and ingredients. We're seeing the clean-eating movement grow rapidly right now. We don't want to be duped anymore."