Here's a look back at the most viewed business stories of 2018 on qctimes.com
Staying green: Minnesota farmer has purchased 500 combines from Deere Harvester
Chad Olsen and his Olsen Custom Farms harvesting team are no strangers to the John Deere combine.
For his Hendricks, Minnesota-based custom harvesting operation, these big green machines are the workhorses that enable crews to harvest 600,000 to 700,000 acres of crops each year for farm customers stretching from Texas to Watson, Sasketchewan, Canada.
Even with his 25 years in the business, Olsen had a quiet excitement about him as he climbed into the cab of a new John Deere combine last week as it moved along the manufacturing line at John Deere Harvester Works in East Moline.
It marked the first time the farmer/entrepreneur accepted the honors of starting his new combine as part of the plant's Gold Key Tour. "Usually I let the employees do it," Olsen said. "I can walk out of my shop anytime and start a combine."
But this particular visit to Harvester Works' Station 220 — the Gold Key Tour stop where a customer conducts the machine's first set of systems checks — held special significance. This was the 500th John Deere combine Olsen has purchased.
As he tested the machine's operating systems, Olsen had an entourage of 28 family members and Olsen Farms employees standing below to witness the momentous occasion. Taking the controls, Olsen checked some 30 different systems of the machine with a John Deere employee's guidance — watching for updates on a flat screen television monitor outside the machine.
The process checked everything from the engine to its hydraulics, the separator, lights, monitors, and even the horn. The whole checklist would get inspected again later down the line by members of Deere's quality team.
Olsen's crowd, who he brought overnight by charter bus from Minnesota, snapped photographs as he marked the occasion. Among his guests were two of his five children, son Charlie and daughter Ellie, longtime employees and a group of employees from South Africa, who join the harvesting crew each year.
The 500th machine is part of an order of 13 combines and eight pieces of front-end equipment that Harvester is building for Olsen. By year's end, Olsen said he will purchase 34 new combines from John Deere.
"We don't grow our fleet until we have the jobs," Olsen said. With a total fleet of about 75 combines, he said the size of the fleet has been stabilizing over the past few years. "We're playing it safer because we don't know what the farm economy is going to do. We're trying to stay efficient."
The bus trip, which included a luncheon at John Deere World Headquarters in Moline, provided a good distraction and break for the Olsen Farms team before its heavy lifting kicks off again in April.
Among the employees was Travis Schrick, who was on his second Harvester tour with his employer of 11 years. A semi-truck driver, Schrick said his job is to pick up and deliver the team's combines to its different harvesting jobs across the United States and Canada. "We follow the harvest," he said, adding the combines begin shipping April 1. "By mid-May or June 1, they are cutting."
Crews will start with the small grain first and wrap up with the large grains harvests, he said. Crops include wheat, canola, mustard, barley, milo, corn, beans, sunflowers and field peas, Schrick added.
Production excitement
Inside the manufacturing plant, Olsen and his team's presence could be felt from the time they entered the Visitor Center doors to the applause of more than a dozen John Deere team members to the reaction of dozens of employees on the factory floor. As the two dozen visitors toured the plant on trams, production employees greeted the group with cheers, "thank yous," applause and an occasional thumbs up. 
On one of the very first stops, one worker walked to the tram and asked "Which one of you guys is Chad?" and proceeded to walk over and shake his hand.
"You could feel the buildup of this all week long knowing this machine was coming," said Haley Franks, a Harvester Works production supervisor, or module leader. "We have a lot of people do the Gold Tour experience here, but this is the first time I've been part of a 500th customer."
Deere officials were hesitant to confirm Olsen to be the first 500th combine customer. Given all the attention showered on the Olsen team, it was nonetheless an occasion of note.
"It's just been a special experience," said Franks of Walnut, Illinois, a six-year Deere employee. "When you think of how much money Olsen Farms has spent with us and invested in us, that says a lot about our product."
Jane Freeburg, an assembler for the past 10 years, said a 500-combine customer helps validates the work she and her co-workers do every day. "What we try to do here is put out the best quality machine so the customers can do their best job at harvest." 
Her co-worker, Kari Bormann, an 11-year employee, added that every customer who comes in for a Gold Key Tour "is a privilege to meet." "Every machine we make is sold and has a name. But to see a face with it is uplifting and gratifying." 
Deere executive Doug Roberts, who is the director of Deere's global combine business, also was on hand at the plant for the milestone customer.
"That is some kind of loyalty that allows a customer to buy 500 combines. You can see how excited our employees are,"  he said.
That level of purchasing also takes a sophisticated business operation like Olsen's, Roberts said. "He runs 40 combines brand new every year and 40 from the year before for his rental business... "
In addition to custom farming, Olsen has his own farm operation in Minnesota and rents out equipment to other farmers.
'Stayed green'
For Olsen, his dedication to Deere runs deep. In fact, he said other companies have offered to bring their machines for his crews to try. "But we've stayed green." 
"When we first started, we had no money, no financial backing and John Deere Financial took us on, so we've stuck with them," he said. 
Olsen did not set out to do custom combining, but was led down the path after a devastating fire on Dec. 19, 1990, destroyed the then young farmer's dairy barn. With his head of 48 cattle and their calves killed, and 3,500 bales of hay and other contents destroyed, Olsen faced his $100,000 investment gone up in smoke, and at 22 years old, had to start over. 
Olsen said the business, which now employs as many as 70 during peak harvest, began with him "and a worn-out combine" working for other neighboring farmers to make ends meet in 1993. Over the next decade, the operation grew to a fleet of 21 combines, 13 semis, four service trucks and four grain carts.
Today with a fleet of 75 to 80 combines, the team harvests — and custom plants, too — hundreds of thousands of acres across the United States and Canada. Beginning in spring, crews harvest small grains in the south and work north until October, or later, finishing up the Midwest's corn harvest.
"We'll do any size farm from a 300-acre farm to a 30,000-acre farm," he said. "My wife always reminds me we do small jobs as well as big jobs because it was the small guys that got us started. Every job makes a difference at the end of the year. They're all just as important. Size doesn't matter."
H&M to open Aug. 30 at NorthPark Mall in Davenport
Iowa's first H&M store will open Thursday, Aug. 30, at NorthPark Mall in Davenport.  
From 8 a.m. to noon, customers are invited to line up for a chance to win an H&M Fashion Pass with a value of up to $500, while supplies last, as well as other surprise offers. The store, 320 W. Kimberly Road, will open at noon, according to a news release. 
H&M, Hennes and Mauritz Inc., one of the world's largest fashion retailers, is opening a 20,000-square-foot store in the mall — one of 50 U.S. stores H&M plans to open this year and the only Iowa store announced. The company hired 20 employees for the Davenport store.
The store will offer clothing for men and women, accessories, as well as the H&M Kids collection for newborns to teens.
According to spokesman Patrick Shaner, the H&M brand is focused on sustainable development, including "reversing the impact we have on the environment." Through a Garment Collecting program available in all its stores, its stores invite customers to donate used clothing and other textiles — in any condition, and receive a 15-percent discount coupon. Donations can be made daily and the items do not have to be from H&M.
Customers who participate in garment collecting on the opening day may enter to win a gift card from $50 to $500. 
Founded in 1947 in Sweden, H&M group has grown to 4,739 stores in 69 markets and 43 online markets. Since opening its first U.S. store 17 years ago, the company's U.S. footprint has grown to 522 locations. Additional Illinois stores also were announced this year in Chicago, Champaign and Bloomington. 
H&M at NorthPark Mall will be open from 10 a.m. to 9 p.m. Monday through Saturday, and from noon to 6 p.m. on Sunday. The store can be reached by phone at 855-466-7467.
Q-C Times columnist Jim Victor dies in race track incident
Jim Victor took his financial and personal success as a financial adviser in a 45-year association with Morgan Stanley and returned it to the community and his friends in both time and treasure. A widely known champion of the Quad-Cities business community, Victor's philanthropy was less known, but the positive effects of his work rippled across all areas of the community.
Victor, an avid motor sports fan and racer, died Friday in an on-track incident during a testing day before the Milwaukee Region SCCA Majors at Road America, according to a statement by ArmsUp Motorsports, a racing team that specializes in Formula-style cars. The track is near Elkhart Lake, Wisconsin. 
He was the executive director and financial adviser for Victor/Volrath Group at Morgan Stanley in Davenport and the longtime Quad-City Times "Key 15" columnist.
Of all his philanthropies, Victor was a huge supporter of Junior Achievement.
"Jim strongly believed in entrepreneurship and he wanted kids to learn about that," said Barbara Ven Horst, who served as president and CEO of Junior Achievement of the Heartland from 2007-2017.
"He would strike up a conversation with anybody about JA," Ven Horst said.
Sometimes, he talked cars. "I don't know anything about racing but he explained it to me one time that it was one step below the Indy 500 level. He absolutely loved it."
Victor was from the "old school" when it came to building and nurturing relationships.
When named as head of Junior Achievement, Ven Horst said that Victor, who served on the organization's board for years and once was its chairman, welcomed her.
"He held many jobs in JA, and he would call me and ask, "What can I do for you? What can I do to make your job easier,'" she added.
Victor also stepped into the classroom for Junior Achievement, and for the past 18 years he sponsored the organization's annual golf tournament.
But with all his knowledge and education, Ven Horst said, "He would speak to different groups and what I was always impressed with is he never talked down to anybody. He always explained it in a way that made sense and got the point across."
Victor had a strong work ethic, she said. "I know he was in his mid-70s but he worked harder than any 10 people. He provided great service to his clients." Vacation to Victor was working half a day and taking the rest of the day off.
But it wasn't for show. Ven Horst said her uncle died around the same time as his sister, "and it was devastating." She talked to Victor about how she was feeling and soon afterward, she said, "I received a thank you not that he had donated some money on behalf of my uncle. He didn't know my uncle from a bale of hay.
"If there was a need, he would meet it," Ven Horst said.
Dougal Nelson, the current president and CEO of Junior Achievement of the Heartland, said that when Victor talked to students about Junior Achievement, "he wanted to open the students' eyes to all the endless opportunities that the free enterprise system provides.
"He believed that all students should experience Junior Achievement," Nelson said. 
"His passion, though, was for the kids," Nelson added. "He wanted them to learn. He really believed kids need an education in economics. With a knowledge of financial literacy and economics they have a better chance."
Victor also was instrumental in raising funds for the Folwell Education Center for Junior Achievement of the Heartland, as well as building on the concept of BizTown, which gives students the opportunity to run a business of their own and learn about what it takes to succeed. 
"We were the third Junior Achievement in the country to have a BizTown, and I believe there are 30 or 40 today," Nelson said. 
In 1997, Victor was received the Gold Leadership award from Junior Achievement USA. "That's the highest award they give and they don't give that out to just anybody," Nelson said. 
Victor also helped establish and fund the Free Enterprise Foundation which provides for the long-term sustainability of Junior Achievement. "That foundation will insure that JA is here for many years to come and Jim's a big part of that," Nelson said. 
Nelson added that not many people knew of Victor's many philanthropic activities. "He wasn't the kind of guy who needed his name on anything," Nelson said.
'We miss him and we miss him dearly," Nelson said. "We lost a great friend, but he went out doing what he loved. 
"His impact on JA is not going away anytime soon, I can tell you that," Nelson added. 
Ken Koupal, president of U.S. Bank, described Victor as a "community leader and very philanthropic with a passion for Junior Achievement so that young people had the ability to do all the wonderful things that he was able to accomplish in his career."
Koupal said that Victor "was a smart man and obviously very good at what he did. But he was very, very supportive of the community and had a passion for young people. He was always, always, committed to future generations."
It was not just Junior Achievement to which Victor contributed his time and money. He served for many years on the executive committee and the board of directors of the United Way of the Quad-Cities Area. He was chairman of the 1993 United Way campaign and was the 1995 board chairman.
Victor also was chair of the Genesis Philanthropy Board of Directors. 
Genesis Philanthropy Executive Director Missy Gowey said that, "Jim's absence will be felt at Genesis and throughout our community.
"He was an engaging, humble, inspirational leader who exhibited remarkable passion for his work and volunteer service," Gowey said.
"Five years ago, we asked Jim to chair the new Genesis Philanthropy Board of Directors, a position that required a lot of time and attention," she said. "He didn't hesitate and also remained on the Genesis Foundation Board.
"I marvel at where he found the time and energy to devote to both boards given his many other activities," Gowey said.
"Jim was passionate about causes but more so about people," she said. "He made everyone feel special. I'll miss him greatly."
Davenport Mayor Frank Klipsch, who for years served as president and CEO of the Scott County Y, said he saw Victor's generosity both as leader of the Y and as mayor of Davenport.
"Jim was a great example of getting the private sector and the business world actively involved with the social service agencies and the community," Klipsch said, "as well as showing the importance of giving time, talent and treasure to our community."
Is Five Guys coming to the Quad-Cities?
Quad-City Five Guys fanatics have been let down before.
But, a new sign on Utica Ridge Road in Davenport shows greater promise the burger chain is soon to arrive in the Quad-Cities. A sign teasing to the opening of Five Guys Burgers & Fries sits near a retail center under construction at Utica Ridge Road and Market Square Circle.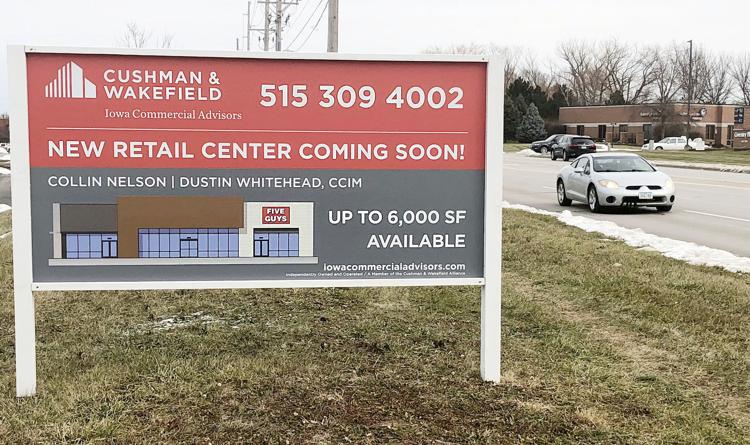 The Five Guys logo is the only indication of potential retailers to open in the commercial space, near Buffalo Wild Wings and Hilton's Homewood Suites.
Officials with Five Guys' corporate office have not returned several messages to confirm the opening of a Davenport location. 
Hundreds of Quad-City residents have been pleading on social media for a Five Guys location for years. Last March, the possibility of a west Davenport location stirred excitement when a "coming soon" sign was posted at the former Wendy's near Walmart. Realtors quickly confirmed the sign was fake. 
Five Guys, which began with one restaurant in Virginia in 1986, now operates  more than 1,500 locations, according to its website. Five Guys has Iowa locations in Cedar Rapids, Dubuque and Des Moines.
The 8,400-square foot retail center on Utica Ridge Road is being marketed by Cushman and Wakefield Iowa Commercial Advisors. According to its website, retail spaces are still available, totaling around 6,000 square feet. 
This story will be updated when more information is provided. 
Sneaky Pete's closes in LeClaire, new ownership expected
After years of serving up smokehouse-style steaks and hanging businessmen's ties from the ceiling, Sneaky Pete's Woodfire Grille in LeClaire is closed.
The bar and restaurant, at 207 N. Cody Road, has been closed this week. While owner Russell Schickling did not return a call for comment as of press time Wednesday, he posted a message thanking customers on the restaurant's Facebook page. 
"Thank you to all of our wonderful customers and employees I've met over the years. It's been a fun 18 years but (it) was time for a new chapter," he wrote. "I wish nothing but the best for all my employees." 
In the post, he said a new owner will likely remodel the building. 
"Craig Wagner will be doing something at Sneaky Pete's — will be remodeling the building," he wrote. "And as you know he does wonderful things. He owns Blue Iguana and (Steventon's). (It) will be something nice for my customers and LeClaire, so wish me and my family good luck on our new adventures."
Wagner could not be reached by press time Wednesday. 
The closure announcement comes after more than a decade of bad luck for Sneaky Pete's, including a fight against bankruptcy, plus three fires that shut down the restaurant's kitchen, in 2002, 2006 and 2013. 
This story will be updated when more information is provided.
Costco raises the bar for Quad-City wages
Cashiers hired to work for Davenport's Costco Wholesale this fall will make a starting pay nearly double the state's minimum wage and around $10,000 more than the average cashier in Iowa.
Davenport Costco Warehouse Manager David Pierce said the company expects to have the 140 new local positions filled this week, before the store opens along 53rd Street in October. Costco raised its hourly starting wage this year to $14 per hour, compared with the state's average pay for cashiers of more than $9. Iowa's minimum wage remains at $7.25. 
After five years, he said a full-time cashier can earn more than $25 per hour, including time-based annual bonuses, placing the wage well above Iowa's statewide average of $44,730, according to the Bureau of Labor Statistics. He said Costco's average wage for hourly employees is $23. 
"At Costco, we know that paying good wages makes sense for our business," Pierce said. "An important reason for the success of Costco's business model is the attraction and retention of great employees. Instead of minimizing wages, it's a lot more profitable in the long term to minimize employee turnover and maximize employee productivity, commitment and loyalty." 
Costco regularly tops lists of national companies for its high pay and benefits. Most recently, it was the top company listed on a report by Indeed, which analyzed its database of 18 million employer reviews to determine the companies employees are most satisfied to work for. In late October, it's bringing those salaries and benefits to the Quad-City market for the first time.
According to a recent report by United Ways of Iowa, 66 percent of Iowa's jobs pay less than $20 per hour, and 57 percent pay less than $15 per hour.
But still, economist Peter Orazem, with Iowa State University, said most Iowa businesses currently pay more than the minimum wage. He said the fraction of workers earning the minimum wage is between 1 and 2 percent.
"A lot of businesses are currently finding out you can't get good help at $7.25 an hour," economist Dave Swenson, also with ISU, said. "Look at the signs, fast food operations and different places pay $9 an hour for starting workers. Walmart is paying around $11.50 an hour. It's the case especially in metro areas because there's more demand for a rich diversity of workers. We're getting those bottom wages bid up."
Swenson noted when it comes to products and the number of membership-only warehouse stores, Costco won't have much competition in the Quad-Cities, save for Sam's Club. But when it comes to jobs, that's a different story, he said.
"There could be competition for labor, if Costco comes in and a lot of people want to make Costco pay, it's going to be hard for firms to hold onto workers," Swenson said. "They may consider raising their pay near the Costco level. A Costco coming in can be very disruptive. But we also have to note that the kinds of firms like Costco, that can pay that wage, are pretty limited."
Because Costco is hiring no more than 200 employees, associate professor and economist John Winters said Costco's wage competition will probably be a "one-time blip." But the professors said Costco's high wages means it can hire the area's most experienced retail and service workers.
"Some other employers could lose good employees or maybe raise wages to keep some of the good workers, but once they've hired workers and in a year or two, they won't be poaching other workers at the same level," Winters said. "It's potentially a one-time increase, but then things kind of go back to the previous trend."
Aldi grocery stores are also known for paying above market rate. Local Aldi employees have rumored the company might match Costco's wages to retain workers. But, Aldi Division Vice President Heather Moore said the company is currently happy with its Quad-City starting pay of $12.35 per hour.
"Right now, we are continuing to grow and have hirings where lots and lots of people show up who are wonderful candidates. We're able to fill positions," Moore said. "Right now, $12.35 is a very comfortable place for us. The hourly rate may be what makes applicants show up initially, but once we start talking about benefits, with retirement savings and insurance, they realize there's a real career here."
She said Aldi offers a raise in six months, and after two years, a cashier could make $13.50 per hour. Moore added the company mostly offers higher wages, along with a competitive benefits package, to retain workers.
"Employees who work 25 hours or more are eligible for medical, dental and retirement savings. And that's as important as the hourly wage," she said. "For us, it's really about retention. And one big thing is training, which we do at all levels for all of our employees. We train them and retain them. And many entry-level workers can move up to management."
Swenson said companies that pay higher wages than the market rate aren't doing so "to be nice." But, it's because they are large enough firms and operate under business models that allow them to do so. And retaining workers is a cheaper alternative to constant turn-over. 
But with the state minimum wage stagnant — and the average wage needed to afford rent in Iowa around $15 per hour — he said higher pay makes Costco one of the most competitive companies of its kind in the region.
Union: Kraft Heinz needs 200 workers
Top officials for the union representing workers at Kraft Heinz say the plant's Davenport operation is having difficulty finding enough workers, and they blame the initial announcement in 2015 that the company would only guarantee retaining 475 employees as part of the deal for state and local incentives.
Jerry Messer, president of the United Food and Commercial Workers, Local 431, said the company needs to hire about 200 people by April.
"We need new bodies," he said this week.
Kraft announced late last year that it would retain 700 full-time hourly workers and 45 salaried employees, significantly more than the 475 it initially guaranteed.
Messer, though, says too many people are worried any new hiring would only be for temporary positions. And he says he believes that worry stems from the initial jobs figures, which came out in late 2015, when Kraft Heinz announced it was replacing its Davenport plant with a new facility at the Eastern Iowa Industrial Center.
"We're trying to get the word out that these aren't temporary jobs," Messer said.
Union officials say the jobs will come with attractive pay and benefits.
A Kraft spokesperson would not confirm that it is hiring 200 people. A representative for the company, Lynne Galia, said in an email Wednesday, "We're always evaluating our operational needs and currently have openings that we are actively working to fill. We'll continue to hire until we meet those needs."
The company is working with Iowa Works of Eastern Iowa on an all-day recruiting event on Feb. 13.
A flyer for the event, which will go from 9 a.m. to 4 p.m. at the Iowa Works office at 902 West Kimberly Road, Suite 51, says the company is hiring for 2nd and 3rd shift production line positions.
"I do know they're planning to fill quite a number of positions," said Paula Arends, workforce innovation director for Iowa Works and Eastern Iowa Community College.
Currently, the company is operating at both its plant on Rockingham Road and at the Eastern Iowa Industrial Center.
In December, the company said it was employing 888 hourly employees.
The UFCW said this week the company now is employing about 990 hourly workers, which includes temporary employees.
At the time the incentives were approved in late 2015, there was criticism that the state was plowing money into a business that was cutting hundreds of jobs.
In early 2015, the company reported 1,400 people worked at the Davenport operation.
The state's incentives included $1.75 million in tax credits and a $3 million forgivable loan to demolish the existing facility. The city also approved incentives.
Defenders of the incentives said that even if there were to be fewer jobs, the investment was worthwhile if it prevented the Davenport operation from closing entirely.
Kraft Heinz's changes here were announced at the same time the company said it was closing seven plants and eliminating 2,600 jobs at other locations in the North America.
Local economic development officials have said that they are hopeful that Kraft Heinz will eventually expand operations at the new facility.
Davenport neighbors call Portillo's proposal a 'gut punch'
Some Davenport Portillo's fans said it was a "gut punch" when they learned one of their favorite restaurant chains would likely be built in their neighborhood. 
"A cake shake and two dogs from Portillo's is one of my favorite meals, but if it's going to be in my backyard and if I lose access to 53rd Street and my neighborhood, that's concerning," resident Adam Brunner said Thursday night.
Brunner was one of more than 60 residents at a neighborhood meeting, following the city of Davenport's announcement Wednesday that a developer is working to build Portillo's across from Costco Wholesale along 53rd Street. Most residents said they would be happy to see a Portillo's built in Davenport, but begged the city for street repairs and a traffic plan.
Developer William Torchia, who spearheaded Portillo's opening in Peoria this spring, has requested the rezoning of 6.5 acres, south of East 53rd Street and east of Lorton Avenue, from a residential to commercial development. The property is south of the new Costco, which is expected to open in October. The city Plan and Zoning Commission will hear the request Tuesday.
To make way for the multi-use development, which would have room for three other businesses in addition to Portillo's, he said nine residences would have to be torn down.
"Those nine homeowners are now under contract," he said.
Plus, a portion of Fairhaven Road would be vacated, according to Civil Engineer Devin Birch, with Austin Engineering. That concerned several homeowners in the area, who expect vehicles to begin cutting through Lorton Avenue to avoid the increased traffic.
"I have four little kids all under the age of 5, and they like to run in the yard and play. My big concern is for them to have the increase in traffic and then having something happen to them," Lorton Avenue resident Courtney Wilson said. "It was already bad because we knew it would increase with Costco, and now having this, I feel like we're getting shut out of our neighborhood."
Several residents, including Peg Neilson, said Lorton Avenue is deteriorating and not built to handle more traffic.
"I'm not opposed to a new restaurant coming to town. That's great," she said. "But my biggest concern is the dangerous situation that's being created and how the city would allow rezoning when the existing thoroughfares don't support it."
In the next two years, planner Ryan Rusnak said the city will widen 53rd Street from Brady Street to Elmore Circle to five lanes with a center turn lane. The city will also interconnect all of the traffic signals and monitor the timing from a remote location.
Birch said a firm is conducting a traffic study to learn how Portillo's would impact 53rd Street. The proposed four-building development, with 208 parking spaces, would share a signalized intersection with Costco.
"I have not been able to get Lorton or Fairhaven on the priority list for streets to be done yet," Alderman Rich Clewell, 6th Ward, said. "But we're looking at no trucks being able to go through Lorton. Speed limits may need to be adjusted. There are ways we can try to control some of that on Lorton."
Other residents voiced concerns about flooding on Lorton Avenue and Fairhaven Road, stormwater run-off and their neighborhood's changing landscape. With Costco and now plans for Portillo's, Clewell said 53rd Street "will never be the same." 
Birch said an underground stormwater detention plan should reduce run-off.
Several neighbors said they had mixed feelings about the plans, especially those who are fans of Portillo's. Casey Carothers moved to Lorton Avenue in October, he said, and the announcement of both Costco and Portillo's came as a shock.
"It's hard because I love the idea of a Portillo's right down the street," he said. "But I wish it wasn't so close. I want a Portillo's in my town but not my backyard."
While the two-hour meeting was filled with heated discussion, thousands of Quad-City residents on social media are rejoicing at the plans to bring Portillo's to Davenport.
"I'm really excited about Davenport," Peggy Hart, vice president of real estate with Portillo's, said. "We've focused on the Quad-Cities for a long time because of the level of retail here. And with Costco coming in, it's a really dynamic area."
She said the Davenport spot would be Portillo's first Iowa location.
Birch said Portillo's has not officially agreed to the proposal. He added there aren't plans for what other businesses could open at the site.
A public hearing will be held at the Tuesday Plan and Zoning meeting. Rusnak expects a vote July 2, and then a recommendation could be made to the city council.