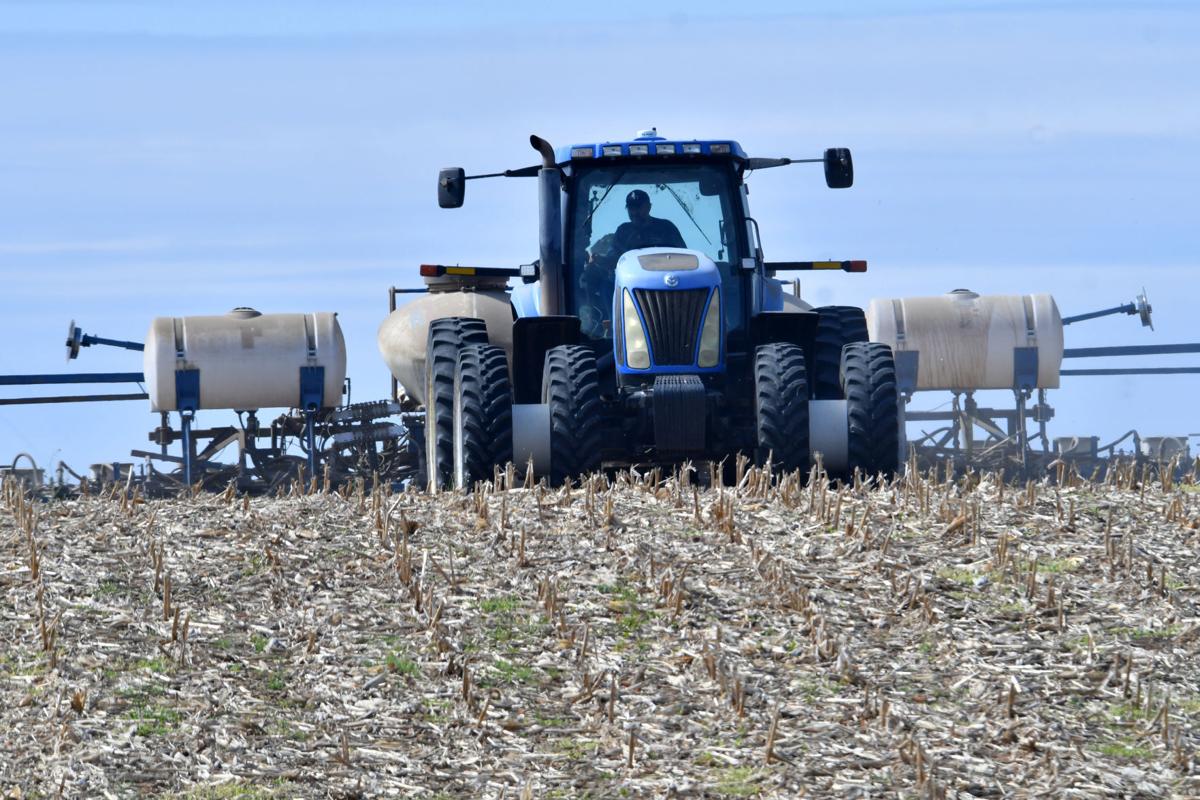 Farmers in Iowa and Illinois appear to be taking advantage of much higher soybean prices, and the U.S. Department of Agriculture says both states will plant more soybeans for the 2021 growing season.
According to the USDA's prospective planting reports, Iowa farmers are expected to plant 9.8 million acres of soybeans this year. That is a 400,000-acre increase over 2020.
In contrast, Iowa's farmers are expected to plant 13.2 million acres of corn in 2021, down 400,000 acres from 2020.
Illinois farmers are forecast to plant 10.7 million acres of soybeans, up 4% from 2020, while corn acres planted are forecast to be 10.9 million acres, down 4% from 2020.
Soybeans for May delivery closed Thursday at $15.33 ¼ per bushel on the Chicago Mercantile Exchange. Compare that price to April 2020 when soybeans were averaging $8.35 per bushel.
"China has been buying like crazy," Taylor Ridge farmer Tom Mueller said. Weather problems in South America are also creating issues that could give American farmers more of a market this year.
Tighter soybean stocks and high demand is driving the price of soybeans to highs not seen since 2013 and 2014. 
The price of corn for May delivery on the Chicago Mercantile Exchange also has risen because of tighter stocks and higher demand, settling at $6.50 ½ per bushel Thursday. In April 2020, corn was averaging $3.29 per bushel on the CME.
The last time corn prices were at or above $5 per bushel was in 2013.  
Mueller said the inputs of corn had "gone up dramatically."
Anhydrous ammonia costs have risen steeply, he said, after the winter that Texas suffered drove up natural gas prices. Natural gas, he said, is used to make the fertilizer anhydrous ammonia.
"I put anhydrous ammonia on last fall for $400 a ton," Mueller said. "If I was going to buy it right now it would be $725 a ton."
Still, Mueller will keep his normal rotation of 60% corn and 40% soybeans, with maybe a few more soybeans this year. 
Nationally, the USDA forecasts farmers across the nation to plant a total of 87.6 million acres of soybeans, up 5% from last year.
Corn acreage is expected climb less than 1% with 91.1 million acres planted.
Mac Marshall, vice president-market intelligence at the United Soybean Board and United States Soybean Export Council, said the U.S. was forecast to send 36 million metric tons of soybeans to China in 2021, which would mean another record year.
While China is the biggest market, Marshall said the Soybean Board has been working on other markets, including Egypt, Thailand and Vietnam where demand for U.S. soybeans continues to grow.
How much protein a country is producing is a function of disposable income, he said. Egypt's chicken production has risen over the years and has increased its demand for U.S. soybeans.
Thailand has scaled up its chicken production, and its demand for soybean crush is approaching 3 million metric tons.
"It was half that six or seven years ago," Marshall said.
Vietnam's pork production is two times what it was in 2000, he added, and chicken production is up.
"Vietnam did not have a crush sector 10 or 11 years ago. Now, the country is crushing more than a million tons annually."
As the value of crops has risen, so has the value of farmland.
In the 7th Federal Reserve District, which includes Iowa and Illinois, farmland values rose 6% from Jan. 1, 2020, to Jan. 1, 2021, according to The Agricultural Newsletter of the Federal Reserve Bank of Chicago.
According to the letter, authored by economist David Oppedahl, the value of good farmland in Iowa rose 5% while good farmland in Illinois rose 6%.
"Indeed, the price increases for corn and soybeans are related in part to lower expectations of South American output, but also to strong exports," Oppedahl said. "In addition, farmland values increased due to lower interest rates and higher farm income from government support. Moreover, there seems to be less, or at least not more, ground available as demand for it has grown."